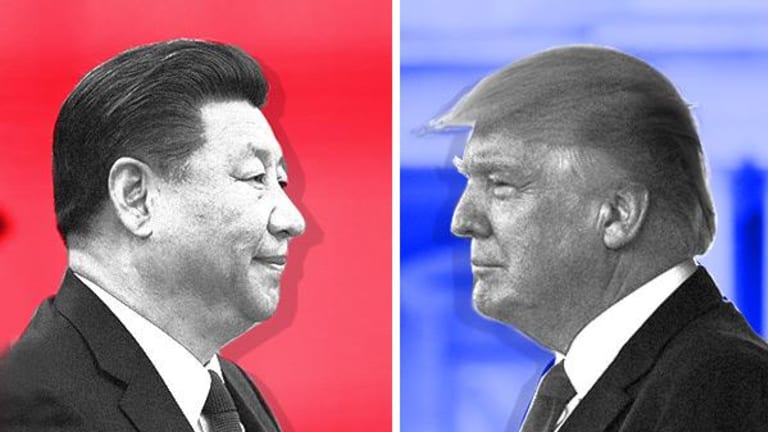 What Trump's Meeting With China's Xi Jinping Could Mean for Google and Other U.S. Tech Giants
The president's first meeting with China's leader could define the terms on a host of issues that are critical to U.S. tech companies, including potential tariffs, M&A activity and IP.
Updated from April 5 with additional information.
A senior Chinese official said that Alphabet's (GOOGL) - Get Report Google may have a harder time re-entering the Chinese market if the 24-hour meeting between President Donald Trump and Chinese President Xi Jinping in Mar-a-Lago on Thursday and Friday doesn't go well. 
In 2010, Google was forced to pull its search services from mainland China after a disagreement with Beijing over censorship rules, but the company is currently working with China to unblock its search engine in the country. "China's relationship [with Google] is improving, and both sides' leaders have met on several different occasions," senior parliamentarian Liu Binjie told the Financial Times.
However, the future timeline for Google's move back into China depends on Sino-American relations, Liu told the publication. "Trump has said some very severe things about Chinese trade. If this continues, progress will be affected," he claimed. 
Trump has attacked China for its trade policy numerous times. In May 2016, he tweeted, "We can't continue to allow China to rape our country and that's what they're doing. It's the greatest theft in the world." 
The Chinese official's comments come as tech companies and investors alike are speculating about the tone and substance of the meeting between the two leaders, particularly with respect to trade policy. Trump has already tweeted that the meeting will be "very difficult" because the U.S. simply can't continue to have massive trade deficits and job losses due to its relations with China.
In the past, the U.S. has had a very open relationship and willingness to purchase Chinese products because they can be made much more cheaply there, Height Securities analyst Pete Cohn said. At the same time, China has had a very export-driven economy. The U.S. and other countries have felt that by having a good relationship with China, they would be able to get more of a foothold on the market in China.
But since China joined the World Trade Organization (WTO) in 2001, it has been criticized for cheating on its own foreign obligations to WTO members, such as by dumping aluminum. In addition, U.S. manufacturing jobs have generally seen a decline since 2001, leading to criticism of the open trade relationship the U.S. has with China. 
During this week's meeting, Trump will most likely argue that the U.S. and China need to rebalance its trade relationship, Cohn predicted. In other words, China needs to open its markets more and get rid of barriers to U.S. exports to make it easier for U.S. companies to sell goods. In turn, Xi will most likely work to make it clear that China is very much open to trade and is not putting up barriers to U.S. goods. 
This is in line with what a White House official said about the meeting in a press briefing on Wednesday: "This is really an opportunity for the two leaders to exchange views on each other's respective priorities and to chart a way forward for the U.S.-China bilateral relationship...President Trump really views this meeting as a first step toward building a constructive and a results-oriented relationship that's going to deliver benefits to both countries."
Another topic that may come up is the role of the Committee on Foreign Investment in the U.S. (CFIUS), which is in charge of reviewing foreign takeovers. Trump may use this as a bargaining tool by telling Xi that if Chinese companies want to buy more U.S. companies and assets, then China needs to reciprocate when n US companies want to expand in China, Cohn explained.
So far in the Trump administration, CFIUS has both blocked and approved deals. The blocks that have occurred have been because of operational issues, such as whether the underlying company poses a defense risk, rather than on protectionist grounds, according to Height Securities. The firm said this means that cautious optimism surrounds pending CFIUS transactions, such as the acquisition of Lattice Semiconductors (LSCC) - Get Report by Canyon Bridge, the Stillwater Mining (SWC) /Sibanye Gold acquisition, the acquisition of MoneyGram (MGI) - Get Report  by Ant Financial and other pending deals.
Tech companies are paying particularly close attention to the meetings, considering China is the world's second-largest economy and a huge market for their goods. Thus, tech companies worry that Trump's proposed 45% tariff on all Chinese goods will hurt overall relations with China and their ability to gain market share there. "There's a lot at stake for tech companies," said Daniel J. Ikenson, director of Cato's Herbert A. Stiefel Center for Trade Policy Studies. "If bad blood comes between the two leaders, then the way a proxy war would be handled would be to go after the other country's most important companies by reducing access to important markets."
U.S. companies that could be hurt by hostility with China include the big US tech companies such as Alphabet's (GOOGL) - Get Report Google, Tesla (TSLA) - Get Report , Oracle (ORCL) - Get Report , Cisco (CSCO) - Get Report , Intel (INTC) - Get Report , Western Digital (WDC) - Get Report and Nvidia (NVDA) - Get Report  because they have the most to lose from damaged relations between the countries, according to Ikenson. Additionally, if relations warm up between the two country's, then Chinese e-commerce site Alibaba (BABA) - Get Report  might be able to do more in the U.S. market as a competitor to Amazon.com (AMZN) - Get Report .
Some analysts wonder just how serious Trump is about imposing a tariff, especially one as large as the 45% tariff he proposed during his campaign. "Trump is coming to realize that he can talk a tough game, but it's different when there's pressure to act on it," said Ikenson. 
However, a trade war between the US and China is definitely possible, particularly since a number of safeguards have fallen away recently, Ikenson said. The multinational community that used to push for peaceful relations with China to ensure continued access to its market has become less energized, he explained.
Trade wars tend to come about when a country goes outside of the WTO rules to reposition trade barriers in order to create a protectionist environment, he said. "Protectionism is when a country kind of goes rogue and makes unilateral measures with no justifiable basis under the WTO," Ikenson explained.
For example, some think that because China depends on the U.S. more than the U.S. depends on China, Trump may actually try to implement a more reasonable 10% to 20% tariff on Chinese imports, which  would then inspire China to retaliate against the US with a tariff. "Then the whole world could get caught up in it because China is such a key player and it could do real damage to the global economy," he explained. 
Certain industries, such as the chip sector, are especially worried about the prospect of trade tariffs being imposed. SEMI, which represents 2,000 member companies in the semiconductor sector and other related industries, is "very concerned about the tone on trade seen during the election and from the new administration in the past few months," SEMI senior director of North American public policy Jamie Girard said. The U.S. is the world leader in chip equipment and materials and of the 85% of its products that it exports, more than three-quarters of that goes to Asia.
Alphabet, Cisco and Western Digital are holdings in Jim Cramer'sAction Alerts PLUS Charitable Trust Portfolio. Want to be alerted before Cramer buys or sells GOOGL, CSCO or WDC? Learn more now.
In addition, China said it will spend about $150 billion over the next decade to become a leader in the semiconductor space, which actually presents an opportunity for U.S. chip companies, Girard said since that means they will be buying more equipment and materials from the U.S. "So any face-to-face time that Trump can get with Xi to help calm any political animosity is a good thing," Girard added. 
With respect to a potential trade war, Girard noted that we have seen retaliatory tariffs in the past, such as when the US put tariffs on Chinese solar panelsin 2012 and China responded by slapping a tariff on U.S. producers of the materials used in solar panels. "It's concerning that the same thing could happen again," he said, noting that all of the big companies that SEMI represents are exposed to changes in US-China relations. "Any trade uncertainty will hurt them," he explained.  
Another concern for tech companies is how strongly the new administration will push for protection of intellectual property (IP) rights, which prevents manufacturers in China from pirating and selling U.S. products below cost, Cohn said. China is currently responsible for three-fourths of the value of all infringing and counterfeit products seized by U.S. customers, according to The Hill. During the campaign trail, Trump commented on IP rights by claiming that he would "use every lawful presidential power to remedy trade disputes if China does not stop its illegal activities." 
However, a new China cybersecurity law that will go into effect this June will require U.S. tech companies to provide the Chinese government with proprietary source code to prove that they can't be hacked. "That's foreboding," Ikenson said. 
Other topics that will be discussed at the meeting include currency manipulation, which China used in the past to help make its goods cheaper in the U.S. and other countries, as well as North Korea's nuclear program and China's military plans for the South China Sea pathway. In addition, it's worth noting that tensions between the two leaders were seen to ease up after a phone call on February 9 in which Trump told Xi that the U.S. would uphold the "One China" policy that holds that Taiwan is a part of China and recognizes only one official Chinese government. "This was important to preserving future relations with China," Cohn said.
Of course, while these concerns weigh on the minds of the top U.S. tech executives, not much is expected to happen at this first meeting, Ikenson and Cohn both said. This first talk is more about a step in the right direction. Trump's willingness to host Xi at his resort instead of at the White House is a positive sign, Cohn said. Xi himself was in favor of meeting in a more relaxed atmosphere at Trump's Florida resort instead of the White House, according to the New York Times. 
"It's doubtful they'll come to a global understanding that resolves criticism on both sides, but it's constructive that Trumps is hosting Xi at his own home in Mar-a-Lago," Cohn said.