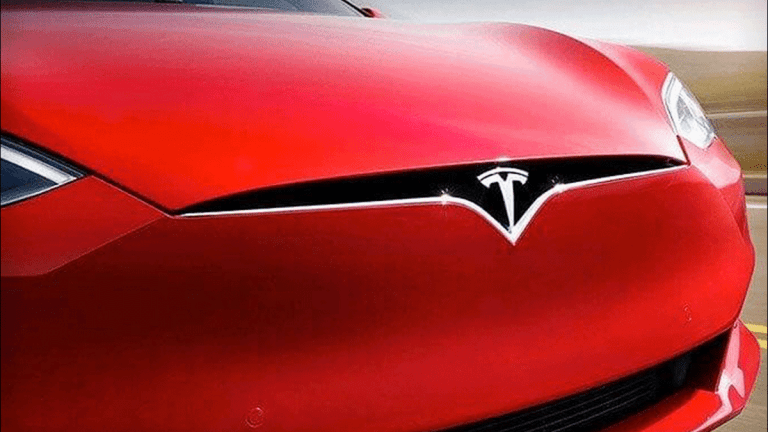 4 Key Things to Watch When Tesla Reports Its Third-Quarter Results
Having missed Q3 delivery targets, Tesla will seek to reassure investors that it's on track to meet its full-year delivery target of at least 360,000 cars, get sustainably profitable, and kick off production in China.
With its latest quarterly report around the corner, all eyes will soon turn to Tesla (TSLA) - Get Tesla Inc Report .
The car maker is due to report its third-quarter financial results on Oct. 23 after the bell, and investors could soon learn more about Tesla's prospects. Analysts polled by FactSet are expecting a loss of 45 cents per share on revenue of $6.45 billion for the quarter. 
Tesla shares have fallen 20% this year. Here's what investors will be watching for.
Full-Year Delivery Outlook
Tesla released its third-quarter delivery figures earlier this month, reporting 97,000 vehicle deliveries for the third quarter. That was lower than analyst targets of 98,000 deliveries, and also lower than the 100,000 that CEO Elon Musk suggested was doable in a previously leaked memo. With just one quarter to go in the year, attention turns to whether Tesla can meet its full-year delivery forecast of between 360,000 to 400,000 cars.
Writing in a recent note, Wedbush analyst Dan Ives pointed out that Tesla will need to deliver at least 105,000 cars in the fourth quarter to meet that "ambitious" forecast -- at the low end, that is -- which will nonetheless be a "difficult task," Ives wrote. Investors will be paying close attention to any color that Tesla executives provide on the third-quarter delivery outcome, as well as its fourth-quarter guidance, to help connect the dots on what's in store.
The Profitability Question
On the issue of sustained profitability for Tesla, Musk has shifted the goalposts after saying in January 2019 that Tesla would be profitable in that quarter "and all quarters going forward." That goal has proven elusive, with analysts questioning whether sustained profitability is really achievable anytime soon, if at all, given the lower margins in Model 3 sales compared to higher-end models.
In a recent note, Cowen analyst Jeffrey Osborne wrote that if profitability doesn't come from scale -- that is, producing and selling Model 3s at much higher volumes -- it will need to come from greater efficiencies in manufacturing. "The company has yet to prove it can produce its vehicles at scale profitability, and we question management's projections of what the steady state of demand is for the current product lineup and roadmap," Osborne wrote. What's more, given more competition on the horizon in the EV market, many investors are unconvinced that Tesla demand will keep growing at a satisfactory rate. Next week, Tesla will seek to reassure investors that demand is still riding high. 
China Ramp-Up
Since the project was announced, Musk has touted the rapid construction of a yet-to-open Shanghai-based gigafactory for production of Model 3s, Model Ys and battery cells. Tesla has said that the factory will be up and running by year's end, and there's much at stake for the car maker.
Cowen's Osborne wrote that Tesla's growth story depends, in part, on making serious inroads in China as demand in the rest of the world cools. "The breakneck pace of the China factory appears to have been a recognition of the demand challenge that we have been predicting, and a speedy ramp to offset the declines in other markets is likely the strategy to prevent y/y declines in deliveries," Osborne wrote. It remains to be seen whether China-produced Teslas can offset any sales declines in Tesla's key markets, but in Tesla's third-quarter results, investors can expect updates on when the facility will start cranking out products. 
Self-Driving Ambitions
Tesla and Musk have laid out grand ambitions for Tesla's self-driving features, with Musk announcing earlier this year that Tesla owners will be able to leverage self-driving Teslas in an Uber-like rideshare network. For now, Tesla sells a controversial "full self-driving" upgrade option to Tesla buyers, although that feature is not yet available and also lacks approval by regulators. It did, however, roll out a "smart summon" feature that allows Tesla owners to navigate cars out of parking spaces from outside of the vehicle. Early reviews have been unimpressive, however, with videos and anecdotes showing near collisions among people using the feature. Tesla recently purchased a computer vision startup, DeepScale, and installed its CEO on Tesla's autopilot team. Next week, investors may get further updates on the status of Tesla's self-driving ambitions.