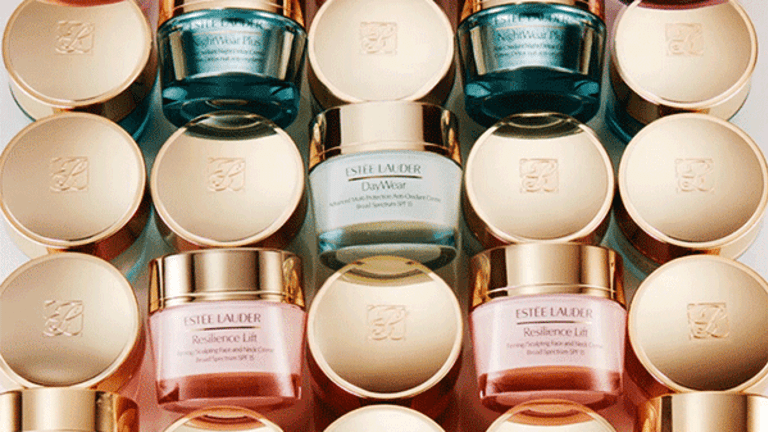 What to Look for When Estee Lauder Reports Second-Quarter Earnings
Analysts expect the cosmetics company to continue focusing on acquisitions.
Estee Lauder (EL) - Get Free Report is expected to report lower second-quarter earnings, but higher revenue year-over-year before Thursday's opening bell.
Analysts surveyed by FactSet are projecting adjusted earnings of $1.17 per share on revenue of $3.24 billion. During the same quarter last year, the New York-based cosmetics company earned $1.22 per diluted share on revenue of $3.12 billion.
Makeup and fragrance should drive the bulk of comparable growth, with Europe, the Middle East and Africa leading the way from a geographic contribution perspective, analysts at KeyBanc Capital Markets wrote in a recent note.
Gross margin expansion is likely limited by continued foreign exchange headwinds and the need to reinvest behind key brands should lead to a large increase in selling expenses, the analysts added.
"We expect these developments to lead to operating margin compression in the quarter and a mid single-digit EPS decline," the firm said.
Improved sales trends in key markets and legacy brands, such as its namesake brand, will be critical to reaccelerating the company's organic growth.
"Until the EL and Clinique brands and key geographies (namely Hong Kong and China) can deliver better results, immediate-term upside to shares appears limited, and it does not feel right to call for either of those developments at this time," the analysts noted.
KeyBanc expects a focus on acquisitions to continue, such as its recent purchase of makeup brand Too Faced. The strength of Estee Lauder's portfolio remains driven by the integration and expansion of smaller brands that can leverage its global platform.
"If the most recent acquisition, Too Faced, is any indication, this strategy is likely to continue moving forward and remain a meaningful component of the growth picture as the brands increase in size and importance. As the industry shifts toward smaller and more niche brands, we see EL's focus on this strategy as favorably on trend," they added.
Last week, Oppenheimer upgraded Estee Lauder stock, saying that its recent acquisitions have better positioned the company to offset ongoing deterioration at U.S. department stores.
Shares of Estee Lauder were largely flat at $80.52 at the start of trading on Tuesday. The stock is down more than 13% over the past six months.