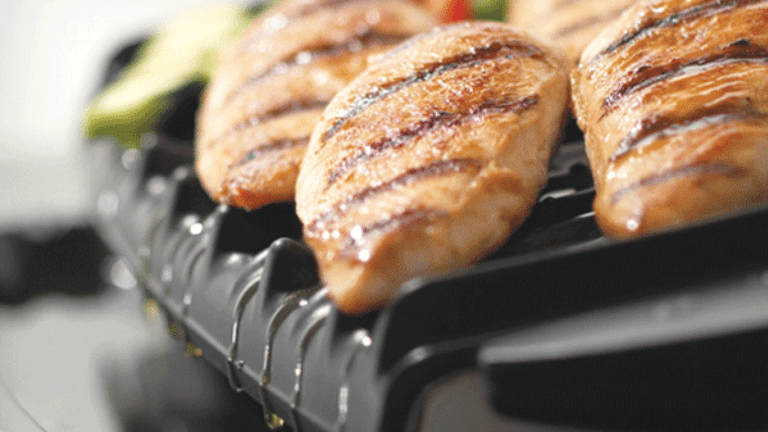 What to Expect When Spectrum Brands Posts First-Quarter Earnings
The company's global auto care, hardware and home improvement segments should be the strongest performing units, analysts said.
Spectrum Brands (SPB) - Get Spectrum Brands Holdings, Inc. Report should report higher first-quarter earnings than a year ago, according to analysts surveyed by FactSet who are forecasting adjusted earnings of $1.14 per share on revenue of $1.22 billion. The results will be reported before tomorrow's market open. 
During the same quarter last year, the maker of George Foreman grills earned an adjusted $1.01 per share on revenue of $1.22 billion.
Yesterday, the company's board authorized a new three-year $500 million stock repurchase program effective immediately. It replaces the existing three-year $300 million stock buyback program, which was scheduled to expire in July 2018.
Spectrum also boosted its quarterly dividend by 10.5% to 42 cents per share from 38 cents per share. The dividend is payable on March 7 to shareholders of record as of Feb. 14.
"We are pleased to see SPB extend its commitment to its balanced capital returns framework [raising its dividend and authorizing a new share repurchase program]. It's this balanced approach that is core to our thesis of long-term value creation," Piper Jaffray analysts Stephanie Wissink and Lauren Wolf wrote in a note today.
On a near-term basis and heading into the first-quarter report, the analysts said sentiment is somewhat cautious, especially related to organic growth in the batteries and appliances segment.
"We are also closely monitoring retail takeaway in auto and signs of early seasonal uptake of spring lawn & garden products, specifically within the specialty channel on a regional basis. The political overtones around border taxes; lack of visibility around HRG's portfolio action; and general inventory derisking across retail are overhangs," Wissink and Wolf said.
Given the high proportion of the company's costs of goods sold (COGS) produced overseas, shares could remain volatile pending further signals from the Trump administration regarding border tax reform. Piper estimates that Spectrum's COGS are more than 80%.
Spectrum is 58% owned by HRG Group (HRG) , which in November said it will seek strategic alternatives and announced the resignation of CEO Omar Asali. The strategic actions could include a merger, sale or other business combination involving HRG or its assets.
BMO Capital Markets said HRG uncertainty is weighing on Spectrum's stock and this could continue.
"We see three outcomes with regard to SPB shares: a distribution of shares through a series of block sales, which would add liquidity but place downward pressure on the stock; a strategic buyer of the entire stake; or a merger/sale of HRG with the buyer maintaining HRG's stake in Spectrum," BMO analyst Shannon Coyne wrote in a recent note.
Uncertainty surrounding what HRG will do with its majority position in Spectrum will likely outweigh any fundamental considerations in the quarter, according to KeyBanc Capital Markets. Analysts Jason Gere and Andrew Mancini also noted that Spectrum's global auto care and hardware and home improvement segments should be the strongest-performing units from a top-line perspective this quarter.
Looking out 12 months, Piper believes Spectrum can deliver improved earnings quality, greater stability in core categories and price advantages from product innovation and brand extensions.
Shares of Spectrum rose 1.92% to $123.94 in late-morning trading on Wednesday.