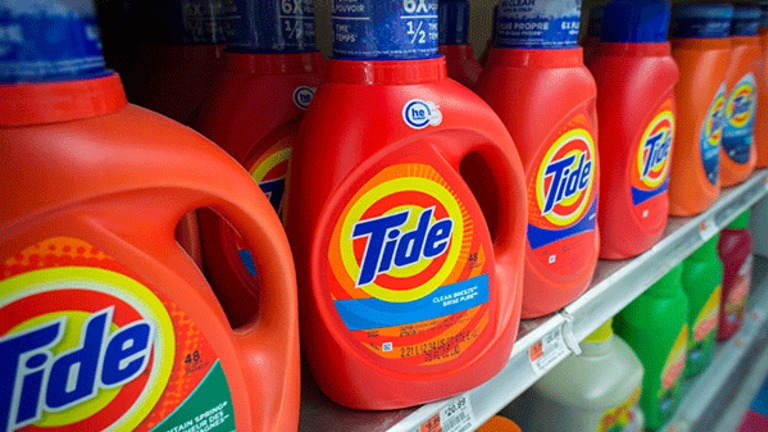 Procter & Gamble Rocked by King Dollar?
Wall Street is concerned about how earnings turned out due to the strong dollar.
Before Friday's market open, Procter & Gamble (PG) - Get Procter & Gamble Company Report is projected to post higher second-quarter earnings year-over-year, but slightly lower revenue than a year ago.
Analysts surveyed by FactSet are forecasting adjusted earnings of $1.06 a share on revenue of $16.80 billion. During the same period last year, the Cincinnati-based consumer products company earned $1.04 a diluted share on revenue of $16.92 billion.
In recent weeks, P&G has been slapped with downgrades from several firms, including Goldman Sachs, Stifel and Deutsche Bank.
The downgrades have focused on valuation concerns and the impact of a stronger U.S. dollar. More than half of P&G's sales come from outside the U.S. and a higher dollar makes its products more expensive overseas.
Analysts at Hillard Lyons lowered their second-quarter revenue estimate to $16.88 billion from $17.05 billion and their earnings expectation by 4 cents to $1.05 earlier this week.
"The main factor in our lowered figures is foreign currency exchange rates, including the impact of a generally strong dollar relative to the euro and other currencies important to PG's operations," the analysts said in a note.
Foreign exchange was a negative factor in the company's first quarter and that was expected to continue into this quarter, Hillard Lyons said. "The overall strength of the dollar during the three-month period covering P&G's fiscal second quarter was perhaps greater than some anticipated (us included)," the analysts added.
Organic sales are forecast to rise about 2% during the most recent period. The company's management expects foreign exchange and minor brand divestitures to reduce sales by 1%, leading to roughly 1% growth in reported sales, according to Hillard Lyons.
The firm, which has a "buy" rating and $100 two-year price target on the stock, said there is long-term upside potential with P&G's financial and operating performance.
These include measures such as market share positions, product innovation, product quality, profit margins and earnings.
"Ongoing cost savings programs and continued investments in the business in order to maintain and grow market share are priorities at the company, and ones that may serve as catalysts for future stock price appreciation," the analysts said.
Morgan Stanley has an "equal-weight" rating and $88 price target on P&G ahead of the quarterly report.
"The calendar fourth quarter is likely to be a difficult quarter across the board for large-cap multinationals, with slowing U.S. trends (due primarily to incremental promotion in household products, and less favorable weather year-over-year in beverages), weak emerging markets trends with soft macroeconomic environments, foreign exchange pressure, and a difficult competitive environment," the firm's analysts wrote in a note.
Morgan Stanley remains cautious in general on mega-cap multinationals given these points, particularly P&G, where these issues are generally more pronounced, organic sales growth struggles and uncompelling valuation.
Shares of P&G were largely flat at $84.33 in early trading Thursday.