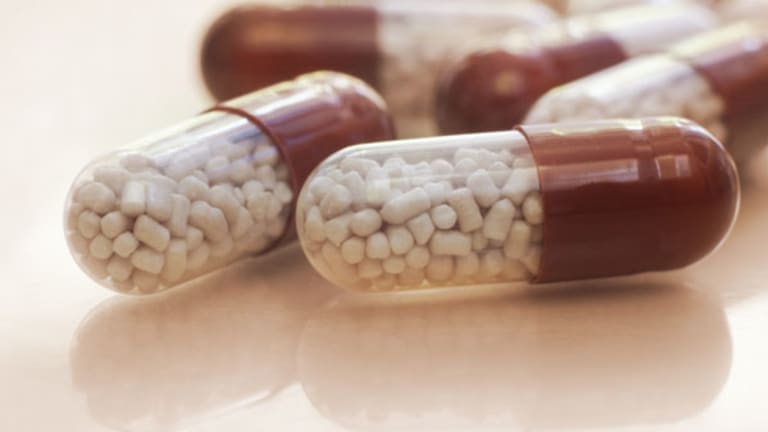 What to Expect From Vertex Pharma's Next Cystic Fibrosis Drug Results
Later this quarter, Vertex Pharmaceuticals will be disclosing new clinical data on its next cystic fibrosis drug, VX-661. Here's a preview.
BOSTON (TheStreet) -- Later this quarter, Vertex Pharmaceuticals (VRTX)   is expected to disclose new clinical data on its next cystic fibrosis drug, VX-661. The announcement is important because VX-661 is expected to be an essential component of future combination therapies which Vertex hopes will benefit a large population of difficult-to-treat cystic fibrosis patients.
By doing so, Vertex is also hoping it will generate billions of dollars in sales for the Boston-based company.
Here's a preview of VX-661:
Vertex has too many cystic fibrosis drugs. I need help remembering which does what.
You're not the only one. Here goes: Kalydeco is Vertex's first drug, approved to treat a relatively small group of cystic fibrosis patients with a genetic mutation known as G551D. Next up is VX-809, also known as lumacaftor. Regulators in the U.S. and Europe are currently reviewing a combination therapy of Kalydeco and VX-809 aimed at treating cystic fibrosis patients with two copies (homozygous) of F508del mutation. The Kalydeco-lumacafor combo therapy should be approved no later than early July, probably sooner.
Lastly (for now), there's VX-661. This is an improved version of VX-809/lumacaftor designed to work better in combination with Kalydeco and future Vertex cystic fibrosis compounds.
Lumacaftor is not even approved and Vertex is already trying to replace it with VX-661?
Sort of. Vertex is developing a Kalydeco/VX-661 combination therapy to treat homozygous F508del patients (the same group of cystic fibrosis patients to be treated with Kalydeco and lumacaftor.) More importantly, Vertex would like VX-661 to be a component of double- and triple-drug combination therapies that would treat an additional 20,000 or so cystic fibrosis patients with various heterozygous mutations of the F508del gene.
Got it. VX-661 is important for the future growth of Vertex's cystic fibrosis franchise.
Exactly. Vertex's current $29 billion market valuation bakes in high expectations for the approval, commercial launch and revenue from the Kalydeco/lumacaftor combo therapy in homozygous F508del patients. If the VX-661 data we're seeing later this quarter are strong, investors will be more confident about Vertex's ability to capture the lucrative opportunity represented by the heterozygous F508del patient population.
Tell me about this study of VX-661.
This phase IIb study enrolled 40 cystic fibrosis patients homozygous for the F508del mutation. Twenty of the patients were treated with VX-661 (50 mg twice a day or 100 mg once daily) plus Kalydeco, the remaining 20 patients received a placebo. Treatment duration was 12 weeks, after which patients were assessed for safety (the primary endpoint) and absolute change in forced expiratory volume, or FEV1, a measure of lung function (the key, secondary endpoint measuring efficacy.)
Vertex is expected to announce results from the VX-661 study before the end of the first quarter.
Other than announcing "positive" results, what magnitude of benefit from VX-661 will make investors happy?
The safety of the VX-661/Kalydeco combination shouldn't cause any significant issues based on previous studies, so the focus will be efficacy.
In a previously conducted and presented study in homozygous F508del patients treated for 28 days, the combination of VX-661 (100 mg once daily) plus Kalydeco demonstrated an absolute improvement in FEV1 of 4.8% compared to placebo.
The current study treats the same type of cystic fibrosis patients for 12 weeks, so we should see equivalent improvement in FEV1 if not a bit more. In a recent note to clients, Barclays biotech analyst Geoff Meacham pegged the FEV1 absolute improvement bogey for VX-661/Kalydeco at 4% to 6% over placebo.
Another useful comparison are the phase III studies (TRAFFIC and TRANSPORT) of lumacaftor and Kalydeco in the same homozygous F508del patients. In these studies, the absolute FEV1 improvement for the combination therapy was about 3% compared to placebo. If VX-661 is a better drug than lumacaftor, we should see that demonstrated in a larger absolute improvement in FEV1. (And yes, there are challenges to making cross-trial comparisons.)
In January, Vertex said it was starting phase III studies of the VX-661/Kalydeco combination. Doesn't that lessen the significance of the phase IIb study we're waiting to see?
Vertex's decision to move ahead on the VX-661 phase III studies was based on an internal, interim look at the 12-week phase IIb data, coupled with results from the previous 28-day study, the company said. The details of this interim look have not been disclosed publicly.
There has been some buy-side grumbling about why Vertex is taking so long to disclose the VX-661 results if the company has already deemed the data good enough to move ahead into the phase III studies.
When might we see data from the VX-661 phase III studies?
Vertex is running four phase III studies of the VX-661/Kalydeco combination therapy, each in a different population of cystic fibrosis patients. The first study, which should begin shortly, enrolls the same type of homozygous F508del patients that's being studied in the phase II program. These are also the same type of patient covered by the Kalydeco/lumacaftor combination therapy currently under regulatory review in the U.S. and Europe.
The remaining three phase III studies will enroll cystic fibrosis patients with one copy of the F508del mutation plus one other mutation. Broadly speaking, these patients all fit in the heterozygous F508del bucket, although some patients have disease mutations which make them harder to treat than others.
The most important of these studies -- with the highest risk reward -- will enroll so-called "heterozygous minimal CFTR function" patients. Vertex is downplaying the likelihood that VX-661 plus Kalydeco will be potent enough to benefit these patients, so expectations are low. It's more likely that Vertex will need triple combination therapy to reach these patients.
We might get results from the VX-661/Kalydeco phase III studies at the end of 2015 or early in 2016.
Adam Feuerstein writes regularly for TheStreet. In keeping with company editorial policy, he doesn't own or short individual stocks, although he owns stock in TheStreet. He also doesn't invest in hedge funds or other private investment partnerships. Feuerstein appreciates your feedback;
to send him an email.