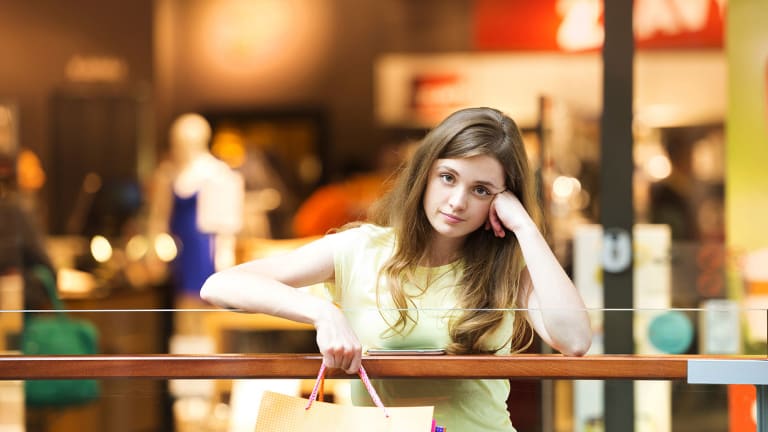 What to Buy in May Once the Tax Man Has Gone Away
Mother's Day, Memorial Day and countless graduations make May a surprisingly busy retail month, but deals abound.
May has Mother's Day in the front, Memorial Day in the back and a whole lot of college graduations in between. It's an underrated shopping month.
That's especially true if you're shopping for items that everyone else isn't.
Even in the depths of the recession in 2009, May offered a $2.9 billion boost in retail sales from the month before and set the table for increased summer spending. Last year, it added more than $3 billion to the retail economy from the month before and marked the last time in 2015 monthly retail spending (minus cars and auto parts) totaled less than $300 billion.
The folks at IBISWorld have credited Mother's Day with at least some of that added spending and predicted $20.8 billion in Mother's Day purchases alone last year. That's up 1.7% from the year before and included a 3.8% increase in spending per family. Plunging gas prices certainly played a role as more shoppers got out to spend, but even those who didn't had enough leftover cash to boost online Mother's Day revenue from 30% of the total in 2014 to 35% last year.
That said, Mother's Day spending still doesn't top more than $170 per family, according to IBISWorld. The folks at online retail site Goodshop note that consumers spend upwards of $225 on Memorial Day weekend staples including food ($70), booze ($55) and items from Memorial Day sales ($100). That doesn't even factor in travel spending, which adds a whole other layer to May's economy.
With many colleges ending their spring semesters this month, graduations only add the the parade of potential spending. Consumers facing all three events this year could use any savings they can get, though deals aren't quite as plentiful as they are in less popular months. With help from DealNews and LifeHacker, we've found five discounts that may help shoppers get through the month:
Electronics: LifeHacker suggests thanking the Japanese for this one.
Their fiscal year ends in March, which means Japanese electronics companies are getting ready to turn over old stock. Last year, this meant 55-inch and 42-inch LCD 1080p televisions were on sale as companies brought more 4K televisions to market. Consumers could lop another $50 to $70 off of sub-$500 prices and $300 prices for those televisions if you took and off-brand model like an Insignia or Sceptre. Amazon, eBay, Newegg and Best Buy have all offered huge Mother's Day discounts over the last few years, according to DealNews, so it pays to shop around.
However, the price of tablets has markedly decreased over the last year just about everywhere. While that doesn't mean May is the best month to pick one up, it might be a fine time to shop for one during a Memorial Day sale. Speaking of which...
Memorial Day sales: Memorial Day isn't until May 29th, but May is basically Memorial Day month in the eyes of retailers.
For the last two years, Memorial Day sales have started around May 12, according to DealNews, but a good rule of thumb is to start looking for deals about two weeks before the holiday. Since Memorial Day is the unofficial start of summer, it's a great time to pick up spring apparel just before stores start stocking summer items in the waning weeks of the school year.
Previous Memorial Day sales have featured 20% to 75% off spring apparel from Old Navy, Nautica, and Eddie Bauer, among others. However, holiday-specific coupons can stack savings on top of already slashed prices.
Mattresses: If you tried to shop for a mattress after February, you already know that the pickings were slim and the deals were nearly nonexistent.
However, spring is a much better time for mattresses, and DealNews suggests that buyers who aren't concerned with the type of mattress they buy shouldn't settle for less than 50% off the sticker price. Also, stackable coupons from Memorial Day sales and elsewhere can take 10% to 40% off already-discounted items. DealNews notes that Sears, JCPenney, Overstock, Macy's, and US-Mattress are the most likely sources for those discounts.
Diamonds: Yes, around Mother's Day is actually a great time to shop for diamonds. Engagement season has been over since Valentine's Day and peak wedding season won't hit until the summer months.
While sites including Jewelry.com started posting Mother's Day discounts of more than 80% since April, DealNews recommends looking at daily deals on Amazon and elsewhere to get the best savings.
Vacuum cleaners: We offer this with the caveat that, unless she's specifically asked for one, you should not buy your mother a vacuum cleaner for Mother's Day.
That said, new vacuum models arrive in June and retailers want to unload the old ones as quickly as possible. DealNews notes that you'll actually get better deals around Black Friday, but if you can't really wait that long or just don't want to, this is going to be the best warm-weather deal on vacuums you're going to get. If you've held off on spring cleaning until now, consider this your reward.
Editors' pick: Originally published May 1.
This article is commentary by an independent contributor. At the time of publication, the author held no positions in the stocks mentioned.