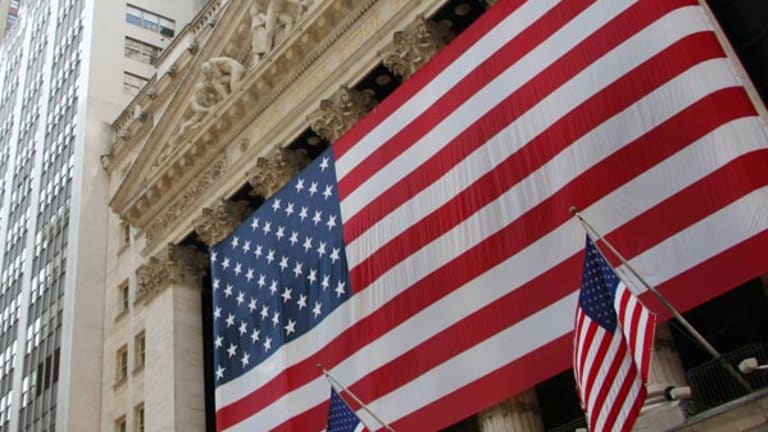 What the ECB's 'QE Lite' Will Do
Jim Cramer had a good piece the other day pondering the low-yield world we occupy, rock bottom rates for government debt in the Western world.
This article originally appeared on RealMoney.com onSept. 5, 2014 at9:30 a.m. To read more content like this AND see inside Jim Cramer's multi-million dollar portfolio for FREE... Click Here NOW.
Jim Cramer had a good piece the other day pondering the low-yield world we occupy, rock bottom rates for government debt in the Western world and the difference between the landscape for our major banks and Europe's.
He also mused that yesterday's action by European Central Bank (ECB), which some are dubbing "QE Lite," is likely to bring the euro to below $1.25 in short order. I have a few comments about his observations, which I largely agree with.
First, I think anyone willing to lend Spain or Italy funds for 10 years at a yield under 3% should have their head examined, especially with non-euro funds, as the currency is going to see significant downward pressure from these latest moves from the ECB. In addition, little has been done in either country or in Europe in general to foster the structural labor reforms to make the countries more competitive on the world stage.
STOCKS TO BUY: TheStreet Quant Ratings and Dave Peltier's Stocks Under $10 has identified a handful of stocks that can potentially TRIPLE in the next 12 months. See them FREE today... Click Here NOW.
I do expect "QE Lite," or whatever this strategy will ultimately be called, to be a tailwind for European stocks and bourses. I raised my stake in Netherlands-based insurer AEGON  (AEG) yesterday as soon as the ECB outlined its new policy. European financials in general should see improving sentiment on the back of the ECB's new liquidity support. Even better, the company gets around two thirds of its revenue from North America, and a lower euro will mean these income streams will translate into higher earnings. The company just reported strong quarterly results, is holding excess capital, sells for around 60% of book value and yields just under 4%.
One thing Jim did not remark on is how a significant fall in the euro will result in some earnings pre-announcements and some significant negative currency impacts when American multi-nationals start to report results next quarter. The euro was already down some 5% against the dollar over the past few months before these latest actions by the ECB. This is just one more headwind for McDonalds (MCD) , which gets some 30% of revenues from Europe.
Mickey D's is already under pressure due to a lackluster performance of same-store sales in the States, fast food strikes driven by unions, quality problems with its primary vendor in China, etc. I would continue to avoid the shares despite its 3.4% yield. The stock was "dead money" for three years as the rest of the market has rallied strongly; it is likely to remain so.
Investors looking for yield have better alternatives. I continue to like and hold Chatham Lodging Trust (CLDT) despite my view that interest rates are likely to rise from here, which is usually negative for real estate investment trusts (REITs).
However, I think the rise will be gradual and Chatham has a great management team, just made a transformative acquisition that will boost earnings substantially and is operating in a very strong lodging space that continues to see significant growth in occupancy levels and RevPAR (Revenue per available room). The shares yield 4.6% and are paid monthly. The recent purchase of over 50 hotels from a joint venture should result in a 25% to 30% boost in FFO (Funds from Operations) in 2015, and the shares are very attractive here at just over 9x next year's projected funds from operations (FFO).
Today only: Get FREE access to all of TheStreet's subscription services. That's an annual value of $5,000! Click Here NOW for immediate FREE access.
At the time of publication, Bret Jensen was long AEG, CLDT.