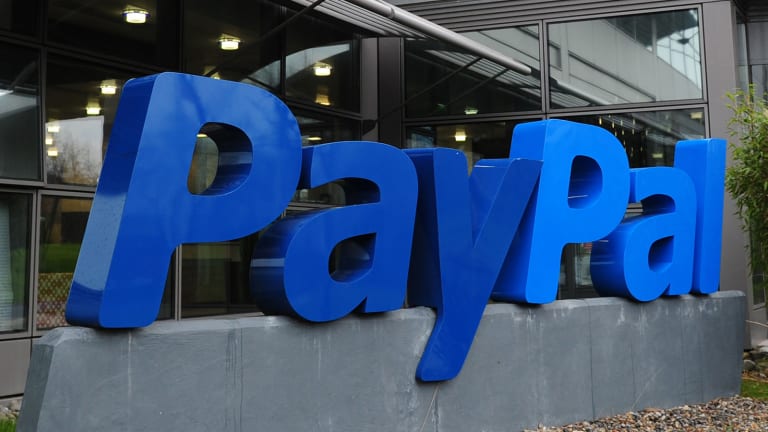 What Tax Reform Means for PayPal's Bottom Line
Tax reform is good for PayPal and it's good for American business, CEO Dan Schulman tells TheStreet.
Tax reform is good for PayPal Holdings Inc. (PYPL) - Get Report and it's good for American business.
That's what PayPal CEO Dan Schulman told TheStreet, erasing any doubt that tax reform wouldn't benefit tech companies as much as investors might have hoped.
"I think in general that's a good thing for business, it's a good thing for U.S. companies, and I think it will expand our ability to make good capital allocation decisions and hopefully take advantage of that to further grow our business," Schulman said.
Recent tax legislation, which passed amid much fanfare at the very tail end of 2017, had for some bred concern that tech companies, which already operated under a comparatively favorable tax structure, might not reap the same benefits their counterparts on Wall Street would.
But Schulman made it clear that a rising tide does in fact lift all boats.
"I think it was necessary for us to do some form of tax reform," the CEO added. "We had a very high jurisdiction here in the U.S. and we're now very competitive with the rest of the world."
Wedbush Securities managing director Moshe Katri said PayPal will have to decide if it wants to reinvest in the company or return gains to shareholders. For either, PayPal will need to see sustained or increasing top-line growth.
"I think our view is that the new tax reform has opened some opportunities for us to look at our capital allocation in a more robust manner," Schulman said. "That means no doubt that there are different acquisitions we might be able to look at now, both in the U.S. and globally."
Tax reform benefits will probably go toward reinvestment in the company, Buckingham equity research director Chris Brendler said. At Brendler's estimate, earnings could grow 7% as a result of tax reform but "quantitatively, it's not a huge factor for them."
"PayPal has a pretty efficient tax structure as it is," said KeyBanc Capital Markets equity research analyst Josh Beck. It's far less likely to notice a change as dramatic as, say, Visa Inc. (V) - Get Report , Beck added.
As the new tax legislation begins to take hold, PayPal will be even better positioned to benefit from a healthy working relationship with government regulators.
That's because PayPal is striving to become a "role model" in fintech and financial services for consumers and merchants -- and subsequently regulators, according to Schulman.
"There really is almost nothing that a regulator wants that we don't want for our customers," the CEO said. "We want there to be clear, open, transparent terms and conditions and pricing for our consumers. We want to be sure that we are in compliance so that bad actors can't use our platform to create any kind of financial crimes."
"Those are all just the right things to go and do," Schulman said.
The company's expertise in navigating an often complicated regulatory landscape has come from 15 years of experience. In a Silicon Valley environment ripe with new rivals daily, PayPal's knowledge of regulation has become a competitive advantage, Schulman said. Plus, 15 years is old in a startup-heavy fintech world.
"I think if you think about what government and regulators want, they really do want to democratize financial services. They want to make the management and movement of money available, accessible, inexpensive for all segments of the population, whether that be lower income, middle income, the affluent," Schulman said.
"They want to just be sure that managing and moving money isn't just a right for the affluent, but a right for all citizens because that helps communities to grow, neighborhoods to grow, economies to grow."
More of What's Trending on TheStreet: