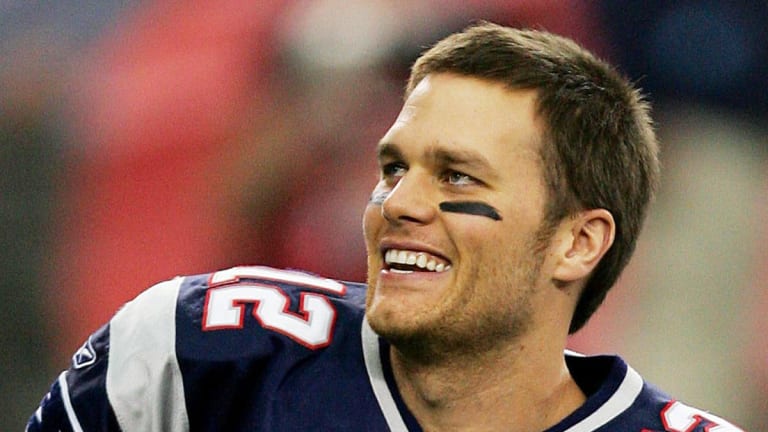 Super Bowl Stocks: What Company Is the Tom Brady of Wall Street?
The New England Patriots star not only keeps on winning, but seems to get better with age. Here are four stocks that have performed the same way.
New England Patriots quarterback Tom Brady will take the field this Sunday for Super Bowl LIII with a reputation for being what some experts and fans call "The GOAT" -- "The Greatest of All Time." Which stock is the most like Brady, defying the odds seeming to get better and better with age? We asked four of our top columnists to weigh in.
Read on to see what names they chose. Also check back later this week for our columnists' picks on which stocks are most like Pats head coach Bill Belichick, Los Angeles Rams skipper Sean McVay and Rams star defenseman Aaron Donald:
Curran:Alphabet and Brady Were Both Once Scrawny Underdogs
Kevin Curran, reporter at Real Money, our premium site for active traders:
When Tom Brady entered the NFL draft in 2000, few thought he would amount to much. He ran a 5.28 40-yard dash, 0.2 seconds slower than 325-pound lineman Vince Wilfork. He could only leap 24-1/2 inches in his vertical jump, which is about the same as what one of his current offensive lineman, 320-pound Cameron Fleming, can do It was an uninspiring tape, to say the least.
That was just one year after that Google - now known as Alphabet (GOOG) - Get Alphabet Inc. Class C Report , (GOOGL) - Get Alphabet Inc. Class A Report , with a $750 billion current market cap -- offered to sell itself to Excite.com ... for $750,000. However, Excite -- which might be best described as the "Drew Bledsoe of the Dot-Com Era," took a pass and chose to buy companies like online-greeting-card firm Blue Mountain Arts instead.
In short, both Brady and Google were significant underdogs in 2000. But just four years later, Brady was polishing up his third Super Bowl ring and Google was going public for $23 billion.
And in 2019, Brady is about to become the first quarterback to ever play in nine Super Bowls and is eyeing his sixth championship ring. Meanwhile, Alphabet has become the world's third-most-valuable company, with a market cap 1 million times the price that Excite refused to pay.
Both Brady and Alphabet seem like unassailable giants now, but both started out as scrawny underdogs -- albeit underdogs with vision, determination and a solid team behind them. In football or investing, that's a winning combination.
Fima: Apple And Brady Are Both 'GOATs'
Zev Fima, research analyst with Jim Cramer's Action Alerts PLUS charitable portfolio and club for investors:
The GOAT can only be compared to the GOAT.
Like Tom Brady, Apple (AAPL) - Get Apple Inc. (AAPL) Report has a track record that isn't perfect -- but if you ever bet against the company in the past, you ultimately turned out to be wrong.
And as for being able to outlast the competition and come back stronger year after year, no one does it better than Apple. The firm went from being a computer company to a phone company that redefined the way we think about mobile phones, and now it's becoming a services and health-care company.
And just as Tom Brady was the first player to ever win five Super Bowls, Apple was the first company to see a $1 trillion market cap. Dominance is in both Brady and AAPL's DNA.
If you ask me, Apple's roughly 30% pullback since October is akin to Brady in the 2017 Super Bowl's third quarter, when he and the Patriots trailed 25 points before battling back to beat the Atlanta Falcons. Just as no one thought the Pats could recover from that deficit, it seems like everyone is betting against Apple now. You name it and the Apple bears have called it out -- a lack of innovation, a mature smartphone market, China woes, a lack of pricing power, tough competition, etc.
But you know what? When a company has a pristine balance sheet, more than $100 billion in cash and perhaps the most loyal customer base on the planet, it can determine its own fate.
Yes, Apple tends not to be the first company to do something -- but once they do it, they do it better than anyone did before. That's why Apple is the Tom Brady of stocks to me. At the end of the day, both always end up putting their naysayers to bed.
Guilfoyle: Brady and Netflix Can Both Still Win the Big Game ... For Now
Stephen "Sarge" Guilfoyle, columnist for Real Money and portfolio co-manager of TheStreet's Stocks Under $10 model portfolio:
A "Tom Brady stock" should be ageless and always winning, right? I'm sure that for many investors, those attributes come to mind in describing pro football's greatest quarterback ever.
But when I think of Brady -- a pro athlete still on top of his game at an advanced age - I also think of an all-time great who's probably at the extreme end of the line as a champion. That means Brady has a lot in common with Netflix (NFLX) - Get Netflix, Inc. (NFLX) Report .
Like Brady, I think Netflix has still got game ... for now. Yes, it's still growing -- but at the expense of margin and bloated by debt.
Netflix and Brady are both still able to win a championship in 2019, but it's only a matter of time before both come up against better competition than they ever faced before.
So, both are deep into the "fourth quarter" of their championship runs, and time flies. Tick. Tick. Tick. Tick.
Marks: Brady and PayPal Both Outshined Their Former Superiors
Jeff Marks, senior portfolio analyst of Jim Cramer's Action Alerts PLUS charitable portfolio and club for investors:
Everyone remembers Tom Brady's long list of records and accomplishments, but if you weren't an avid football fan in 2001, then you probably don't remember how he became the starter for the New England Patriots.
Back then, Brady was a second-year quarterback that rode the pine and held the clipboard for franchise quarterback Drew Bledsoe. But when Brady was given the opportunity to start after Bledsoe went down with an injury, he took the starting job and never looked back.
That trajectory reminds me of PayPal (PYPL) - Get PayPal Holdings Inc Report , a leading U.S. digital payment company known for both its namesake platform and its Venmo subsidiary.
PayPal -- a stock we've long held in our Action Alerts Plus charitable trust -- was once stuck in the shadows of its former parent company eBay (EBAY) - Get eBay Inc. Report . But after eBay spun off PYPL as a stand-alone company to unlock value, PayPal proved itself in spades.. If you got in on the PayPal spinoff in 2015, you've more than doubled your money since then. By contrast, eBay has underperformed the S&P 500 over the same time period.
And Brady? He's accumulated five Super Bowl rings -- the most by any quarterback -- since taking over for Bledsoe as the Patriots' starting quarterback. As for Bledsoe, sadly, he never saw the playoffs again.
Score a Touchdown with Jim Cramer's Big Game Special
Get access to the best stock picks in Jim Cramer's investment portfolio by executing a two-minute drill on our Big Game Special on Action Alerts PLUS, Jim's VIP club for investors. Sign up now through Feb. 4 and receive 58% off of the normal subscription price. Now that's a real touchdown!
This article was written by a staff member of TheStreet.