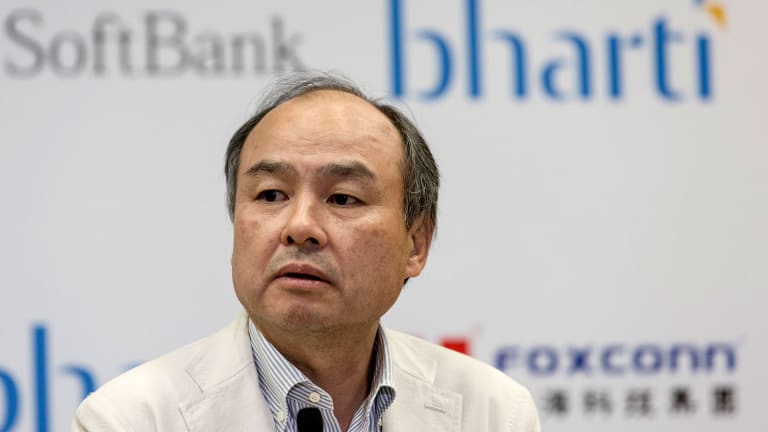 What Softbank's Vision Fund Stumbles Mean for Tech Valuations
Softbank cut massive checks to unprofitable startups such as WeWork and Uber, pushing up private market valuations -- but that strategy doesn't work anymore.
Masayoshi Son had a lot to say about WeWork at a Wednesday news conference.
The Softbank CEO told investors and reporters that his "investment judgment was poor" in pouring billions into the deeply troubled real estate startup, which could face bankruptcy after the high-profile implosion of its IPO. Shares of Softbank Group Corp. (SFTBY) were down 1.43% on Wednesday after it posted its first quarterly loss in 14 years.
On the face of it, the WeWork debacle -- combined with the poor market reception of other investments such as Uber (UBER) and Slack (WORK) -- have bruised Softbank's Vision Fund, which poured tens of billions into various private technology companies over the past few years. Uber and Slack are down 35% and 47% since their respective IPOs, and WeWork's valuation has collapsed from $47 billion as of earlier this year to less than $8 billion following a takeover deal by Softbank. Son said that the Vision Fund contributed to Softbank's $8.9 billion third quarter loss.
However, the lackluster performance of various Vision Fund investments don't necessarily mean negative returns for the fund overall. Sofbank said that the Vision Fund has invested $70.7 billion in 88 companies, and those investments are worth $77.6 billion today. The remaining roughly 15% of the original $93 billion Vision Fund will be allocated as follow-on investments to existing portfolio companies. The primary backers of the Vision Fund include the Saudi Arabian Public Investment Fund (PIF), among others.
Son expressed considerable remorse for the "harsh lesson" he learned from the WeWork saga, namely overconfidence in its ousted CEO, Adam Neumann, and too little focus on corporate governance at the co-working startup. He also suggested that WeWork wasn't the only dubious investment the Vision Fund made in its first, free-spending iteration.
"Is there any other similar concern [to Softbank's over-estimation of Adam Neumann]? In fact, yes, there is. Like a dog walking company and other portfolio companies, we may see similar problems surfacing," Son, referring to the Vision Fund's $300 million investment in the on-demand dog walking app Wag.
At this point, many are scrutinizing what the Vision Fund's performance thus far means for its second iteration, Vision Fund 2, and for the tech investment world as a whole. The original Vision Fund made Softbank the biggest tech investor in the world and a "bull in a china shop" in Silicon Valley, in the words of one venture capitalist. From the time it launched in 2017, the Vision Fund quickly became known for cutting nine or ten figure checks to a dizzying range of startups in the U.S. and elsewhere.
Softbank's entanglements with WeWork became "symbolic of a frothy environment," said Alec Dafferner, a partner at the tech investment and advisory firm GP Bullhound. "There was a negative impact in terms of managing towards profitability; it was encouraging management teams to take riskier and riskier bets." The Vision Fund's initial investment strategy was to infuse huge amounts of capital into leaders in various tech sectors, on the notion that they could outspend the competition and ultimately dominate rivals.
However, the capital markets appear a lot less forgiving of sky-high valuations assigned to unprofitable companies, at least compared to recent years. While it is difficult to quantify Softbank's role in this state of affairs -- it's both a cause and a symptom, depending on your view -- it may have done more to run up private market valuations than any other single investor.
At the New York Times Dealbook conference on Wednesday, Uber CEO Dara Khosrowshahi said in an interview that Masayoshi Son "definitely pushed up valuations, and the question is will it stand the test of time." Softbank is among Uber's largest investors, having invested a total of $7.5 billion into the ridehailing giant over time.
"I think this is a difficult moment of adjustment for them, and I think they are adjusting and making some pretty strong pivots, and we'll see," Khosrowshahi added. "But there's no question that the amount of capital that went in with Softbank did raise the market, and it has created some behavior with some of the other players where they're overspending."
There is little doubt that the Vision Fund 2 will look considerably different than the first version, in terms of its strategic focus and quite possibly the makeup of its limited partners. Earlier reports suggested that Softbank intends to place more focus on profitability and exits, rather than massive investments in growth firms, with Vision Fund 2.
"There's more scrutiny around valuations, more scrutiny around profitability -- not so much profitability in it of itself, but the scale of the lack of profitability," Dafferner said of the changing outlook for tech investing. 
That could apply to Softbank's limited partners, as well. Son added at the Wednesday news conference that LPs are "becoming more careful" with their participation in the new fund, though he also said that the size of Vision Fund 2 will launch as planned at approximately the same size as the first fund.
"We are still negotiating...in which stage or which status is not something that I can discuss today, but in general, Vision Fund 2 is going to be launched as scheduled," Son said.