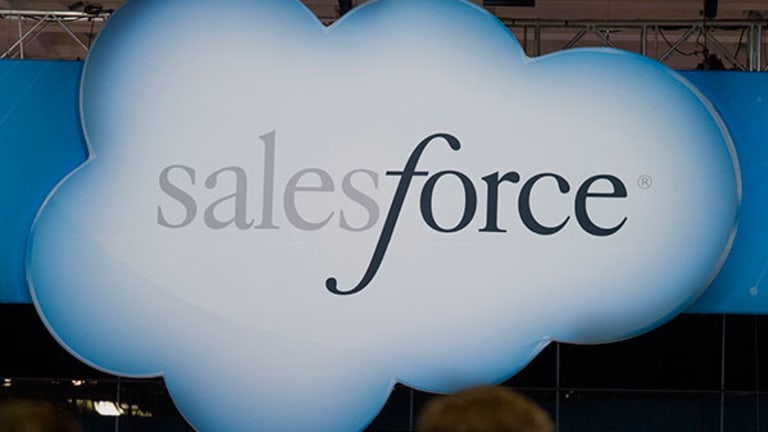 What Salesforce's Leaked Documents Reveal About Who the Company Might Go After Next
ServiceNow, Tableau, Pegasystems and other enterprise software groups made Salesforce's list, while Twitter was conspicuously absent.
The leak of emails from Salesforce (CRM) - Get Report board member Colin Powell has stoked interest in a range of potential software targets for Salesforce not named Twitter (TWTR) - Get Report-- notably ServiceNow (NOW) - Get Report , Tableau (DATA) - Get Report  and Pegasystems (PEGA) - Get Report .
In the Salesforce board presentation on M&A targets made public on DCLeaks.com, Marc Benioff's software company gives code names based on wine making regions to four companies, including LinkedIn (LNKD) (Burgundy), ServiceNow (Sonoma), Tableau (Tuscany) and Demandware (Champagne). Salesforce wound up bidding on LinkedIn, losing out to Microsoft (MSFT) - Get Report, but acquired Demandware, leaving ServiceNow and Tableau on the list.
The presentation was six months old, however, and the landscape has changed, with some of the companies discussed already having been acquired.
On Wednesday, Servicenow, which declined to comment, gained $3.03, or nearly 4%, to $79.19, putting its market cap at about $13 billion. Meanwhile, Tableau gained $2.51, or more than 5%, to $49.75. The data analysis and visualization company, which has a market cap of $3.7 billion, also declined to comment for this article.
The leaked presentation notes a June meeting with Pegasystems, which, like Salesforce, develops customer relationship management software.
"While flattering to appear on another organization's acquisition target list, we have not had any discussions with Salesforce on the topic of acquisition," a spokeswoman for Pegasystems said. The company aims to grow the business "on our own terms" she added. "Far too many M&As in enterprise software today routinely lead to significant customer disruption, stifled innovation, stalled product roadmaps, and eroded ecosystem value," she said.
Salesforce's presentation noted that the CEOs of Box (BOX) - Get Report and Zendesk (ZEN) - Get Report had "no interest" in deals. The presentation included the comment "less interested" for Workday (WDAY) - Get Report , but the presentation does not say whether it was Workday or Salesforce that lacked interest.
"Salesforce has a disciplined and thoughtful M&A process where we routinely survey the industry landscape across a wide range of companies, but acquire very few," a Salesforce spokesman said in reference to the documents. "The presentation is a broad survey of publicly traded companies in May 2016, and the appearance of company names on the list doesn't imply Salesforce ever intended to acquire them."
Still, it has ignited talk of continued consolidation in enterprise software.
"We think the combination of Salesforce.com and ServiceNow makes sense on multiple levels and we would not be surprised if something materializes over the next couple of years," Mizuho analyst Abhey Lamba wrote in a Wednesday report. "Its scale, growth rates and attractive metrics will be preferred by Salesforce.com."
Tableau could be less of a match, however.
"Based on the presentation, it seems like Tableau likely engaged in active conversations to sell during summer but it is still around as an independent company," Lamba observed.
While Tableau's market position could be attractive, Lamba suggested that its more traditional business model of charging for licensing and maintenance, as well as its need for staffing cuts, among other factors, could dissuade buyers. "We think Tableau is unlikely to add significant value to Salesforce.com especially as its revenues can decelerate meaningfully due to its revenue model," the analyst wrote.
Salesforce's board presentation also mentions a number of potential rival bidders. The list names typical enterprise technology acquirers like Hewlett Packard Enterprise (HPE) - Get Report , IBM (IBM) - Get Report , Oracle (ORCL) - Get Report and SAP (SAP) - Get Report . It also includes Amazon (AMZN) - Get Report , Apple (AAPL) - Get Report , Facebook (FB) - Get Report , Alphabet's (GOOGL) - Get Report Google. Chinese groups Alibaba (BABA) - Get Report , Baidu and Tencent are also on the list.
The documents support Marc Benioff's statements during the recent bidding for Twitter that Salesforce looks at everything on the market, Evercore ISI analyst Kirk Materne wrote in a Wednesday report.
"Given this document was generated in May, investors should bear in mind that a lot has transpired since then in terms of M&A and while the hacked presentation certainly contains some interesting insights into Salesforce's internal thought process, the fact that [Salesforce] is looking at a broad list of software M&A targets should not be all that surprising," Materne wrote. "That said, we believe that [Salesforce]'s potential interest in Tableau and ServiceNow could open up a new dialogue related to both companies in terms of their strategic value to other 'interlopers' listed in the presentation."
Alphabet, Apple, Facebook and Hewlett Packard Enterprise are holdings in Jim Cramer's Action Alerts PLUS Charitable Trust Portfolio. Want to be alerted before Cramer buys or sells GOOGL, AAPL, FB and HPE? Action Alerts PLUS Charitable Trust Portfolio