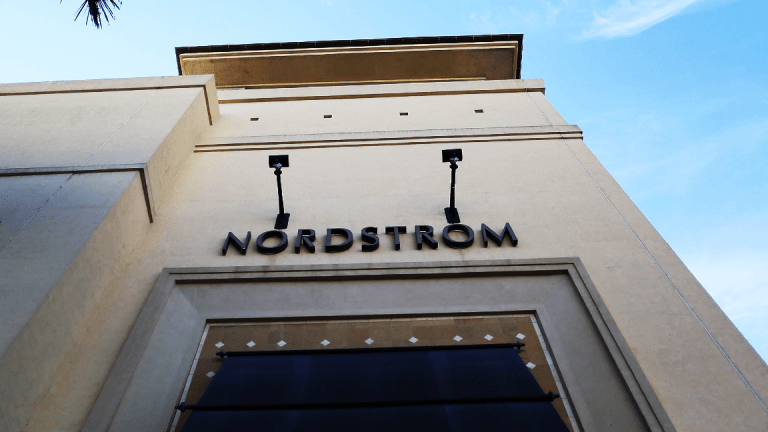 Warren Buffett Buying Nordstrom Could Be 1 of 3 Possible Outcomes
Strategic acquisition? Boardroom battle? Stay tuned, various sources tell TheStreet.
Wall Street, big money and family dynamics. Sounds like a soap opera, doesn't it?
For Nordstrom Inc. (JWN) - Get Nordstrom, Inc. Report , the drama is all too real as the founding family struggles to take the company private. Its latest hurdle? The special committee of the board rejected the family's $50-per-share buyout deal after the market closed Monday, calling the price "inadequate."
"It's a tricky situation because Nordstrom has had challenges over the past few years, and the last two quarters had stronger growth," said Josh Blechman, director of Exponential ETFs, an exchange-traded-fund provider. But it was in between the turning tides, he added, when the family first announced its plan to take the company private, which caused the stock to inflate.
So, nine months later, what's next? TheStreet looks into three possible outcomes.

1. The family returns with a higher bid.
The most likely scenario, sources say, is that the family returns to the board with a higher offer. The Nordstroms lined up some $2 billion from private equity firm Leonard Green & Partners and $7.5 billion in debt financing from multiple lenders for its $50-per-share deal, which values the company at about $8.4 billion, according to a 13D filing.
"While the two parties are seemingly at an impasse, we do not think the process is over," Keybanc's Edward Yruma said in a note Tuesday.
James Angel, a professor at Georgetown University's McDonough School of Business, agrees.
"The family will probably raise their offer, maybe to $52 or $53," he told TheStreet. "Anything could happen, and it couldn't be juicier."
As of Wednesday, March 7, however, a higher bid looks less likely, as a report surfaced in the morning that Leonard Green is struggling to finance a higher bid. 
Upping the price, additionally, would mean that the family must frontload debt. "Substantially improving the price likely faces the challenge of increasing the debt portion of the financing," BMO Capital Markets' Wayne Hood said in a note. For a $50/share deal, the debt-to-Ebitda ratio is 4.9 times. At $55 ($11 billion total), it would rise to 5.3 times and at $57.50 ($11.4 billion total), 5.4 times.
2. Someone else — ahem, Amazon — swoops in.
A second, more interesting, possibility is that another buyer could swoop in. The special committee voted down the family's proposal, presumably, to protect the interests of minority shareholders. If the board is contending that $50 is too low, "they probably have a sense of what other players are willing to pay," Angel said.
As of Tuesday afternoon, Nordstrom has an average target price of $51.76 among analysts, according to Factset. The stock is trading at $52.49, as shares hover about 1%. The highest target reaches $58, while the lowest is $42.
"Until recently, the public capital markets valued Nordstrom in the low $40's," Angel added. Now, Nordstrom has had two strong quarters, "and especially with a strategic buyer, there could be a lot of synergies."
Action Alerts Plus holding Amazon.com Inc. (AMZN) - Get Amazon.com, Inc. Report is first on the list of interested buyers, as it has already cast its glance toward the brick-and-mortar playing field with the acquisition of Whole Foods in June. Last week, supply chain consultant and Amazon alum Brittain Ladd told TheStreet it may be looking to buy companies to have a strong presence in physical retail.
"Naturally, Nordstrom would make a lot of sense because it's premium class, just like Whole Foods," Angel said. "But clearly an outfit like Macy's Inc. (M) - Get Macy's Inc Report would also be looking at Nordstrom. Warren Buffett could also be lurking in the distance."
Whoever the players are, the board's investment bankers are "definitely shopping this company up, down and sideways," he added.

3. The family launches a proxy fight.
Remember what happened with computer maker Dell? A similarly contentious boardroom fight could play out within Nordstrom, according to Blechman, though it's unlikely.
In 2013, activist investor Carl Icahn challenged Dell founder Michael Dell's leveraged buyout offer with Silver Lake Partners in a proxy vote. It was a battle that Dell ultimately won after weeks of intense lobbying.
For Nordstrom, the special committee within the board has all jurisdiction to accept or reject any buyout deal before a general shareholders' vote. Because the special committee is comprised of the board's independent directors who must be re-elected every year, it means that with more than 30% of shares in the company, the Nordstrom family has considerable voting power to block the re-election of board members on that committee.
"They can try and turn this into a proxy contest, but it also means that the family would have to convince the rest of the shareholders of their lower valuation," Blechman said. "Michael Dell did it."
All the world is indeed a stage, even in retail.