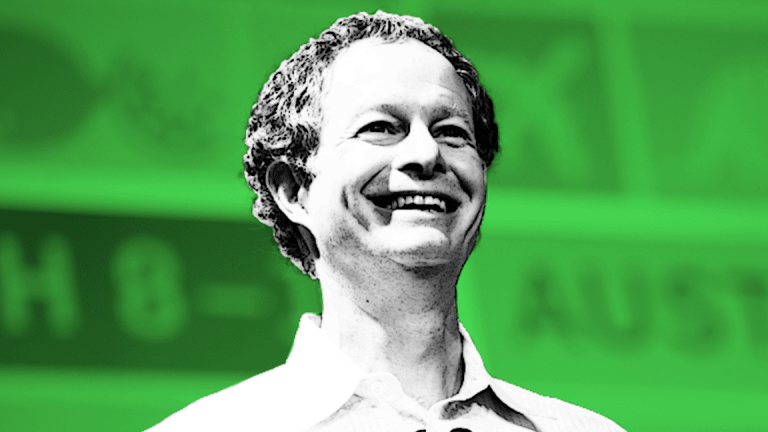 Amazon's Stamp on Whole Foods: How Strong Is It Now?
Jeff Bezos' lips are sealed, but expect Amazon Prime to get even more sophisticated. That is but one of several changes people will likely see at Whole Foods over time.
Two months after Amazon.com Inc. (AMZN) - Get Amazon.com, Inc. Report completed its $13.7 billion acquisition of Whole Foods, there's plenty in the works, mostly behind the scenes.
The deal provides an "unbelievable living laboratory to test all kinds of ideas," said Antony Karabus, CEO of HRC Retail Advisory, pointing out that Amazon has struggled to perfect the logistically trickier and lower-margin grocery-delivery business.
The acquisition increases Amazon's total food square footage from 3.78 million square feet to 22.69 million square feet, a fivefold jump, according to a Sept. 26 note by Ken Sena of Wells Fargo Securities LLC.
What's Visible
Outward signs of Amazon's takeover of the grocer were scarce during a visit on Wednesday, Oct. 18, to the Whole Foods in New York's Tribeca neighborhood. No Echo devices were for sale. In fact, the only indication of Whole Foods' new owner was lower prices on Hass avocados ($1.49 each, down from $2.50) and organic bananas (69 cents per pound, down from 99 cents). A frequent shopper at the location told TheStreet on Wednesday that when the sale went through, he immediately noticed a price drop on many foods and the prices have stayed lower.
Amazon achieved "unprecedented" sales of $500,000 in one week after adding over 2,000 Whole Foods items to Amazon.com at the end of August, according to analytics company One Click Retail. Some 96% of those sales came from alternative Amazon grocery channels like Prime Pantry, Prime Now and Amazon Fresh, with just 4% from Amazon.com, according to One Click Retail founder Spencer Millerberg.
The price reductions in stores solved a "trap" for Whole Foods CEO John Mackey, who said at a conference that the chain's Whole Paycheck nickname was a web from which he "couldn't quite figure how to get out of." After the deal closed, he said, "We escaped the trap. I feel a little bit like Houdini."
Indeed, according to a recent Morgan Stanley report, higher prices are the main reason shoppers avoid Whole Foods. The chain has 13 million households in the U.S. shopping there, compared to 24 million at Kroger Co. (KR) - Get Kroger Co. Report , 6 million at Sprouts Farmers Markets Inc. (SFM) - Get Sprouts Farmers Markets, Inc. Report and 3 million at Smart & Final Stores Inc. (SFS) - Get Smart & Final Stores, Inc. Report .
"Amazon doesn't care about profitability in the short term. They play the long game," Karabus noted. "They've taken the attitude that fresh and premium produce is very high-priced and they want to grab a lot of market share. They want to lower the prices significantly, to democratize healthy food...[to] drive a lot more traffic to Whole Foods."
While the Wall Street Journal reported that Amazon and Whole Foods are phasing out brand representatives and decentralized product selection, Whole Foods said local brands will remain an important part of the business.
"All Whole Foods Market stores will continue to sell local products, and our buyers remain committed to discovering and incubating local and innovative brands," Whole Foods spokeswoman Robin Kelly wrote in an email. "Local suppliers and products are crucial to the success of the company and our ongoing work in category management helps streamline processes that ensure each store has the best possible curated selection of local and national products available for shoppers. This improves the customer experience and also ensures local suppliers are represented in categories where they will be successful and positioned for growth."
Groceries + Online
Online grocery spending is a drop in the bucket, compared to purchases in other sectors. Citing Forrester Research Inc. data tracking online sales from 2000 through projections to 2023, Sena writes that Americans spend $895 billion annually on groceries, and only 2.9% of it online. In contrast, the music industry boasts $6 billion in total retail spend, 93% of which is online, and 17% of the $386 million retail spend is online. Online grocery spending is expected to head upward, according to Sena, who predicts an increase to 7.9%, nearly triple the current percentage, in less than a decade.
Eventually, Amazon said, Amazon Prime members will receive "special savings and in-store benefits" at Whole Foods after integrating the two companies' point-of-sale systems. Morgan Stanley estimates that 38% of Whole Foods shoppers, or 5 million, are not Amazon Prime members. Half of those people will likely join Prime before 2020, the analysts added.
"There's no question Amazon is going to develop something special and unique for Prime," Karabus said, adding that he "wouldn't be surprised" if eventually Amazon drones deliver Whole Foods produce directly to Prime members' doorsteps. Whole Foods customers are "among the best customers for the grocery chains," he said, because they spend more money and pay less attention to price changes. "There's definitely going to be a relationship between Whole Foods and Prime members."
Bespoke Grocery Shopping
Before closing the acquisition, Amazon said Prime will function as Whole Foods' loyalty rewards program. "The number of ideas where you can create personalized experiences for [Prime] customers is unbelievable," Karabus said, speculating that Amazon could experiment with customized shopping lists and subscription-based product deliveries. "Nobody does customer data like Amazon does," he added.
Customization is just one area that Kroger, for instance, is trying to convince investors it's making strides. The grocer said at its investor day last week that it will use "shopper data to create different experiences for customers." Digital improvements will drive customer loyalty by "providing not only functional information but also inspiration and personalized discovery through recipes and product content." Kroger's Harris Teeter chain, for instance, offers a Myxx Recipes service, which automatically converts recipes into shopping lists.
These investments are costly, however, and Kroger also said it plans to "continue investing to avoid losing customers because of price." Since 2001, Kroger has "invested more than $4 billion" to lower prices, the Cincinnati-based company said during an investor presentation.
As the integration progresses, Barclays analyst Karen Short predicts "meaningful reconfigurations of the layout and go-to-market strategy based on Amazon's war chest of data analytic capabilities—tied with Amazon's knowledge of customer behavior in the 20 markets they already serve."
Marching Toward Digital
The view that "only a small percentage of total food purchases will shift online" is "archaic," according to Short, who thinks at least 5% of perishable food purchases will shift online over the next few years. Given food retailers' high degree of operating leverage, she reckons that a 1% loss in sales implies a 10% loss in Ebit.
As Amazon perfects its plans at Whole Foods, Short added, the e-tailer will leave no grocery company unscathed. Assessments of market share and concentration are "dated at best," she said, and "this outdated view of the food retail landscape will only exacerbate food retailers' abilities to survive," even as they resort to M&A to stave off bankruptcy.
Much of Amazon's plans and timing remains a secret. Mackey, who joked that Amazon would have him killed if he blabbed, promised "some amazing things," but added that the companies are "still figuring out what we're going to do." So are Amazon's new grocery competitors.
"It comes down to other grocers having to rethink their economic operating models so they can have acceptable profit margins," Karabus said. "This is just the beginning."
More of What's Trending on TheStreet:
Editors' pick: Originally published Oct. 20.