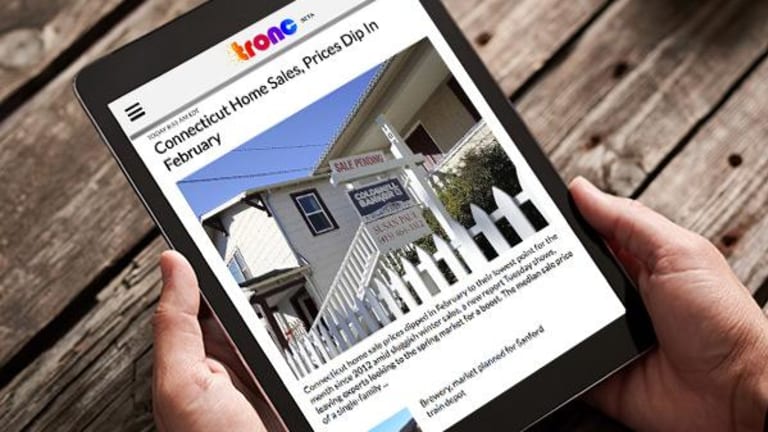 What's Behind Tronc's Startling Purchase of the New York Daily News
After losing a couple of deals, Tronc surprises everyone by buying the New York Daily News, re-creating a top three U.S. metro trifecta, with L.A. and Chicago. What's behind what seems like its blast-from-the-past strategy?
Tronc Inc. undefined finally found something it could buy. 
On Monday, Sept. 4, the U.S.'s third-largest newspaper chain announced a deal to buy the longtime financially ailing New York Daily News from investor Mort Zuckerman. It gains control of the paper and its printing facility in Jersey City, N.J., and takes a 49.9% interest on the 25-acre parcel on which the printing plant sits, with Zuckerman remaining majority ownership of that property. In addition, Tronc assumes the paper's pension responsibilities, which have been estimated at $30 million.
Tronc didn't disclose its purchase price, but Securities and Exchange Commission filings show it's $1. That's not really a surprising number. Longtime millions-losing dailies like the Daily News really offer a market value of a $1, more or less. Their "value" is then in their nameplate and in their longer-shot potential for rebuilding a profitable mainly digital business on the shaken foundation of the print advertising-hemmorhaging legacy.
Further, even at $1, seller Zuckerman also had to toss in that 49.9% share in the Jersey City property, a property about which Tronc executive Tim Knight said, "that was certainly an added inducement to this transaction." Knight told the Chicago Tribune that the Tronc/Zuckerman joint venture will eventually develop the 25-acre parcel on which the printing facility sits. In this case, as in many other daily newspaper transactions of the last five years, it is the property that offers calculable value and drives the deal. 
Zuckerman had publicly put the paper on the market two years ago, but found it wanting. This real estate gambit then frees him from future Daily News operating losses. For years, those close to both the Daily News and its archrival New York Post have estimated the losses in their war of attrition to be in the tens of millions of dollars. 
The Daily News' iconic newspaper brand -- stretching back 98 years to 1919 --  falls into the uncertain hands of Tronc, an entity newly christened just 1-1/2 years ago after investor Michael Ferro pulled off an out-of-the-blue coup, buying effective control of Tribune Publishing Co. and then re-naming it with his acronym for "Tribune Online Content." 
More of What's Trending on TheStreet:
For Ferro, chairman of Tronc, it's a win he can, and will, crow about. His announced vision has always been expansive. Now, as he adds a New York brand as a "tenth major U.S. media market," he can claim to have arrived. Add the New York nameplate to that of the Chicago Tribune and Los Angeles Times, and Tronc will claim "national" status.
In its acquisition release, the company said its "combined digital platform has over 80 million unique monthly visitors." The Daily News provides a digital audience, as national as it is New York-based, of about 25 million monthly unique visitors, adding to Tronc's approximate 60 million. Size may be a goal, but the larger question will be what the strategy is behind harvesting the value of the increased size.
The deal offers a couple of historical echoes. Tribune, Tronc's predecessor, owned the Daily News from its founding until 1991. Further, and ironically, the three major metro holdings strategy matches one of Tribune's itself. Though Tribune had sold off the Daily News, it added both the L.A. Times and New York's Newsday to its chain in 2000. It then mounted a major ad sales campaign around the power of the threesome back in the early aughts. While a great talking point, the three-city synergy play never netted the company more than a couple of points of revenue, sources have told me over the years.
Today, Tronc faces a transformed ad landscape. In digital, scale is defined by billions and audiences sliced and diced by increasingly AI-assisted programmatic advertising. Tronc seeks more scale through industry consortia plays like Nucleus, but that endeavor hasn't fulfilled the revenue goals of several large newspaper partners. The company's digital revenue was down 5% for the last quarter. 
Meanwhile, print advertising manages a never-ending disappearing act. Tronc, for instance, reported a 17% drop in print advertising in the second quarter; it's unclear whether in 2017 print scale makes any significant difference in the marketplace.
Tronc's leadership hasn't yet addressed its deeper thinking about the acquisition. It is at that newer leadership, of Tronc X (Tronc's digital division) president Tim Knight, and now of L.A. Times CEO Ross Levinsohn, to which the company looks for new ideas.
Given how challenged revenue is, cost reductions -- still the driving strategy of Tronc and many of its peers -- may be at work. In its story on the buy, the New York Times reported that Tronc may use the Daily News presses to print two of its other papers, the relatively large Hartford Courant in Connecticut and the smaller Allentown Morning Call in Pennsylvania. That would fit a major newspaper chain strategy: either in-source lots of print or outsource it, saving much labor.
Just two months ago, I reported that Hearst Newspapers, as it bought the New Haven Register, planned on shifting its printing away from the Hartford Courant to one of its owned plants. That loss of business for Tronc, in Hartford, looks like it is one driver of the Daily News acquisition. The downside of such printing synergy: earlier deadlines that make the news for the remaining, and high subscription-price-paying print subscribers, even older. Hartford is two hours from Jersey City -- without traffic. It's a truism of this age that printing and production costs can drive major decisions about newspapers' lives, their viability and whether they will be kept or sold. 
The Daily News now moves from the private ownership of Zuckerman, who has owned the paper since 1993, to that of Tronc, a single-class public company. While the Daily News has seen its ups and downs with the often-changing strategic decisions of its owner, it hasn't faced the pressure of being a money-losing concern with the glare of quarterly earnings visited upon its crimson bottom line. Now, it will.
It moves into a Tronc itself still much in transition after a year-and-a-half of new leadership, if not in chaos. Just two weeks ago, Tronc dispatched three top corporate executives and purged four top editors at its flagship L.A. Times, while naming Internet executive Ross Levinsohn the paper's new CEO and publisher.
During the tenure of Ferro and his CEO, Justin Dearborn, the company has been close in a spate of possible transactions. It lost both the Orange County Register in 2016 and the Chicago Sun-Times in July, when the the Justice Department's antitrust division blocked its bids. It fell out of the bidding for US Weekly.
Tronc did manage to buy a small company, Spanfeller Group, which produces The Daily Meal and Active Times, but sources said the touted traffic-driving potential of those acquisitions hasn't come close to expectations. As of last week, Jim Spanfeller, like the three corporate VPs who recently departed, left Tronc's employ. That's just one more sign that Tronc's promised transformational synergies haven't borne fruit. Now, with a New York-centered operation, Tronc will aim to achieve a new suite of editorial efficiencies amid business-side cutbacks. 
As the company faces its next round of strategic challenges, it will keep one eye on its rear-view mirror. There, former Tronc vice chairman Patrick Soon-Shiong keeps a watchful presence. Soon-Shiong, Tronc's second-largest investor after Ferro himself, split with Ferro earlier this year and could contest control of Tronc itself come early 2018. 
For the Daily News, it's a leap from a long-simmering pot into a kettle of unknown depth. 
The feisty tabloid has long offered up a unique voice in America's one-of-a-kind city. Now, Tronc -- a company bred in decades-old, staider broadsheet sensibilities -- assumes control. Arthur Browne, the Daily News' editor-in-chief, becomes its interim publisher. He will step down at year's end. That opens up still another big question for Tronc: Given its L.A. Times firings, it is actively searching for a top editor -- and new credibility-- for the Times. 
Now it will seek both a new business head and editorial leader for the Daily News. With a newsroom diminished, but still numbering about 200 and with a 2017 Pulitzer to its credit, the paper has survived several near-death experiences, as well as the tenure of press baron Robert Maxwell.
As media maven Michael Wolff elegantly summed it up: "Hemorrhaging advertising, locked in a circulation war with the Post, devastated by a strike in 1990 and saddled with onerous union agreements, the News was sold in 1991 to would-be U.K newspaper baron Robert Maxwell. It would be hard to imagine a less promising owner. Two years later, having long been looting his company's pension funds, Maxwell slipped off the back of his yacht, an apparent suicide."
How many more lives can it manage?
Then, there's the question of that "voice." Will Chicagoan Ferro attempt to modulate it?
And there's always that direct old-school competition. What will Ferro do in print, and in digital, in its battle with archrival New York Post, owned by Rupert Murdoch? While Murdoch, too, has lost millions in maintaining the Post, his pockets are far deeper than Ferro's. 
In digital audience, the Post clearly dominates the Daily News. 
Two years ago, both could claim a monthly digital unique customer count of about 25 million. Today, the Daily News hovers around that number, according to comScore Inc., after experiencing an election boom that subsided. The Post, though, has doubled its number since then, showing 49 million in July. That is its highest total ever, after three months of 40 million-plus. 
Still, print drives much of the revenue for the two survivors. 
From counts in the millions in heyday years past, today, the Daily News now sells about 200,000 daily and about 260,000 on Sunday. As a "second" paper in a highly competitive market and as single-copy sales product in a newsstand market that is a shadow of itself, the Daily News long ago ceased being an economic enterprise. Said the Chicago Tribune on the sale: "Tronc sees cost efficiencies and opportunities for revenue growth, including Tronc's scale, to operate the Daily News less expensively and attract more printing clients to the New Jersey plant acquired as part of the deal. [CEO] Dearborn expects the Daily News to be operating in the black by next year."
Tronc, then, has upped its ante -- and, who knows, could soon make new noises about buying Gannett Co. (GCI) , the company whose hostile takeover of Tronc failed last year. Ferro has made his big splash, and there will be lots of people -- Daily News readers and staffers, and the wider newspaper industry -- waiting for the waves.