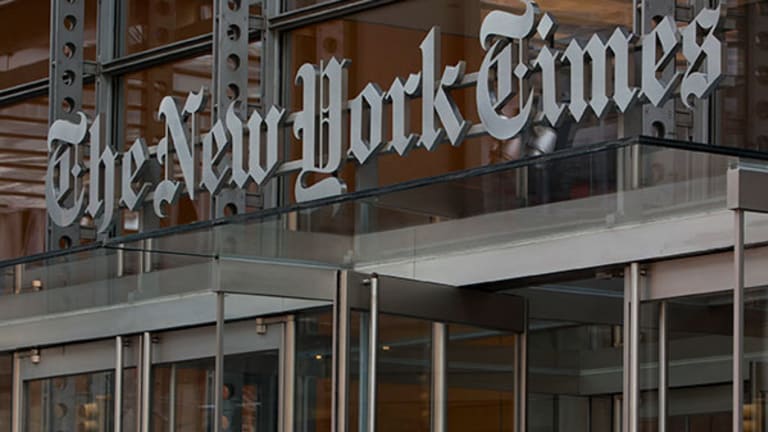 What's Behind the New York Times' Big Executive Shuffle
CEO Mark Thompson discusses Meredith Kopit Levien's promotion to COO, as the Times aims to get its new products successfully -- and more quickly -- to market.
2017 looks like the year in which The New York Times (NYT) - Get New York Times Company Class A Report finally turned the digital corner. Yet, Wednesday's announcement of CEO Mark Thompson's reorganization of his top leadership indicates he doesn't want to simply make the turn; he wants to accelerate through it.
The 59-year-old Thompson announced the appointment of 46-year-old Meredith Kopit Levien as the Times' first chief operating officer in more than a decade. While the appointment clearly puts a potential succession in place, its immediate motive is clear: speedier to market with products that will double down on Thompson's now highly articulated "subscriber-first" strategy. 
In her expanded role, Levien takes on responsibility for product and design, the two, of course, inextricably tied, in the digital age. The intention: she'll ramp up time-to-market for the Times' next set of product launches -- initiatives all intended to take advantage of the current luminosity of the Times brand in the Trump age.
Importantly, as Levien assumes the greater role, Kinsey Wilson, who has led much of the company's digital efforts over the past two years, will not take on another permanent role, his position eliminated. Wilson will stay with the Times for an unspecified time and advise Thompson. "We like his digital vision, his insights, his instinct and his abilities to get synergies with the newsroom," the CEO told me on Wednesday.
Shares of The New York Times Company fell 0.6% to $17.25 on Wednesday, but are up almost 30% so far this year.
The elimination of Wilson's position ["Why the New York Times hired Kinsey Wilson"] poses one significant question mark today. Much of the Times' success over the last two years has been built on a newly built and stronger internal dynamic of unusually close collaboration between the newsroom and the Times' business side. Still, Thompson, noting that this is his third significant re-org in a five-year tenure, is willing to take that gamble. He paints this move as a next step in a continuing process of reinvention. 
"With Meredith, I find that things happen and they happen quickly, in repeated cycles," says Thompson, in explaining the promotion. Indeed, internally, her work is well-respected, and she's known as a tough-minded manager and a risk taker. "She'll increase the clock time on product development and time to market," one business-side insider told me Wednesday, and that sense has been reinforced as I've talked to more than a dozen Times staffers over time. Faster decision-making inevitably means "no" as well as "yes," and Levien's willingness to do so clearly helped in her elevation. 
I asked Levien what she is going to do to expedite product-centric market strategies.
"Hire and retain great people with domain expertise," she says, and her top lieutenants, including T-Brand's Seb Tomich and Brand's David Rubin indicate the kinds of moves she'll make next. Thompson told me that her first big hire will be a "head of product and design," which is a new position for the Times. (Both top positions heading design and product, last held by David Perpich, who has gone on to head the Times' Wirecutter unit, have been vacant.)
Historically, that job has been a difficult one for Thompson to fill, though Wilson overall has gotten good marks for moving the Times' core digital products, especially its smartphone one, and its newsroom culture, profoundly forward. In addition, he's led the Times' new highly successful podcast initiative, led by The Daily, and serves as a main liaison point to the Silicon Valley giants whose businesses are entangled with the Times. 
Levien was Thompson's first major executive hire, when he made her the Times chief revenue officer four years ago, poaching her from Forbes, where she had been pivotal in building that company's pioneering branded content business. In her four years at the Times, she has transformed its approach to advertising sales, re-skilling and re-training sales staff and moving profoundly to the kind of "consultative selling" model that many publishers talk about, but have been slow to execute.
As one tangible sign of her progress -- within a chaotic and Google (GOOGL) - Get Alphabet Inc. Class A Report /Facebook (FB) - Get Meta Platforms Inc. Class A Report duopoly-dominated ad landscape -- the Times just reported that 60% of its digital ad business is on the "growth side" -- "mobile, mostly smartphone, programmatic, branded content and marketing services  -- of the trade, as competition for selling space itself drives prices further downward. 
That number is a milestone, one of the crossover milestones the Times continues to hit. Levien pushed hard on both the Times' T Brand agency business, scaling ahead of numerous publisher competitors, and got the mobile ad selling formats in place earlier on as well. In addition, she's given wide credit for a successful re-tooling of the Times' programmatic ad business.
As chief revenue officer, she's also overseen the Times' biggest crossover priority: digital subscriptions. As we've reported, the Times has benefited the most from America's unprecedented national political turmoil, growing digital subscriptions to about 1.9 million, and its overall print and digital subscription count to 3.2 million. Further, it's seen its most impressive share price rise in a decade, and garnered the intangible of enhanced prestige, as the Times, together with the Washington Post, have reasserted themselves as powerful, trusted forces in American society. 
Now, Levien will be asked to help Thompson grab the main chance, to take this newfound fortune and stretch out it further and faster. Now responsible for both a (core) Product organization and a (new product) NYT Beta organization, the Times intends to cement more paying relationships with readers (and sponsor-able opportunities for advertisers) by rolling out a succession of new service-oriented, reader-paid products, as well as audio -- podcast and voice-driven (Alexa, Google Home, Apple's (AAPL) - Get Apple Inc. Reportnew Home Pod) ones.  
Cooking, the first of this next generation of paid products, will debut within the month, and just two weeks ago, I laid out its strategy and customer goals ["Ken Doctor on New York Times Cooking Section's New Premium Model"].
In numbers, the new responsibilities add a couple of hundred Times' staffers to Levien's current portfolio of about 600. More importantly, "We can dock the two groups [product and subscription] together," Thompson told me Wednesday. That's the key here, Thompson says: faster implementation.
Thompson himself will take on two new direct reports, the head of Data, Laura Evans, and the Technology chief, Nick Rockwell. Both hired by Kinsey Wilson, they will move on to the executive committee, an indication, says Thompson, of their enterprise-wide value of their work. Those elevations clear, the next role of the newsrooms in Times innovation is yet to be paved.
The big question being, is the Times' newsroom, its hybrid product responsibilities now largely returned to the business side, as likely to remain a fully committed partner in digital innovation? A new generation of newsroom digital leadership, including Cliff Levy, Sam Dolnick and Steve Duenes, has moved into place. Still, Thompson and Levien must figure out how to keep that full-throated collaboration solidly in place, as they hope to make product progress. 
At the top of the organization, it's now, officially, the Mark and Meredith show, though their partnership has been clear to all over recent years. Is Levien now the anointed, a likely successor to Thompson at some point?
"Any sensible company wants to be assured that they will have good choices inside the company when that moment happens," Thompson notes. Consider Levien's grooming the sensible move of a successful executive and one a decade younger than most of her executive peers. Still, even 2020, the next big target of Times' strategy is a long time off. It's 2018 that's firmly in mind at this point. 
Click here for the latest business headlines.
Read More Trending Articles:
Alibaba Set For Record Open as Investors Go Berserk After Sales Forecasts Crush Estimates
Market Recon: Forget James Comey and Theresa May -- Here's What You Should Worry About