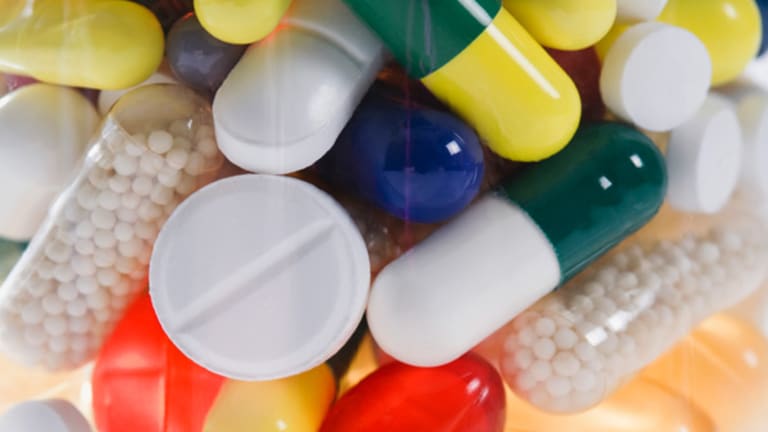 What Obama Means for Biotechs
Biotech investors are worried that Obama's prescription for health care reform will squeeze the sector's growth.
Will biotech die from ObamaCare?
Last week, investors reacted to President Barack Obama's proposals for health care reform as if the biotech group had been diagnosed with terminal illness. Large-cap, profitable biotechs, a group that had been a relative source of strength in this raging bear market, were among the most affected by the wave of selling.
Celgene
(CELG) - Get Celgene Corporation Report
shares fell 17% last week, while
Amgen
(AMGN) - Get Amgen Inc. Report
dropped 14%.
Genzyme
(GENZ)
was off 10%,
Gilead Sciences
(GILD) - Get Gilead Sciences, Inc. (GILD) Report
slid 10%, and
Biogen Idec
(BIIB) - Get Biogen Inc. Report
fell 9%. Only
Genentech
(DNA)
seemed immune as its shares were flat for the week.
The broader biotech sector fared no better. The Amex Biotechnology and the Nasdaq Biotechnology indices slid 9.5% and 10% last week, respectively, compared with a 4.5% decline in the
S&P 500
.
Biotech investors are worried that Obama's prescription for health care reform will squeeze the sector's growth by imposing lower drug prices through Medicare and Medicaid, allow the re-importation of prescription drugs from outside the U.S., accelerate the approval of generic version of biotech drugs and alter the tax code to limit the ability of U.S. companies to protect overseas profits from taxation.
How any of these proposals in Obama's 2010 budget actually affect the biotech sector, if at all, are far from clear. And there are many reasons why biotech's niche of developing life-saving drugs for serious diseases with unmet treatment needs won't suffer significant price or profit erosion.
Right now, however, uncertainty given the lack of details in Obama's health care reform plans, coupled with outright fear, seem to be more powerful than whatever reality lies down the road.
"We have long argued that large-cap biotech can be viewed as a source of safety in this volatile macro environment given economic insensitivity, high earnings visibility, and stable cash flows," writes JPMorgan analyst Geoff Meacham in a note to investors over the weekend. "New concerns over Washington policy haven't changed our view but admittedly broad investor fears may lead to further pressure on the group."
Below is a company-by-company look at the potential impact of Obama's health care and tax reform plans:
Amgen
: The entrance of follow-on biologics, or biogenerics, to the U.S. market is an inevitability for which Amgen has been preparing for quite some time. Two of the company's mainstay products, Epogen and Neupogen, have biogeneric competition in Europe already.
Of all the big-cap biotechs, Amgen is most vulnerable to biogeneric competition. Key U.S. patents for Neupogen expire in 2013 (the drug's sales were almost $900 million last year), and Aranesp, Amgen's top-selling anti-anemia drug, sees patents expire in 2014. Aranesp sales totaled $1.6 billion in 2008, according to Morgan Stanley research.
Amgen also is stymied by the fact that its drugs are made from simple proteins and are therefore more easily copied.
Merck
(MRK) - Get Merck & Co., Inc. (MRK) Report
already has stated that the first drug from its nascent biogeneric manufacturing unit will be a copy of Aranesp.
But do not expect
biogenerics
to completely take over markets in which they enter. The Food and Drug administration isn't likely to allow automatic "substitution," which means biogenerics won't be viewed as identical copies of branded biologic drugs. This will force biogeneric makers to spend money on marketing their new drugs, which in turn, will mean biogenerics won't be launched at dramatically lower prices from the brand-name competition.
In Europe, biogenerics have generally been priced at a 20% to 25% discount but are still having trouble gaining significant market share.
Amgen benefits today from a relatively low tax rate of about 20%, in part because much of its business is conducted overseas. Details of Obama's corporate tax reform plan are scant, but if the administration prevents U.S. companies from shielding international profits from higher taxation, Amgen's tax rate would increase and its profitability would suffer.
Medicaid makes up about 5% of Amgen sales, so an increase in the government-mandated drug rebates from 15% to 22% will have minimal financial impact, according to JPMorgan. With that said, Amgen, like the rest of the big-cap biotech group, does generate a significant portion of its revenue from Medicare recipients, so any changes in that program, including lower drug pricing, could have a larger impact.
Biogen Idec
: The company's multiple sclerosis drug Avonex could face generic competition, but again, any new drug wouldn't be immediately substitutable. Tysabri, a relatively new MS drug, has less generic risk.
Biogen's Medicaid/Medicare exposure runs around 30% of total revenue, according to Morgan Stanley research. That includes royalty revenue Biogen gets from Genentech for sales of Rituxan.
Celgene
: A majority of the company's Revlimid and Thalomid sales are derived from Medicare recipients, placing the company at the higher end of the risk spectrum if Obama's health care reform plans significantly pinch drug pricing. Changes to Medicaid drug rebates, however, won't have any negative impact on Celgene because the company already offers higher discount rates to Medicaid patients because of the high price tag for its drugs.
There is some additional concern that Thalomid sales could be hit if Obama pushes through legislation to ease the path for generic drugs. The patents on Thalomid, itself, already have expired, but Celgene's patents on the safety and risk management plan required for Thalomid to be dispensed have, so far, blocked generic competitors. (The active ingredient in Thalomid is thalidomide, which causes severe birth defects if taken by pregnant woman.)
Genentech
: The bulk of the company's revenue is derived in the U.S. so changes to ex-U.S. corporate tax policy shouldn't have any significant impact. Genentech does derive about 45% of its revenue from Medicare programs, according to Morgan Stanley research.
Key patents on Genentech drugs Avastin, Herceptin and Rituxan expire in 2019, 2019 and 2018, respectively, according to Morgan Stanley research.
Genzyme
: About half of Genzyme's business is conducted overseas, according to JP Morgan, making the company vulnerable to changes in tax laws. However, Genzyme has a relatively light exposure to Medicare and Medicaid. A large portion of Genzyme's profits come from the sale of high-priced drugs to treat rare, genetic diseases, but the business is global and relies very little on U.S. government reimbursement, according to Morgan Stanley research.
Gilead Sciences
: Early indications are that the U.S. government will increase funding for HIV prevention, testing and treatment, all of which are positives for Gilead and its stable of market-leading HIV drugs.
On the flip side, Gilead has the broadest exposure to Medicaid and state HIV assistance programs, which leaves it more vulnerable to pricing pressure. Gilead also conducts a significant portion of its business overseas, so profit margins may be squeezed by higher tax rates.
At the time of publication, Feuerstein's Biotech Select model portfolio was long Celgene, Genentech and Gilead.
Adam Feuerstein writes regularly for TheStreet.com. In keeping with TSC's editorial policy, he doesn't own or short individual stocks, although he owns stock in TheStreet.com. He also doesn't invest in hedge funds or other private investment partnerships. Feuerstein appreciates your feedback;
to send him an email.