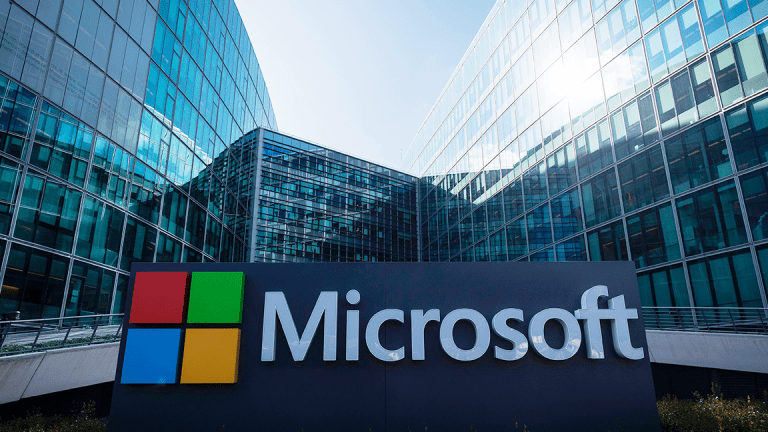 What Investors in Apple, Alphabet, Facebook and Microsoft Really Want
Investors in mega-cap tech stocks don't seem to precisely know whether they want growth, value or income. But they know they love the dominance of these companies.
Does anyone investing in mega-cap tech really know what they want from that group anymore?
Growth rates have cooled for Alphabet (GOOGL) , Amazon (AMZN) , Facebook (FB) , Apple (AAPL) , and Microsoft (MSFT) ; the companies are beset with government challenges regarding their dominance; and what they seem to offer could reasonably be captured by an exchange-traded fund with healthy returns and modest risk. 
And yet, they are still some of the best-performing tech stocks this year, with Amazon up 34%, Microsoft up 35%, Facebook up a whopping 53%, and even Apple, despite worries about the iPhone, up 28%. All of those returns beat the Standard & Poors 500 Index's 19% rise this year, and the Nasdaq Composite Index's 24% return. Only Alphabet has lagged, rising just 9% this year. 
About the only tech stocks that have performed better are some outliers that have surged on low expectations, such as chip maker Advanced Micro Devices (AMD) , up 82%, and the basket of high-priced software darlings such as Veeva Systems (VEEV) and Twilio (TWLO) . 
The fact that expectations are more muted for Google and the rest, and the fact that they are covered in controversy, yet continue to perform on a stock basis, suggests something is a bit perverse in the trading of the shares. 
With the exception of Alphabet, the stocks are trading like momentum names and moving on news, such as Facebook's "Libra" crypto-currency announcement last month. They are certainly not trading with respect to fundamentals, which have somewhat deteriorated for most of them, save for Microsoft. 
Alphabet's revenue this year is expected to rise 17.3% to $160.5 billion, down from last year's rate of growth of 24%. (Those numbers are for gross revenue at the Google business, before subtracting the cost of revenue, or "TAC" to sell ads.) Amazon's revenue is expected to climb 18% to $275 billion, a rate that's down from last year's 31% rate. Facebook is expected to turn in $69 billion this year, an increase of 24.4%, down from a rate of growth of 37% last year. 
And Apple's revenue may actually fall this year, by 3.3%, thanks to analysts' expectation for a decline of 15% from last year's iPhone sales, according to FactSet. Even Microsoft, while holding up somewhat better, is expected to increase revenue by only 13%, to $125 billion, down a percentage point from last year's rate of growth. 
True, those rates of growth are impressive for older companies now into the tens or hundreds of billions of dollars in revenue. Double-digit rates of growth are testimony to the dominance of the firms. But the stock returns are clearly well ahead of any actual increase in assets at each of the companies. And with the exception of Apple and Microsoft, the increase in revenue is not translating into capital returns, with Alphabet, Facebook, and Amazon not being known for their buybacks or dividends. 
A simple ETF-based approach to the internet industry performs reasonably well, if not quite as impressive as the mega-caps' returns. The Invesco Nasdaq Internet ETF (PNQI) is up 28% this year, and even the more mundane Fidelity MSCI information Technology ETF (FTEC) is up a healthy 30%. 
But investors this year didn't want mere alpha relative to the benchmarks -- they wanted the outperformance of a Microsoft or an Amazon, or the stunning surge of a Facebook. They wanted the momentum of these particular names more than they wanted asset appreciation or income or sector bets. 
That faith in a handful of the richest companies on the planet, despite ongoing government scrutiny, suggests a certain piling-on mentality, a confidence by the majority of investors that in some real way, these companies will own most of what's valuable in the economy, in advertising, retail, cloud technology and more. 
Or it could be little more than a reversal in the waves of sentiment that have beset the group. The period from 2017 into 2018 revealed the worst about the Facebook scandal involving misuse of user data. And the emergence of calls for breaking up mega-cap tech, by the likes of Massachusetts. Senator Elizabeth Warren, have grown louder this year entering the primary season. 
The rise in the stocks, against all that, is something of a contrarian bet that the vilification of these giants speaks to their power and therefore their ultimate longevity. 
It's safe to say investors in Alphabet and the rest don't really know what they want specifically -- growth, or value, or capital returns. For the moment, they want to bet that sheer dominance is a worthwhile investment. 
Facebook, Apple, Amazon, Microsoft, Twilio and Alphabet are holdings in Jim Cramer'sAction Alerts PLUS Charitable Trust Portfolio. Want to be alerted before Cramer buys or sells these stocks? Learn more now.
Tiernan Ray neither trades nor owns any shares of any companies mentioned in this article.