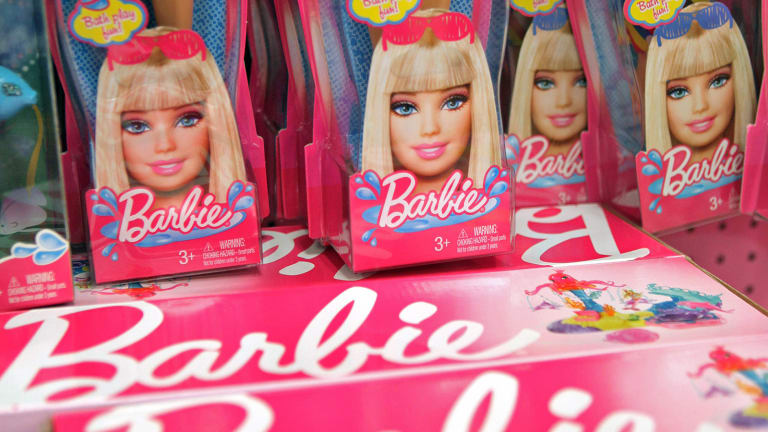 3 Things That Loom Ahead for Mattel
Bankruptcy may not be imminent, but the toymaker needs to take drastic steps.
Barbie is not having a good week.
The iconic doll's parent company, Mattel Inc. (MAT) - Get Free Report , saw shares tumble as much as 6% Monday, Feb. 26 as it struggles to convince investors that its turnaround efforts are working. The stock closed down 3.4% at $16.08 on Monday, and at Tuesday's close, it had slipped to $15.97.
On Feb. 1, Mattel said full-year sales in 2017 fell 11% as its second-largest distributor, Toys "R" Us Inc., reels in bankruptcy. With more than $4 billion in liabilities, including $2 billion in long-term debt, and a credit rating recently cut deeper into junk -- to B+ -- at Fitch Ratings Inc., it's hard not to wonder when Mattel might have to grapple with its own Chapter 11 filing.
Luckily for the El Segundo, Calif., toymaker, bankruptcy isn't yet on the horizon, according to Jefferies & Co. analyst Stephanie Wissink, who published a less-than-optimistic note Monday morning downgrading the stock to underperform from hold.
"They're not in that level of financial distress yet where it would lead to Chapter 11," she told TheStreet. She added, however, it was a race against time for the toymaker. "Right now, they're assuming that they can recover profitability in two years using market share conditions that just doesn't exist anymore." 
Mattel did not immediately return a request for comment.
Beyond the Toys "R" Us fallout, consumer demand is shifting away from physical toys to other forms of entertainment, such as original television and film content — an avenue in which rival Hasbro Inc. (HAS) - Get Free Report excels, such as with its My Little Pony franchise. 
While bankruptcy isn't looming, Mattel may be forced to take drastic steps in the coming months. Here's what we can expect from the retailer as it continues a turnaround effort intended to produce $650 million in savings this year.
1. Cashing Out on Assets
Desperate for cash, Mattel already has begun what's likely a series of sales of noncore assets when it agreed earlier this year to sell its doll subsidiary, Corolle, to German toy manufacturer Simba Dickie Group GmbH.
About 10% of Mattel's brand portfolio constitutes noncore offerings, worth $25 million to $30 million per sale, Wissink said. "If they dispose of more of these peripheral assets, I wouldn't be surprised."
In addition to cash and equivalents of nearly $1.08 billion as of Dec. 31, Mattel has a considerable vault of assets to relinquish before filing for bankruptcy, she added, including some real estate, such as warehouses and logistics facilities. 
Wissink said the company could use the warehouses and logistics plants for sale-leaseback deals, which would generate additional free cash. 
At the same time, the maker of Hot Wheels and American Girl dolls is planning to expand its El Segundo headquarters, with completion set for 2023, real estate documents show. This would further increase the value of Mattel's headquarters. 
2. Difficulty in Refinancing
Mattel has $500 million in senior notes due in May 2019, according to its 2017 Form 10-K, filed Tuesday with the Securities and Exchange Commission. Another $250 million in notes comes due in May 2019. This means the company likely will restructure its debt in the coming quarters. But as its credit rating falls deeper into junk status, interest rates will in turn be higher to reflect its higher risk.
"As the cash needs to recover the business go up, the cost of capital will go up as well," Wissink said, creating an unfortunate double bind for Mattel.

3. No Deals on the Horizon
Mattel's stock enjoyed a brief recovery in November, following reports that Hasbro might be acquiring it. The deal failed to materialize, though, and no transaction appears to be forthcoming because Mattel reportedly has rejected Hasbro's offers. Hasbro CEO Brian Goldner recently told TheStreet's Executive Editor Brian Sozzi he is happy with Hasbro's existing brands. 
Then again, with Hasbro out of the picture, could another player step in, say, in a leveraged buyout? Nope, said Wissink, who pointed to Mattel's Ebitda-to-debt ratio. "With a trailing Ebitda of $200 million, that makes Mattel more than 20 times levered" — way too high for a private equity firm to consider.
"The PE guys realized a long time ago that what Mattel has to offer isn't worth it," she said.
Still, not everyone is pessimistic about Mattel. Morningstar Inc.'s Jaime Katz wrote in a note last week that Mattel is well on its way to cost reduction, as it's cleaned up inventory and initiated small-scale content production efforts.
"We believe Mattel's story is moving in the right direction, although multiple years of mismanagement and operational dysfunction takes time to unwind and reposition," she said. "We expect to see increased momentum in the second half of 2018, as indicated by progress in the capture of cost-saving initiatives and stabilizing the top line."