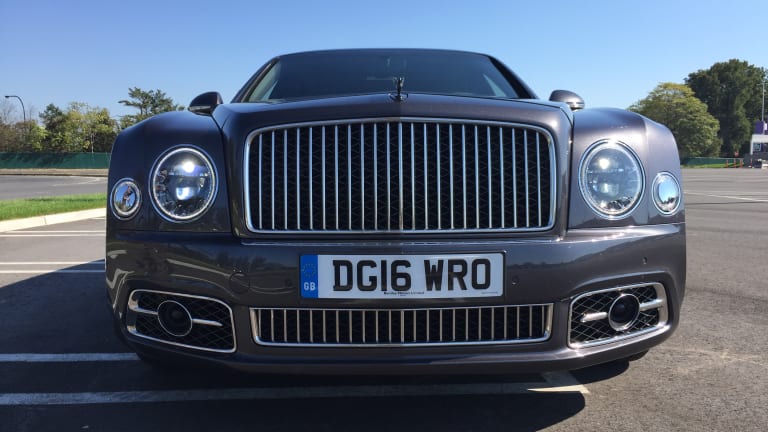 What It's Like Driving a New $405,000 Bentley Super Car
Having a new Bentley in your possession for a day opens the door to doing all sorts of interesting things.
It's not often that one gets to park their rear ends behind the wheels of a luxury super car such as the 2017 Bentley Mulsanne Speed. In fact, most people will spend their 80 or so years on planet Earth having never seen a Bentley up close and personal. And that's a darn shame that the one percenters out there have all the access to the handcrafted, special autos that Bentley makes in limited numbers each year.
Consider some of the dazzling features of the Mulsanne Speed. 
From the extra-plush couch-like Bentley embroidered front and rear seats to the endless shiny chrome accents throughout to the two large umbrellas in the trunk that are great to have should a summer rainstorm break, the latest from Bentley makes everything else on the road feel inferior. If Bentley wanted to remind people--from car review snobs to its ultra-rich clientele--that it still produces mostly handcrafted autos, then the 2017 Mulsanne Speed certainly delivered on that covert mission. And given the hefty price and a Bentley nameplate that is known for making high-class rolling toys, it had to deliver.
The 2017 Bentley Mulsanne Speed is priced at over $400,000 with all the bells whistles, such as the 10.4-inch removable touchscreen Android-powered tablets and backseat champagne chiller (with three crystal flutes included, of course). The luxury super car boasts an extra-quiet 6.75 litre V8 engine that pumps out a heart-pounding 530 horsepower with ease. That impressive power-plant rockets the Mulsanne Speed from 0 to 60 mph in about 4.8 seconds. Top speed for this beast of a a four-door 6,200-pound luxury auto: an eye-watering 190 mph, not too far removed from the new two-door Ferrari GTCLusso that reportedly tops out at 208 mph. 
I had the opportunity to have the Mulsanne Speed in my possession for just about an entire week. Although I aspire to own a Bentley in the future, the reality is that I don't have $405,000 laying around at the moment. Hence, I chronicled a full day of having the car in my millennial male grip, seeing as life is fleeting, and the opportunity to touch a Bentley steering wheel may never happen to me again.  
A life-changing day.
Don't get me wrong, I love my new bright red Dodge Challenger (parked on the right). It's absurdly sexy. But, the Bentley is sexier and faster. A side-by-side photo in my parking lot reaffirmed where I want to be in life. 
Bentley (left) meets my red Dodge Challenger (right).
The resident nonlandscape selfie inside a Bentley chock full of chrome accents and plush leather seating. Because, let's face it, you are so excited to be sitting in the front seat of a Bentley you forget to take a landscape pic. 
So. Many. Chrome. Accents. 
"These are the most extravagant car keys perhaps in the world," you internally wonder. 
Perhaps the heaviest keyfob in the world. In this case, the "B" is for baller.
You can't help but to LMFAO while passing a first-generation Chevy Volt plug-in hybrid on the highway in the super luxe Bentley. What a flop, General Motors (GM) - Get General Motors Company Report .  
The Chevy Volt is pretty lame. It's even lamer when driving by it inside a Bentley.
A photo of the pricing sheet is a must, these gawdy types of dollar amounts are usually reserved to the financial statements of midcap corporations!
I have to show my mom this photo.
Corporate balance sheet? Nope, pricing sheet for the 2017 Bentley Mulsanne Speed.
Here is the Bentley engineer that oversaw the production process. Thank you Steve Brown for bringing me a day of sheer joy. 
You the man, Steve Brown.
A perfect front grille shot for Instagram. Extra points for the Euro license plate.
The 2017 Bentley has a redesigned grille and is a touch wider. 
Amazing. 
Better burgers for lunch from Shake Shack (SHAK) - Get Shake Shack, Inc. Class A Report and a better car from Bentley, a match made in heaven. 
Shake Shack now has mobile ordering, at one location. 
The flying B hood emblem came in a black hue instead of standard chrome. Hot.
Eventually, it was time for a late-afternoon snack. 
So, we rolled up to a McDonald's (MCD) - Get McDonald's Corporation Report drive-thru in our $405,000 Bentley Mulsanne Speed. Amazingly, the wide Bentley fit through the drive-thru with ease. Not spotted: creepy clowns.
I see you McDonald's CEO Steve Easterbrook, you see me? 
Whipped out the plastic to pay for a Big Mac. That paint is gleaming. 
You don't pay with cash--ever--while riding around in a Bentley. 
The Bentley is so long it couldn't fit in the camera shot. 
Those long, sexy lines.
Obviously, I had to get my 1-year-old niece Cassandra (aka "Cassie") into the mix. After all, she may never get to see or touch a Bentley (though I hope she goes on to own tons of them while serving as a high-powered Fortune 500 CEO).
At first, she was unsure about the Bentley, as Uncle B has only waxed poetic on the awesomeness of American muscle cars. 
Tweet this photo of a ridiculously cute child riding in a Bentley.
But then she hopped right up and wanted to drive the super car away! No damage was done to the plush Bentley seats, those are cloth-bottomed moccasins she is wearing. 
Instagram this photo of a ridiculously cute child trying to drive a Bentley. 
Cassie's experience with the Bentley left her in deep thought about her future career plans. 
The Bentley rims are enormous.
On the way home, a trip to my childhood elementary school to serve as a reminder to stay humble and to reflect on how far I have come. 
Hey, the Bentley dug up all sorts of emotions. Sorry, not sorry. 
Never forget where you came from.
I had to pick up some Red Bulls for the next grueling day at work, so I stopped at the grocery store.
Definitely thought I would find the shiny, not so easy to hide Bentley resting on four cinder blocks by the time I came out. Luckily, all four tires were still there 20 minutes later.
The Bentley took up one-and-a-half spots. Whatevs, I was in a Bentley. 
Dinner was at Taco Bell. The people in the drive-thru looked on with great curiosity. 
Oh yeah, Taco is opening in China soon. 
Eating a soft chicken taco supreme in the Bentley felt disrespectful. 
Back home finally, and safely next to my bright red Dodge Challenger. 
What a day.
What $405,000 looks like parked for the night.