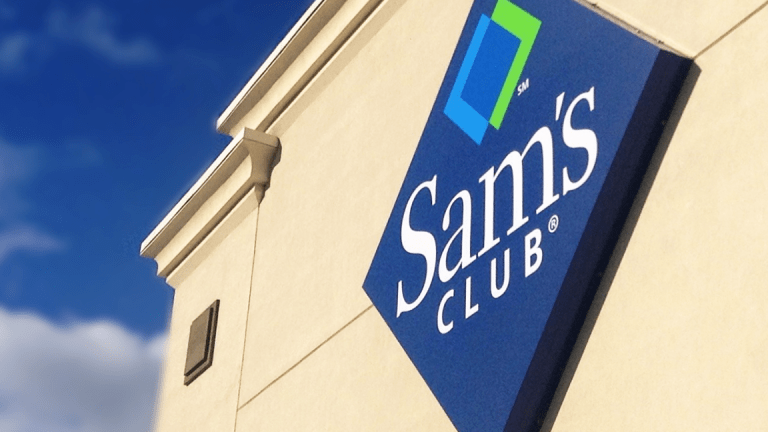 What Is Walmart's Long Game With Sam's Club?
Certainly not selling the warehouse chain to Costco, sources say.
What in the world's going on with Sam's Club?
That was the big question among Wal-Mart Stores Inc. (WMT) - Get Walmart Inc. Report investors Friday, Jan. 12, a day after the superchain announced it was closing 63 Sam's Clubs throughout the country — or roughly 10% of its stable.
While Walmart played off the shutterings as a shift in real estate strategy, emphasizing plans to convert 12 of those locations into e-commerce fulfillment centers for its warehouse arm, industry sources told TheStreet on Friday that Walmart has a one clear intention — to optimize its supply chain model across Walmart, Sam's Club and Jet.com.
In the short term, Walmart will use those dozen warehouses to distribute Sam's Club products in online sales, but these spaces will eventually serve all of Walmart's brands, according to a source familiar with the company's plans.
"Over time, their entire supply chain will be integrated," the source said, adding that "for now, Walmart is acknowledging that Sam's Club's digital sales have been slower than they hoped."
Walmart was quick to put its $3.3 billion purchase of Jet.com in 2016 to good use, offering free two-day shipping on Walmart.com and testing store pickup in certain locations. Its focus now on Sam's Club's digital platform is a natural step in this trajectory, said Josh Blechman, director of Exponential ETFs, an exchange-traded fund provider. "This indicates that they're making a decision to double down on the internet and compete with Amazon." 
While Walmart doesn't break out Sam's Club e-commerce revenue, the numbers don't compare with Costco Wholesale Corporation's (COST) - Get Costco Wholesale Corporation Report explosive growth, according to Bobby Eubank, an analyst at the Chevy Chase Trust.
In its latest quarterly earnings, Costco reported a 43.5% comp sales increase. Sam's Club has shown consistent growth as well. Sam's Club reported comp sales on par with that of Walmart, 2.8% in the third quarter of 2017 and 1.2% in the second, compared with Walmart's 2.7% and 1.8%, respectively.
"Both Sam's Club and Costco get that e-commerce is important," Eubank told TheStreet via email, but Sam's Club is still playing catch-up.
The 63 stores were underperforming because of the markets they served, according to Sam's Club CEO John Furner. "Some places we're exiting today have geographies with low population or geographies with more clubs than the market will support," he told TheStreet Thursday evening.
About 75% of those locations, in fact, are within 10 miles of a Costco, according to Gordon Haskett analyst Chuck Grom. This could give Costco a "potential comp lift of 160-290 basis points," he wrote in a note published Friday.
Strategic Alliance With Costco?
Of course, the Sam's Club's latest retreat begs an inevitable question: is Walmart trying to unload its warehouse arm, and would Costco take the bite? The resounding answer is no.
"I don't think Costco would ever purchase Sam's — they don't need to," analyst Grom told TheStreet. "I also don't think Walmart would look to sell Sam's Club largely because the family is deeply tied to the company's name."
The company's founder was Sam Walton.
Eubank agrees. "It's likely that Walmart will retain Sam's Club," he said. "Retailers as a whole are constantly reviewing their portfolios, and right now there's just too much retail square footage."
Walmart closed the trading day at $100.87 Friday, up nearly 1%.
More of What's Trending on TheStreet: