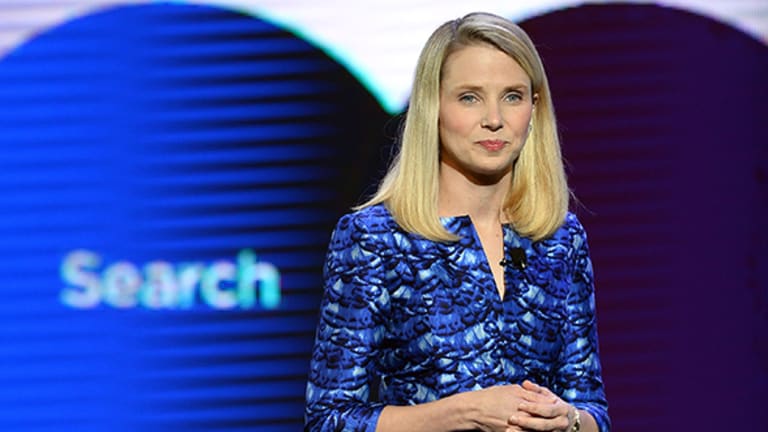 What Is Marissa Mayer's Legacy at Yahoo!?
The ex-Googler brought some cool back to Yahoo!, but ultimately her tenure was defined by Alibaba, acquisitions and activists.
Updated from Jan. 10 with additional information.
Back in 2012, Marissa Mayer, Google's first female engineer, brought cachet to Yahoo!  (YHOO)  when she agreed to become CEO of the tarnished internet brand. Now that tenure, marked by plenty of ups and downs, appears to be close to an end. 
According to a report from Recode, Mayer will not be continuing on with the company following the sale of Yahoo's operating business to Verizon (VZ) - Get Verizon Communications Inc. Report , as the pioneering Internet force will take its place in a "house of brands" that includes AOL, Huffington Post and others. Verizon will call the brand portfolio "Oath," perhaps a nod to the uncertainty that rocked Yahoo and its subscribers when the company announced last year that a billion customer accounts had been hacked.
Mayer's series of high-profile acquisitions and her focus on 'Mavens' (the faster-growing mobile, video, native advertising and social media businesses) at first brought favorable attention to Yahoo! However, even during Yahoo's period of resurgence the real value underpinning the company and its stock resided in stakes in Alibaba (BABA) - Get Alibaba Group Holding Ltd. Report and Yahoo! Japan.
For all of the goals for remaking Yahoo! that Mayer and CFO Ken Goldman brought to the early internet company, they ultimately became simple stewards of capital, focused on returning cash to shareholders, monetizing the Asian equity stakes and ultimately setting Yahoo! up for the sale to Verizon, initially for $4.8 billion but later for $4.48 billion. Yahoo agreed to shave $350 million off the price earlier this year because of the hacks. Shareholders can take some comfort that Verizon did not demand the nearly $1 billion discount it had initially considered.  
Yahoo! had previously announced that Mayer would be stepping down as Yahoo!'s CEO and Director following the sale to Verizon. Yahoo! board member Thomas Mcinnerney, a former CFO of IAC/InterActiveCorp (IACI) and Ticketmaster, will take Mayer's place as CEO.
Inbound resumés spiked early in Mayer's tenure. The CEO touted Yahoo's success of luring back boomerangs, people who had left the company and returned. She added tech and talent through acquisitions ranging from the $1.1 billion acquisition of photo site Tumblr to smaller companies like app developer Astrid. Many were acquihires, designed to add personnel and shutting down their businesses. Some of the acquisitions, such as video ad company Brightroll, fashion online retail group Polyvore, mobile analytics and apps developer Flurry, will be part of Verizon's Oath group of brands.
For investors, Yahoo's Alibaba stake presented the opportunity to invest in the fast-growing Chinese e-commerce group ahead of its massive 2014 IPO. The prospect clearly appealed to the market. After Yahoo! provided more transparency into the results of both Alibaba and Yahoo! Japan in a July 2013 earnings call, the company's stock jumped 10%.
Yahoo's role in the digital advertising landscape, however, already small, is diminishing even further. In 2016, according to a Cowen and Co. survey of about 50 senior ad buyers in the U.S., Yahoo! collected about 3.5% of digital advertising spending in 2016, slightly ahead of Snapchat, which had 2.7% of the digital purse. The roles reverse this year, however, with Snapchat picking up 3.6% of digital spending and Yahoo! collecting 2.7%.
Yahoo! traded around $46.23 per share on Tuesday, up from $15.65 in July 2012 when Mayer started. But UBS calculated earlier this year that, after taxes, the Alibaba stake represents $23 per share, the Yahoo! Japan stake is worth $5 per share and Yahoo's cash stands at $7 per share, leaving precious little for Yahoo's core operations. 
Shareholder activism was a theme at Yahoo! well before Mayer's arrival. Third Point CEO Daniel Loeb forced the ouster of Yahoo! CEO Scott Thompson in the spring of 2012. Loeb exposed inaccuracies in Thompson's resume, which stated that he received accounting and computer science degrees from Stonehill College, although it turned out the school did not have a computer science major.
A year into Mayer's tenure, Yahoo! shares had gained significantly and Loeb lauded Mayer's role. "Since our Board's rigorous search led us to hire Marissa Mayer as CEO, Yahoo!'s stock price has nearly doubled, delivering significant value for shareholders," Loeb wrote in a July 2013 press release announcing that Yahoo! would buy out Third Point's stake. "I'm confident that with Marissa at the helm and her team's focus on innovation and engaging users, Yahoo! has a bright future."
Later activists were less friendly. Jeffrey Smith's Starboard argued that Yahoo's share price in November 2015 ascribed a negative value to the core business, and lodged a proxy fight last year. Eric Jackson of SpringOwl Asset Management put forward a December 2015 turnaround plan and argued for cutting thousands of jobs, including Mayer's.
The sale to Verizon seemed to be the capstone of Mayer's run at Yahoo!. The massive subscriber hacks diminished the results slightly, though investors at one point feared the company would take a much larger hair cut on the deal price because of the breach.
Yahoo's legacy of activism will live on. Starboard's Smith is one of the directors who will remain at Altaba, as the holding company for the Alibaba and Yahoo! Japan stakes will be called, keeping an eye on Yahoo's most valuable assets.