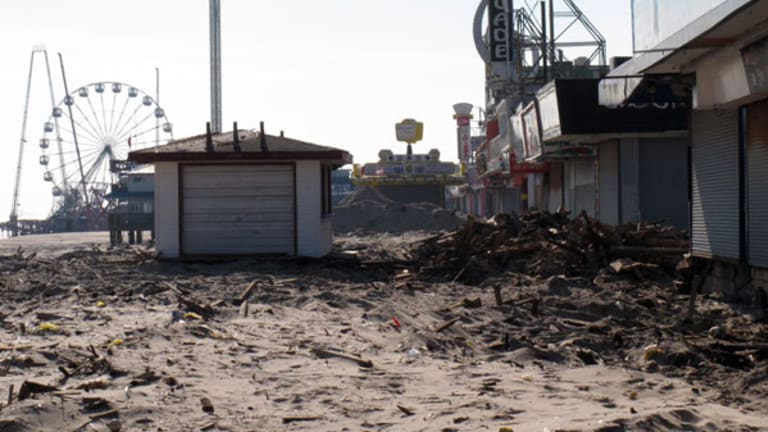 NEW YORK (
) -- We've been quite lucky that no major hurricanes have hit the United States over the past seven years.
In the wake of the massive flood damage caused by the Category 1 Hurricane Sandy in late October and an excellent concert last Wednesday at Madison Square Garden to raise funds for victims' relief, that may seem like a strange statement, but "none of the twenty major hurricanes forming in the Atlantic basin in the past six years have impacted the U.S. coastline at major hurricane strength," according to the Tropical Meteorology Project.
A major hurricane is a storm of Category 3, 4 or 5, "which reaches a sustained low-level wind of at least 111 mph (96 knots or 50 ms-1) at some point in its lifetime," according to the Tropical Meteorology Project, which is led by William Gray, professor emeritus of atmospheric science at Colorado State University.
The Odds of a Big One
While the Project's quantitative hurricane forecast for 2013 will not be released until April 10, the group's Dec. 7
Extended Range Forecast
of Atlantic Seasonal Hurricane Activity and Landfall Strike Probability for 2013 includes a "qualitative discussion" on various factors underlining a very busy period for hurricane activity, that is likely to continue.
According to the Dec. 7 report, the past seven years have been quite unusual, with no major hurricanes hitting the mainland, following a very difficult 2004 and 2005, "when seven of 13 major hurricanes made U.S. landfall," including the catastrophic Hurricane Katrina, which hit New Orleans in late August 2005. The Tropical Meteorology Project said that "The last 100-year climatology indicates that approximately 30% of all major hurricanes that form in the Atlantic basin make U.S. landfall as major hurricanes."
While the Dec. 7 report didn't contain specific number predictions, it did include probabilities for tropical storm and hurricane hits for 2013. The probability of a "named storm" hitting the East Coast, including Florida, is 81%, while the probability of Category 1 or 2 hurricane hitting is 44%, with a 31% probability of a major hurricane of Category 3, 4 or 5 making landfall, during 2013.
Of course, Florida factors heavily in the above figure, with a 51% probability of a hurricane making landfall and a 21% probability of a major hurricane hitting during 2013.
Breaking its probabilities down by state, the Tropical Meteorology Project said that the probability of a hurricane making landfall in New York during 2013 was 8%, with a 3% probability that a major hurricane would hit. For New Jersey, the probability of a hurricane hitting land is 1%, with a probability of less than 1% for a major hurricane. For Connecticut, the probability of a hurricane strike is 7%, with a 2% probability for a major hurricane hitting land.
Big Insurers Have Strong Reserves
It's too early to calculate the total amount of insured losses for U.S. property and casualty (P&C) insurance carriers this year, as claims for damage caused by Sandy are still being processed.
Insurance Information Institute
president and economist Robert Hartwig says there's "an enormous range" of estimates ranging from $10 billion to $25 billion. "when you put them all together you come up with a figure of $18.8 billion, as sort of a midpoint at all the ranges, which would put Sandy in the number 3 spot for insured losses from hurricanes," behind Katrina and Andrew, which devastated southern Florida in August 1992.
Hartwig says that "the industry entered the 2012 hurricane season very strong financially and it finished the season very strong financially despite Hurricane Sandy and despite the fact that 2011 was the fifth most expensive year for insured catastrophic losses in the U.S., and the most expensive globally."
"Sandy is generally categorized as an earnings event and not a capital event," he says. "It does reduce fourth-quarter earnings, but the industry is no longer impaired by a lack of capital going forward."
When asked whether or not the large P&C carriers have sufficient reserves to survive a major hurricane strike in the Northeast, Hartwig doesn't mince words: "Absolutely. There are many scenarios for events larger than Sandy, in the $30 billion range, for a Category 3 or Category 4 storm. It is far more likely that something like that would hit the Long Island area," than it would be for a major hurricane to hit other areas, he says.
"There are models for a repeat of the 'Long Island Express' storm of 1938, also known as the 'Great New England Hurricane.' Such a storm could cause over $30 billion in loses according to various models, but this is exactly the type of event for which the industry plans.
Here's a quick look at underwriting results for the first three quarters for five publicly traded insurers with significant P&C market share in the Northeast, along with damage estimates from Hurricane Sandy, if available, and third-quarter capital levels:
--
Written by Philip van Doorn in Jupiter, Fla.
>Contact by
.
Philip W. van Doorn is a member of TheStreet's banking and finance team, commenting on industry and regulatory trends. He previously served as the senior analyst for TheStreet.com Ratings, responsible for assigning financial strength ratings to banks and savings and loan institutions. Mr. van Doorn previously served as a loan operations officer at Riverside National Bank in Fort Pierce, Fla., and as a credit analyst at the Federal Home Loan Bank of New York, where he monitored banks in New York, New Jersey and Puerto Rico. Mr. van Doorn has additional experience in the mutual fund and computer software industries. He holds a bachelor of science in business administration from Long Island University.