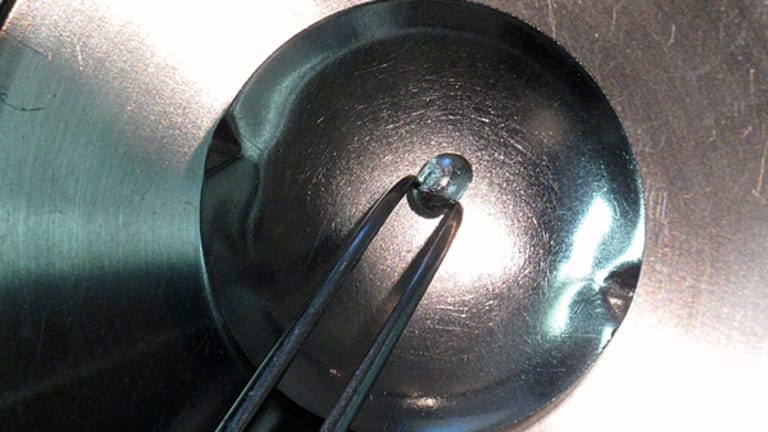 Publish date:
What High Palladium Prices Mean to Mining Stocks
North American Palladium CEO Bill Biggar discusses when he thinks his company will begin profiting off of high palladium prices.
North American Palladium CEO Bill Biggar discusses when he thinks his company will begin profiting off of high palladium prices.
DENVER (
) -- Palladium prices have popped almost 40% year to date eclipsing
, but producer
North American Palladium
(PAL)
has yet to take advantage of high prices.
North American Palladium is suffering from growing pains and will continue to do so for the next few years. On the palladium side, the company is in good shape. The Lac des Iles palladium mine is finally up and running and is expected to produce 140,000 ounces of palladium annually.
The company's Achilles' heel, however, is its gold Sleeping Giant Mine and Mill, which has been on care and maintenance since 2008. The mine produced 55,555 ounces of gold on average for the 18 years it was producing and North American Palladium is hoping to jump start the mine within the next few years.
In the meantime, the company's profits are taking the brunt of the pain. In the second quarter, North American Palladium reported a loss of 8 cents a share despite the fact that revenue grew to $21.2 million versus negative $1.3 million a year earlier.
I sat down with CEO Bill Biggar at the Denver Gold Forum to see how long these growing pains were going to last and when investors could expect a return to profitability.
Your last quarter was a little dicey. You had rising income and revenues but you reported a net loss of 8 cents a share. Why was your loss so big
?
Biggar
: Well, we're a company in transition. If we back up a year and a half ago we actually put our palladium mine on care and maintenance because in the credit crisis the price of palladium went from over $400 an ounce very quickly down to under $200 an ounce.
So we decided to put the mine on care and maintenance because it didn't make any sense to be depleting our valuable reserves and selling them at a loss because our production costs were about $300 an ounce. So we're just in that restart mode
and when you do that you've got a lot of expenses which obviously go against your revenues
but that will start to turn around because the mine is now running as expected and we're
on our way to producing 140,000 ounces of palladium per year.
So that growing pain is over
?
It's over on the palladium side now ... we have a gold division as well ... when we diversified into gold we purchased a mine that was a previously operated by
IAMGOLD
(IAG) - Get Report
and that mine had been on care and maintenance for a short period of time. So same thing, we're ramping that up and, of course, you have a lot of expenses to get it ready for production.
It seems like that Sleeping Giant Mine has been your Achilles' heel over the last year or so. When is that going to be over with
?
Yeah, it's been a drag ... We think in the next year we're going to be in pretty good shape. I mean we knew we were going to have a lot of expenses associated with getting this mine running properly.
More importantly we've got a platform there for future growth in gold because
when we bought
the company we didn't just get the Sleeping Giant Mine and Mill, but we got a 70-kilometer land package and also some projects which are fairly near term that can get into production now.
Our whole premise in building the gold
mine is that we're going to take out Sleeping Giant Mine and Mill and that's going to be a regional hub for our other projects. So, for example, we just purchased the Vezza project from
Agnico-Eagle
(AEM) - Get Report
and that's 70 kilometers away, about 50 miles from our mill, so we are going to be able to put that mine into production
and truck the ore down to our mill in Sleeping Giant ... It's a platform
that's going to take us a few years to get the gold growing but we do think .... we should be able to get up to about 125,000 ounces of production over the next few years.
When do you expect to become profitable
?
That should be profitable I would say within the next one-two years and I hesitate a bit because your development costs tend to get expensed. We're going to be investing for the future there, but on an operating basis, operating cash flow, we certainly will be profitable next year with Sleeping Giant.
But in terms of having a return to your shareholders that would be another couple of years
?
It would be a couple of years but remember in the resource business ... fundamentally what you're looking at is your operating cash flow. The valuation of all the mining companies is a multiple of cash flow and we'll certainly be cash flow positive by early next year.
Are you going to grow and acquire more or are you done for now
?
I would say our main focus for the next two years is going to be organic growth. We have a large development project at our palladium mine at Lac des Iles where we're going to be investing over the next few years over $200 million to put a shaft in to set up future production at depth.
Right now we are mining underground, but it's a ramp system where we run trucks up and down
which is very high-cost mining. We've had a lot of exploration success up there and that's enlarged our resource so that we can justify the cost of putting in a shaft. So what you are going to see in our palladium division over the next two-three years is we are going to double our production from 140,000 ounces up to over 250,000 to 280,000 ounces and we're going to cut our costs in half. We're going to take our cost from $300 an ounce down to about $130 an ounce once we get the shaft operating and that's going to be in the third quarter of 2012.
Now palladium prices are pretty volatile. So how does you company protect itself against that volatility
?
We don't hedge.
Those who invest in North American Palladium .... believe
in is a rising palladium market and we think we're at the right point in the cycle as well.
If you look historically at the demand for palladium and where the biggest use is about 50% of it goes into catalytic converters or mufflers on cars. If you look globally, and you have to look globally because in North America we've had our challenges in the auto industry, it's the global growth in vehicle production that is going to drive demand for palladium so China, India, Brazil, and to a lesser extent Russia.
These are emerging economies where you've got a big increase in auto production. As you probably already know China's now the world's largest vehicle manufacturer so that bodes well for the future price of palladium. In the emerging economies, they have gas engines which are almost entirely palladium as opposed to platinum in the catalytic converters.
So you brought up China and we've been hearing all the threats about a possible slow down there. Are you experiencing any of that
?
No, no we're not and we ... think the growth is going to continue. Whether it is going to be 9% growth in China or 7.5% who knows but directionally it's still substantial.
In terms of palladium demand for your company is it mostly China
?
What we do with our palladium is ... it gets refined and put into bar format the same as gold and then we sell it into the spot market so we don't actually see the end use
of where our palladium is going.
Investment demand
however is becoming a very important factor for palladium. With the credit crisis that happened in 2008 there was a view amongst larger institutions that they should have an allocation to precious metals because of the debasing of currencies that's been going on. Palladium really wasn't
top of the list but there's only the four
precious metals -- gold, silver, platinum and palladium -- and so this has caused a heightened awareness of palladium and the ETFs started in 2007
which now hold close to 2 million ounces.
Global production of palladium is only a little over 6 million ounces so remember it's a very rare precious metal: 6 million ounces of palladium
and contrast that to gold
which has over 85 million ounces of gold produced annually. So we have this rare metal, investment demand is growing and you can see how that bodes well for future price increases.
So if you had to run a company now would you chose palladium as the metal of choice or gold
?
Well, we've made bets on both .... but I would have to say at this point palladium is clearly what drives that value for North American Palladium.
So what does $1,300 gold mean for your company
?
It means a lot of cash flow because our operating cost at our underground Sleeping Giant Mine when we get it at steady state will be running around $600 an ounce, so $600 an ounce vs. a $1,200-$1,300 gold price is a good margin.
I'll put that in perspective for you. I previously worked with
Barrick Gold
(ABX)
back in the late 90s and we had what I think is still the most profitable gold mines in the world which was Goldstrike in northeast Nevada. Back then Goldstrike's cash costs were about $160 an ounce and gold had gotten down to about $300 an ounce. That's a pretty narrow margin, so $600 cost vs. $1,200 gold
which is why you're seeing a resurgence in the gold industry right now because a lot of deposits which clearly wouldn't have been economical at $400-$500
gold certainly are at $1,200 gold.
Six hundred dollar cash costs for Sleeping Giant Mine is pretty high. Are you going to try to lower that a bit
?
It's not high for underground mining, this is at depth. You're right if you compare that with open pit mining which is a much lower cost mining but for underground mining $600 an ounce is certainly ... around the medium.
What would you say to an investor looking at gold for the first time
?
I think that every investor should have an element of gold as part of a diversified portfolio ... there's a concern that inflation is going to come back, there's a concern that currencies will be debased because of having to print money to deal with all these deficits so I think it's prudent to have part of one's portfolio in gold.
What are some trends you are noticing coming out of the Denver Gold Forum
?
No question we are seeing heightened interest in palladium. People ... are much more aware of
the metal and they are recognizing the scarcity value.
There's about 6 million ounces
of palladium mined annually, about 40% of that comes out of Russia, it's a byproduct of ... nickel mines ... 40% is
from South Africa, there's been a lot of issues there. If you look over the last four years, there's been a declining production trend in both Russia and South Africa, so we've had declining or stagnant production or supply and we've got rising demand with the ETFs ... If you say I want to invest in palladium there's only two companies in North America that would be ourselves or
Stillwater
where you can get direct exposure to palladium.
I've been busy at this conference.
--
(SYMBOL) by Alix Steel in
New York.
>To contact the writer of this article, click here:
Alix Steel
.
>To follow the writer on Twitter, go to
.
>To submit a news tip, send an email to:
.
Disclosure: TheStreet's editorial policy prohibits staff editors and reporters from holding positions in any individual stocks.