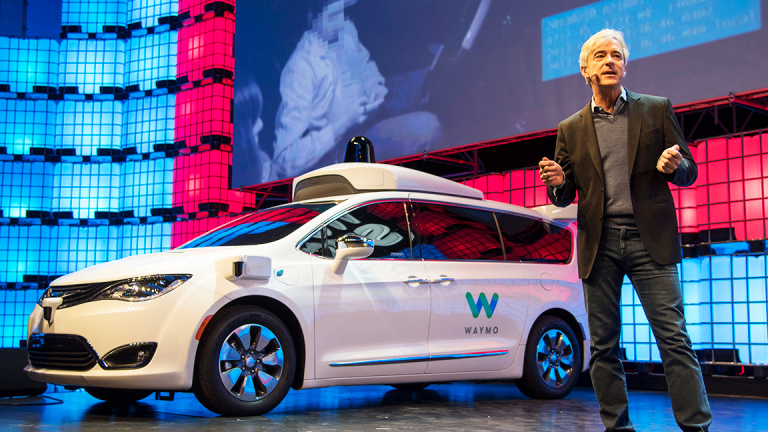 What Happens to Uber and Lyft Once Waymo Expands?
Waymo is beating its peers to the punch when it comes to self-driving cars. What will that mean for Lyft and Uber?
With Lyft  (LYFT) - Get Lyft Inc Class A Report making its public debut, we know it's only a matter of time before Uber files for its IPO. Although, it wouldn't be surprising to see a slight delay given Lyft's rather lackluster post-IPO trading.
Aside from allowing Lyft shares to open much higher than the IPO price, critics are tough on the company's bottom line after it lost $900 million in fiscal 2018. It should also be pointed out that many IPOs are not yet profitable and with Lyft's red bottom line, it's certainly not unique at this stage of the game.
That said, Lyft is not our standard IPO either, having been private for many years with plenty of access to capital to fuel its growth. When Uber goes public it will be even larger, likely commanding a valuation five times the $20 billion market cap Lyft currently sports.
Even though a lack of profits is not surprising from either of these two companies, the losses are being fueled by the need for expansion. Simply put, ride-hailing services are in a land grab, trying to acquire as much market share as possible. During Uber's run of scandal after scandal, Lyft was able to expand aggressively and boost its U.S. market share considerably. The problem though? These companies are essentially in a race to the bottom, since price is ultimately the deciding factor for many customers.
Uber can get me to the airport for $45, but Lyft says it can do it for $39. For many, the only difference here is $6, even if some prefer one brand over the other. These companies say the solution to the price war is autonomous driving. Once Uber and Lyft only need to maintain fleet of driverless taxis, they won't be stuck collecting just a percentage of the fare -- they'll get the whole thing.
Alphabet is a holding in Jim Cramer's Action Alerts PLUS member club. Want to be alerted before Jim Cramer buys or sells GOOGL? Learn more now.
That sounds great on a paper, but what happens as Alphabet's (GOOGL) - Get Alphabet Inc. Class A Report (GOOG) - Get Alphabet Inc. Class C Report autonomous driving program Waymo makes larger strides? Not only does Waymo have first-mover advantage for getting a commercial autonomous driving program up and running, it has been quietly focusing on its expansion as well. A subsidiary set up in China, plans to operate in Europe and although not operating like they are in Arizona, Waymo has several hubs throughout the U.S.
To be clear, it's not like Waymo is entering a rapid, countrywide expansion as we speak. But it's also not like Waymo is some startup looking to partner with Lyft or one that can be acquired by Uber. It's bankrolled by one of the world's strongest companies with arguably the best self-driving technology currently available. 
Uber's had its share of self-driving setbacks -- a fatality in Arizona last year and shutting down its autonomous trucking unit -- and Lyft isn't close to Waymo's capabilities from what we know. Further, Waymo is set on building out a strong brand built on safety, something that may woo customers over to its service while self-driving technologies are viewed cautiously.
In the end, it all comes down to the distance between Waymo's autonomous driving technology vs. Uber and Lyft, and how fast Waymo can safely expand into competing markets at scale. When it begins a wider rollout, is Waymo a few years ahead or many years? If it's the latter, ride-hailing companies could be in trouble, even if it's not in the immediate future. 
This article is commentary by an independent contributor. At the time of publication, the author had no positions in the stocks mentioned.