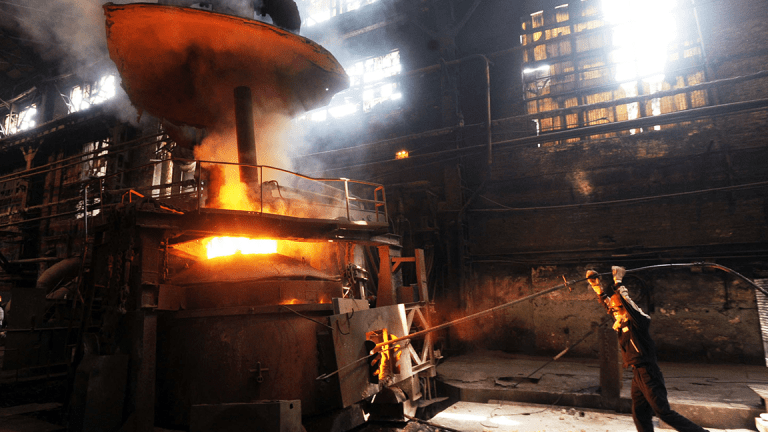 What Does Steel Mean to the U.S. Economy?
With the possibility of steel and aluminum tariffs being enacted in the U.S., it's important to know the role steel plays in the economy. Here are the quick facts.
President Donald Trump on Thursday, March 1, announced that his administration planned to impose a 25% tariff on imported steel and a 10% tariff on imported aluminum. His argument was rooted in the notion that other countries' trade practices have undermined U.S. production and could potentially compromise national security at home.
While protectionists and free trade advocates erupted into a fierce debate, the stock market tumbled. The Dow Jones Industrial Average shed 420 points, or 1.68%, on Thursday, the S&P 500 lost 1.33% and the Nasdaq declined 1.27%.
It's important, then, to know how important steel and aluminum are to the U.S. economy.
After all, as much as 55% of a car's total weight comes from steel, according to the World Steel Association. Roughly 50% of steel use goes toward buildings and infrastructure. And about 16% of steel goes toward making mechanical equipment.
So who wins with these tarffis, who loses and why does this matter?
The Winners
U.S. steel and aluminum companies are the clear winners should the tariffs be enacted. The companies and their managements have lobbied for quite some time for similar legislation, but this is the first time in recent history that they've actually made real traction.
Even in a market that tanked Thursday, steel and aluminum stocks boomed.
U.S. Steel Corp. (X) - Get United States Steel Corporation Report rallied 5.75% to close at $46.01 on Thursday; AK Steel Holding Corp. (AKS) - Get AK Steel Holding Corporation Report climbed 9.5% to $5.65; and Cleveland-Cliffs Inc. (CLF) - Get Cleveland-Cliffs Inc Report surged 10.24% to $7.65 by the closing bell.
The Losers
The biggest losers are the corporations that require large amounts of steel in production -- cars, planes, construction, heavy equipment. All of the steel they use could soon get a lot more expensive. EconoFact reported that the U.S. relied on imports for 18% of its steel needs last year.
Toyota Motor Corp.  (TM) - Get Toyota Motor Corp. Sponsored ADR Report  fell 3.1% to $130.39 on Thursday. Boeing Co. (BA) - Get Boeing Company Report gave back 3.46% to trade at $349.69, and Caterpillar Inc. (CAT) - Get Caterpillar Inc. Report fell 2.85% to $150.23.
"Ford Motor Co. (F) - Get Ford Motor Company Report and General Motors Co. (GM) - Get General Motors Company (GM) Report (for example) have two choices here. They can raise prices, which will start to push inflation up higher, or they can eat the higher costs and make less money," said Brad McMillan, investment chief at Commonwealth Financial Network. "Either way, this is bad for the stock market, as it plays out across the economy. Both higher inflation and lower profits make stocks worth less-hence, the market reactions around the world."
U.S. consumers could also lose to some degree. According to the same EconoFact study, competition plays a major role. If U.S. steel-intensive companies "pass on steel cost increases in their final goods prices, companies in these industries risk losing market share, both at home and abroad, to suppliers who produce outside the United States where steel would not be subject to the U.S. trade restrictions."
The losing companies are particularly important because the producers that utilize steel and aluminum in their production represent a far larger portion of the U.S. economy than do the actual steel and aluminum producers themselves. According to data from EconoFact, the number of jobs in U.S. industries that use steel or inputs made of steel outnumber the number of jobs involved in steel production by roughly 80 to 1.
Jobs Question
There's even more under the surface when it comes to the jobs issue. A recent study in the American Economic Review found that while the U.S. steel industry shed about 75% of its jobs between 1962 and 2005, output per worker quintupled. That's due in large part to the advent of new technology.
Technological innovation has made the steel sector "one of the fastest growing of the manufacturing industries over the last three decades, behind only the computer software and equipment industries," the study wrote. According to the U.S. Bureau of Labor Statistics, employment in the steel sector fell more than 10% from 2006 through 2016. But in the same period, output per worker increased 20%.
So what does this mean? Even if tariffs and associated trade protection foster an increase in production, the effect on real employment in the U.S. may not be that large.