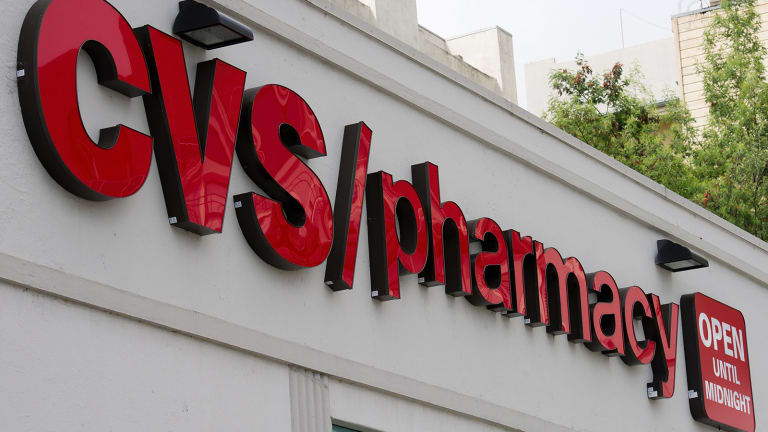 What CVS and Express Scripts' Drug Exclusion Lists Means for Your Portfolio
Earlier this month the two major pharmacy benefit managers, CVS Caremark CVS and Express Scripts ESRX released lists of drugs they will no longer cover in 2017.
Earlier this month the two major pharmacy benefit managers, CVS Caremark (CVS) - Get CVS Health Corporation Report and Express Scripts (ESRX) released lists of drugs they will no longer cover in 2017.
While Express Scripts played it safe, with just five new exclusions on its national list, CVS was pushier, with 29 exclusions.
"For the first time CVS has basically said that they're getting aggressive on drugs with significant price increases," analyst David Larsen of Leerink Partners said in an interview. "There's drugs that are excluded because of inflation. CVS is being very aggressive here."
According to Larsen, the difference is likely a result of retention rates. CVS has had much greater success in retaining customers, while Express Scripts' hiccup with the Medco Health Solutions acquisition in 2012 back has kept its retention rates much lower.
According to an Express Scripts spokesman, the difference is that the company is able to negotiate with drug companies to keep drug prices low, which is why it's able to have less drugs on its exclusion list.
"CVS is in a different place than Express Scripts," Larsen said. "They can push these things through at a different rate than Express Scripts."
These lists can have a real impact on the pharmaceutical companies that make these drugs.
"The effect is not going to be for the PBMs," Morningstar analyst Vishnu Lekraj said in an interview. "It's going to be on the companies that either did or did not make those lists."
He noted that the exclusions are not only used by pharmacy benefit managers to gain discounts for clients, but also to influence consumer behavior.
A notable exclusion from CVS' list was Medivation's (MDVN) Xtandi, a cancer treatment.
"You don't [normally] see cancer drugs excluded," Morningstar's Damien Conover said. "That was surprising and concerning from the perspective of potential acquirers."
Medivation has been the target of takeover attempts from companies like Sanofi (SNY) - Get Sanofi Report , Pfizer (PFE) - Get Pfizer Inc. Report and Celgene (CELG) - Get Celgene Corporation Report since Sanofi made a $9.3 billion offer to buy the company in April.
Other notable exclusions included Taltz, Eli Lilly's (LLY) - Get Eli Lilly and Company Report treatment for psoriasis that was excluded from Express Scripts' list and Sanofi's Lantus, a long acting insulin that was excluded from CVS' list, Conover noted.
"It makes an uphill battle for insulin manufacturers," Conover said.
So what makes a pharmacy benefit manager choose to exclude a drug from its "formulary" as CVS calls it or its "preferred drug list exclusion" as Express Scripts says?
"They look at clinical effectiveness as well as cost," analyst Steve Halper of FBR Capital Markets said in an interview. "They also look to try to inject competition into the markets where there are competing drugs."
The lists, though, are not the end-all be-all for insurers.
"As an employer or health plan, you can decide to personalize the formulary," Halper said, noting that companies can choose to include a drug on the list, as long as they agree to pay extra. PBMs share prescription data with employers to aid them in making this decision.
However, it is in a pharmacy benefit manager's best interest to avoid excluding too many drugs.
"You don't want to create a formulary that would be more problematic for employers," Halper said. "You may have a competitor that has a broader national formulary. If you keep a lot of drugs off maybe it'll be less attractive for employers and their health plans."
Allergan, a competitor in many fields to Pfizer and Sanofi, among others, is a holding in Jim Cramer's Action Alerts PLUS Charitable Trust Portfolio. Want to be alerted before Cramer buys or sells AGN? Learn more now.