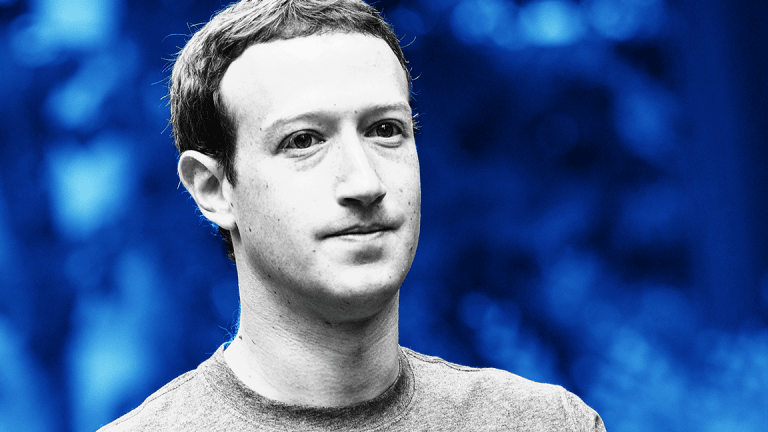 Here's What Could Slow Down the Facebook and Google Ad Juggernauts
For now, both companies are doing a pretty good job of brushing aside potential speedbumps.
It's hardly a novel observation to point out that Alphabet Inc.  (GOOGL) - Get Free Report and Facebook Inc. (FB) - Get Free Report claim a huge and growing portion of an online ad industry that itself is taking share from offline alternatives. That their reach, user data, ad product investments and targeting/measurement tools have given them giant advantages as they battle for the ad dollars of retailers, brand advertisers and others.
The big question now is what, if anything, can slow them down. Of the two, Google might face a larger set of threats. But for now, both companies are doing a pretty good job of brushing aside potential speedbumps.
Ad intelligence firm WARC recently estimated Google and Facebook would claim a combined 61% of global online ad spend in 2017, up from 58% in 2016 and 47% in 2015. Likewise, eMarketer estimated in September Google and Facebook would respectively have 42.2% and 20.9% of the U.S. online ad market this year, up from 41.1% and 17.3% last year.
Meanwhile, ad giant IPG's research arm estimates global online ad spend will total $209 billion this year, topping TV ad spend (pegged at $178 billion) for the first time It also forecasts online ad spend will rise 13% in 2018 to $237 billion, easily outpacing the 2.5% growth expected in TV ad spend, and will equal of all ad spend by 2020.
What could stand in the way of Google and Facebook's ad businesses adding tens of billions more to their top lines? For Google, the challenges are as follows.
1) Amazon - both directly and indirectly - Alphabet chairman Eric Schmidt once called Amazon.com Inc. (AMZN) - Get Free Report the biggest rival to Google's bread-and-butter search business, due to the tendency of many Amazon customers to go straight to the company's site or app to shop rather than access them via Google Search. That problem hasn't gone away as Amazon continues taking U.S. e-commerce share like clockwork and also sees strong momentum in Europe, Japan and India.
In addition, Jeff Bezos' firm now has a large e-commerce ad business that involves selling ads for Amazon listings on both Amazon and third-party properties; the company's "Other" reporting segment, which is dominate by ads, had revenue of nearly $4 billion over the last four quarters. The shopping data Amazon has amassed for hundreds of millions of customers naturally does a lot to strengthen its ad targeting.
But for now at least, Google has been able to offset these trends by rapidly growing its search ad sales to Amazon's many rivals -- in large part through its very popular Google Shopping ads, which Amazon has gradually begun embracing as well. And Google, of course, benefits from broader e-commerce growth and from selling ads to many verticals (travel, healthcare, apps, financial and local services) for which Amazon isn't a major threat.
2) Voice assistants - Worries about the impact of voice assistants on Google Search aren't hard to grasp: Users generally don't hear ads when conversing with a voice assistant, thus there could be a revenue hit if search activity that sometimes yielded ad clicks is replaced with voice queries. For now, the only monetization option Google has unveiled for voice queries is to take a cut on e-commerce transactions enabled through them -- and this, of course, assumes a user is relying on Google Assistant rather than Amazon's Alexa or Apple Inc.'s (AAPL) - Get Free Report Siri.
However, some searches are a lot more valuable to Google than others, and a lot of the queries made via voice assistants either involve content that Google likely wouldn't run ads against if a user searched for them (sports scores, weather info, etc.) or are for actions that a user wouldn't rely on Google Search for (setting reminders, playing music, etc.). Higher-value searches, the kind likely to drive transactions and see ads run against them, aren't as affected.
Also: On smartphones, some voice assistant activity could actually drive additional search traffic, since Google Assistant's response to a query will often by accompanied by a button to pull up a related search page.
3) Facebook - Though Google's search and YouTube ad sales continue growing rapidly, its ad sales for third-party sites have been pressured some by Facebook's momentum. The company's Google Network segment, which covers ad sales on non-Google properties, only saw revenue grow 4% last year to $15.6 billion. In addition, Mark Zuckerberg & Co. are stepping up their efforts to win over online retailers, travel firms and other ad-buyers that have depended heavily on Google.
But Google Network's growth is expected to improve to 12% in 2017, aided by a healthy mobile ad business and new deals with web publishers. And Google Search still remains unmatched in its ability to send targeted ads based on what a person is interested in at a particular moment.
As for Facebook, the largest threats to its ad business arguably go as follows:
1) Limited ad inventory growth - Though Instagram and the company's ad network for third-party apps have become important growth drivers, Facebook's sales still depend heavily on ads run on its main news feed. And it has cautioned for a while that its news feed ad load -- the number of ads run during a given amount of scrolling -- won't grow significantly starting in the second half of 2017. In the third quarter, the number of ad impressions and clicks Facebook collected revenue on only grew 10%.
So how did Facebook's ad revenue rise 49% in the quarter? Its average price per ad rose 34%, as strong demand (driven by the quality of Facebook's ad products and targeting abilities) combined with limited supply growth to boost prices. The company should continue to see solid price growth in 2018, while also seeing ad supply benefit from user growth and higher Instagram ad load.
2) Video and messaging challenges - Facebook is betting its recently-launched Watch platform for professional video content will become a YouTube rival, and in doing so open up a lot of valuable brand ad inventory. But first, Watch needs to become a hit with consumers, and the early going has been rocky.
Further down the line, Facebook is betting Messenger and WhatsApp, each of which have over 1.2 billion monthly users are remain lightly monetized, will become major growth engines. However, getting the formula right for showing ads within messaging apps could take time -- particularly on WhatsApp, given the app's minimalist design.
That said, Facebook appears intent on spending what's needed to make Watch a hit, and its reach and content-targeting abilities should eventually win over many content creators and advertisers. And both Facebook's success at monetizing its core app and Instagram, and the success seen by Asian messaging apps such as WeChat and Line at monetizing via ads, games, commerce and other revenue streams, bodes well for Facebook's ability to eventually figure out how to profit from Messenger and WhatsApp.
Alphabet, Facebook and Apple holdings in Jim Cramer's Action Alerts PLUS Charitable Trust Portfolio. Want to be alerted before Cramer buys or sells GOOGL, FB or AAPL? Learn more now.
More of What's Trending on TheStreet: