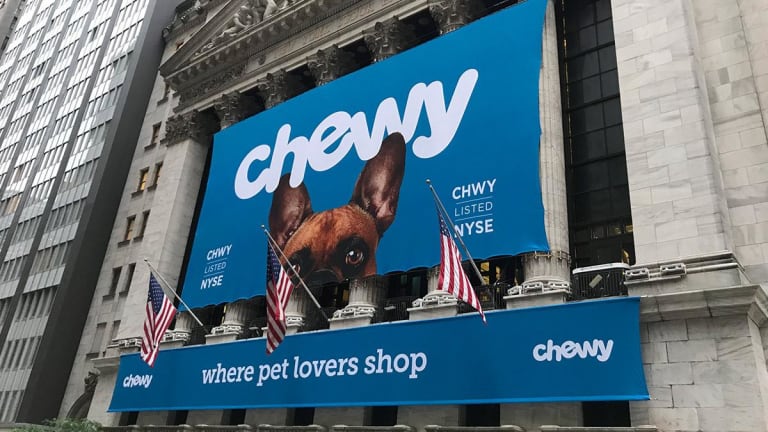 Chewy's Frisky Debut Shows There's Still Healthy Demand for Tech IPOs
The online seller of pet food and supplies is no Pets.com.
Chewy's (CHWY) success in its trading debut on Friday showed there's still strong demand for tech IPOs. 
The pet food and supply etailer opened trading on Friday at $36 per share, 64% above its initial offering price of $22, and was continuing to trade around that level into the afternoon. 
High-profile tech IPOs this year have been a mixed bag: Uber and Lyft's offerings have slumped since their respective debuts (Lyft's more than Uber's), while others, such as Zoom Video Communications  (ZM) , have seen breakout success in their first few weeks of trading. 
"People were scared off of IPOs because of Uber and Lyft, but they were the outliers," said Duncan Davidson, a partner at Bullpen Capital and an investor in commerce businesses. 
Chewy hasn't yet turned a profit, but in its S-1 filing, it reported strong revenue growth -- $3.53 billion in 2018 sales, a 68% year-over-year increase. The company sells pet food and other pet-related products, both on an a la carte and subscription basis through its Autoship program. Subscriptions also make up a growing portion of Chewy's overall sales, at 66% of total sales in 2018 versus 62% in 2017. 
Robust top-line growth within an attractive vertical -- people adore their pets, after all -- is an intriguing proposition for many investors, said Duncan Rolph, managing partner at Miracle Mile Advisors.
"You're seeing investors paying up for growth," he said. "If you look at Chewy, or Beyond Meat (BYND) , the top-line revenue growth is what's driving a lot of the enthusiasm." Since its May 2 debut, Beyond Meat shares are up 115%. 
He added that Chewy did particularly well on its road show, which served to emphasize its focus on customer service, execution and the strength of its management team. 
"Chewy checks all those boxes," Rolph said. 
It may be tempting to liken Chewy to the famously doomed Pets.com IPO in 2000 (the company shuttered less than a year later), but the dissimilarities between the two are a worthy reminder that online commerce is very, very different now -- and that pets are still big business. 
"Online commerce in 1999 was teeny; Amazon was a bookseller," Bullpen's Davidson added. "Chewy has a very high percentage of subscriptions...that's what makes it a special company; that is their secret sauce."