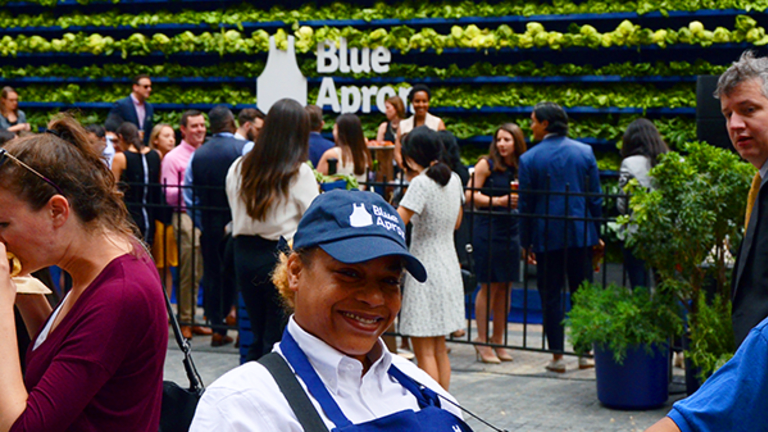 Here's What Blue Apron's Lackluster IPO Says About Today's Tech IPO Market
The meal-kit maker's rough debut on the public markets could signal broader investor uncertainty around tech IPOs.
Updated from 11:55 a.m. with additional information and comments from analysts.
Tech investors have been giddy ever since a flurry of companies went public in early 2017.
Snap Inc.'s (SNAP) - Get Report blockbuster $3 billion IPO ushered in a wave of tech IPOs, including MuleSoft Inc. (MULE) , Alteryx Inc. (AYX) - Get Report and Cloudera Inc. (CLDR) - Get Report , among others. But if meal-kit maker Blue Apron Holdings Inc.'s  (APRN) - Get Report  IPO is any indicator, the IPO winter of 2015 to 2016 may not be thawing just yet. 
On Thursday, Blue Apron started trading on the New York Stock Exchange at $10 per share, which was flat compared to its initial offering price. That's after the company late Wednesday revised its offering price to the low end of its $10 to $11 share range floated earlier in the day. The revised range was also far below the $15 to $17 range it initially sought. 
Shares of Blue Apron closed flat at exactly $10 after briefly rising to $11 on Thursday, marking a weak debut for a company that had generated a lot of excitement when its IPO plans were first announced. 
The IPO values Blue Apron at just over $2 billion after accounting for about 12 million stock options exercisable under a 2012 equity plan, significantly lower than the $3.2 billion valuation the company had hoped to achieve. It's also essentially the same as the $2 billion valuation it raised money at in its last private funding round in 2015. 
Some analysts had begun to point out that tech IPOs like Snap were overvalued, but Blue Apron's IPO seems to indicate that investors may be pricing in more risk right out of the gate. Snap's high-flying IPO is "definitely" a factor in Blue Apron's pricing, said Kathleen Smith, manager of IPO-focused exchange-traded funds at Renaissance Capital. 
"[Snap] weighs on investors' thinking about a fast-growing company with no profits," Smith said. "When Snap reported after its IPO, it disappointed investors in terms of its growth rate. That will be important with Blue Apron and how it manages investors' expectations." 
Less than 10% of tech IPOs price lower than the initial pricing range, said Eric Kim, managing partner at investment firm Goodwater Capital, which means that investor concerns may have more to do with Blue Apron's business model than the overall health of the tech IPO market. 
Investors said the company's S1 filing showed that it may have issues with profitability later on down the road, pointing to Blue Apron's high churn rate and growing marketing costs associated with attracting users. In 2016, Blue Apron's marketing budget climbed to $144.1 million, up from $51.4 million the year prior. Blue Apron lost $54.9 million last year, which is higher than a loss of $47 million in 2015. It's not unusual for companies to remain unprofitable at the time of an IPO, however. 
"The very high churn rate means they must spend a huge amount just not to shrink [or] to replace the 12% to 15% of their customers they're losing every month," said David Pakman, a partner at venture capitalist firm Venrock. "That is a noose around their neck." 
The high churn rate could indicate that a subscription model may not be what their customers want, Pakman explained, so it may have to try out other models in the future. 
Analysts and investors are also weighing any potential impacts of Amazon.com Inc.'s (AMZN) - Get Report $13.7 billion Whole Foods Market Inc. (WFM) deal. If Amazon successfully acquires Whole Foods, it would gain access to the grocery chain's 400-plus stores, allowing for the combination of the e-commerce giant's massive distribution network with a major upscale grocery chain. High-end consumers make up a sizable portion of Blue Apron's target market. 
Blue Apron's lackluster IPO isn't the only event that may elicit a tepid response from investors in the near term. Late on Wednesday, cloud storage startup Tintri pushed back its IPO that was planned for Thursday. The company said in a filing on Thursday that it had cut the price of its IPO to between $7 and $8 per share, down from its prior range of $10.50 to $12.50 per share. Tintri also pared the number of shares being offered to 8.5 million shares from 8.7 million shares. Representatives from Tintri wouldn't comment on when the stock will begin trading on the NASDAQ. 
Companies can delay their IPO for a variety of reasons. Box Inc. (BOX) - Get Report delayed its IPO in 2014 due to unfavorable market conditions, while Salesforce.com Inc. (CRM) - Get Report pushed back its IPO in 2004 due to accounting questions from the SEC. In rarer cases, eleventh hour deals can prevent IPOs, such as with AppDynamics Inc., which Cisco Systems Inc. bought for $3.7 billion just hours before the company planned to go public. 
In a review of the fiscal first quarter IPO market, Renaissance Capital maintained that it expects the momentum of early 2017 to carry into the second quarter. Tech IPO activity in the first half of 2017 is almost double that of the first half of 2016, Kim said. 
But other macroeconomic concerns, such as President Trump's uneasy relationship with Silicon Valley, as well as rising interest rates, may be generating some uncertainty in the IPO market. Those concerns may not have affected Snap's high-flying IPO, but they could be what's weighing down smaller IPOs from companies such as Blue Apron.
Visit here for the latest business headlines.
Read More Trending Articles:
Painful Day for Nasdaq as Tech Torpedoes Wall Street Deep Into the Red
Walgreens and Rite-Aid Just Laughed in the Face of Regulators, Strike One Clever New Deal
Here's Why Amazon Could Feast on the Remaining Carcass of Rite Aid After Failed Walgreens Merger
Walgreens Punches One of Its Biggest Rivals in the Face With This Surprising New Deal