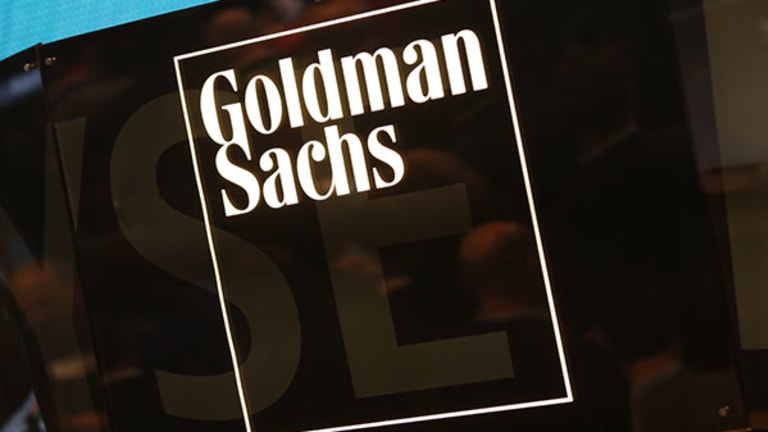 What Banks Disclosed in 10-Qs That They Didn't Mention in Earnings
Banks' 10-Q' reports can tell a different story than benign earnings announcements.
NEW YORK(TheStreet) -- It was a boring couple of weeks when the nation's largest banks reported their third quarter earnings in October. That's not the case as they began to file quarterly 10-Q reports with the Securities and Exchange Commission.
A scan of 10-Qs from the likes of JPMorgan (JPM) - Get Free Report, Citigroup (C) - Get Free Report, Bank of America (BAC) - Get Free Report, Goldman Sachs (GS) - Get Free Report and Wells Fargo (WFC) - Get Free Report indicate that the nation's largest banks continue to be hamstrung by litigation tied to mortgage securities they sold during the housing bubble.
Meanwhile, investment banks with large trading operations also appear exposed to a global probe into foreign exchange markets, which has already stung most of the largest banks in Europe.
So much for a boring quarter, depressed by a slowdown in mortgage refinancing activity and a quarter-over-quarter tumble in cash cow fixed income trading businesses.
In fact, investors are probably are better paying more attention to the intermittent trickle of bank 10-Qs that come after earnings than they are to the actual headline revenue and earnings per share numbers that cross every quarter.
JPMorgan:
Last quarter, JPMorgan dropped a bombshell on investors when it disclosed in a 10-Q it was being investigated in a criminal probe by the U.S. Attorney's office for the Eastern District of California. The probe centers on JPMorgan's sale of mortgage backed securities (MBS) between 2005 and 2007.
JPMorgan also said civil authorities had deemed the bank to have broken securities laws.
"In May 2013, the Firm received a notice from Civil Division stating that it has preliminarily concluded that the Firm violated certain federal securities laws in connection with its subprime and Alt-A residential MBS offerings during 2005 to 2007," JPMorgan said last quarter.
In third quarter earnings, JPMorgan boosted its litigation reserve by $7.2 billion after-taxes, wiping out the profits of the nation's largest bank by assets.
JPMorgan in its third-quarter 10-Q filing said it is being investigated by the Department of Justice for its energy-trading practices. The bank has previously settled with the Federal Energy Regulatory Commission, in a $410 million July civil settlement.
In total, JPMorgan is facing at least eight Justice Department probes. 
The Jamie Dimon-run bank continues to disclose significant regulatory and legal liability tied to its handling of Bernie Madoff's trades. Media reports indicate that probe could lead to criminal prosecution of JPMorgan or a deferred prosecution agreement with federal authorities.
Meanwhile, JPMorgan continues to work towards a settlement with the DoJ on pre-crisis mortgage security sales. In late October, the bank agreed to pay the FHFA $5.1 billion to settle liabilities surrounding its pre-crisis sale of MBS to Fannie Mae and Freddie Mac.
JPMorgan also said in its third quarter 10-Q it is cooperating with the regulatory probe of currency markets. Bloomberg Newsreported earlier in November that the DoJ is taking a leading role in the probe.
Bank of America:
Bank of America's 10-Q indicates the nation's second largest lender by assets may be the next U.S. financial giant to significantly increase its legal provisions.
Bank of America said in its third-quarter 10-Q filing it could face charges of up to $5.1 billion in excess of its existing reserve for civil actions related to its sale of mortgage backed securities.
Much of the litigation may surround Bank of America's Countrywide unit, which in late October was found liable in a New York court for pushing faulty mortgages during the housing boom. The program, called "The Hustle," according to a federal complaint could add significantly to the growing legal bill Bank of America has incurred since its disastrous decision to purchase Countrywide Financial in 2008.
Citigroup:
Citigroup, which has so-far sidestepped some of the litigation that has weighed on the earnings of JPMorgan and Bank of America, said in its third quarter 10-Q that it is facing its own currency trading probe.
Citigroup had already name appeared in trading probes launched by regulators in Europe. In June, British regulators charged Thomas Hayes, a former Citigroup and UBS (UBS) - Get Free Report trader, in an investigation of possible manipulation of the benchmark London Interbank Offered Rate, or LIBOR.
Wells Fargo:
In its third-quarter 10-Q filing on Wednesday, Wells Fargo said it had reached a $335 million settlement with the Federal Housing Finance Agency over MBS the bank sold during the housing boom. The settlement falls within Wells Fargo's existing reserves, meaning the bank won't take a charge against its fourth quarter earnings.
Wells Fargo, unlike JPMorgan and possibly Bank of American and Citigroup, isn't in the process of building its legal reserves.
The nation's top mortgage lender also disclosed in its 10-Q that the sensitivity for its over $150 billion portfolio of available for sale mortgage backed securities continues to rise.
Wells Fargo said in a footnote appended that the portfolio's value would decline by $11.8 billion were interest rates to increase 200 basis points, or 2%. That portfolio would gain $9.9 billion were rates to drop 200 basis points.
Goldman Sachs:
The nation's largest standalone investment bank said in a late Wednesday 10-Q filing it has added currency trading to the list of regulatory investigations and reviews it faces.
Goldman Sachs also said on a fixed income conference call with investors that it had raised its estimate of legal losses by $500 million since the second quarter, according to a Reuters report.
-- Written by Antoine Gara in New York