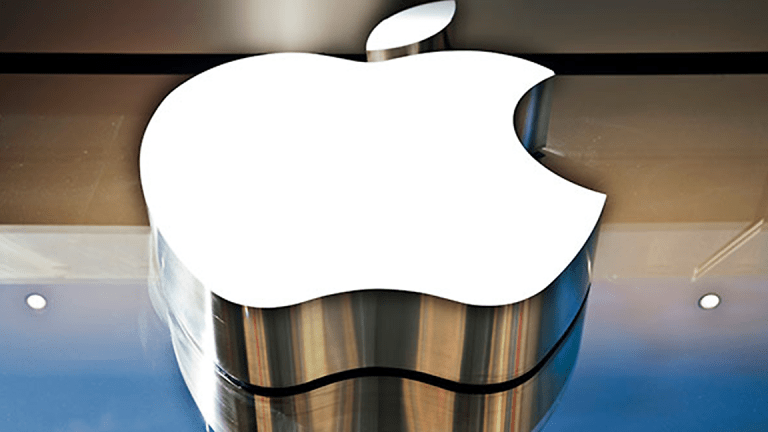 What Apple's New Low-Cost iPad Reveals About Its Tablet Strategy
The tech giant is doubling down on its efforts to get consumers to view the iPad as a productivity device. And it might also be betting that new iPad Pros will prevent cannibalization from happening.
With Alphabet/Google (GOOGL) - Get Alphabet Inc. Class A Report and Microsoft (MSFT) - Get Microsoft Corporation Report still providing stiff competition in the education market, it makes sense that Apple (AAPL) - Get Apple Inc. Report is overhauling its efforts in this space.
But the linchpin to these efforts -- a revamped low-cost iPad -- may ultimately matter less in education than in a broader consumer tablet market where growth hasn't been easy to come by. And the refresh might say a thing or two about Apple's confidence that high-end tablet buyers will remain loyal to its iPad Pro line thanks to upcoming product launches.
A year after debuting a low-cost, 9.7-inch tablet that it simply called the iPad, Apple rolled out a new model at an education-focused event held in Chicago on Tuesday. The biggest differences: The A9 system-on-chip (SoC) found in last year's model has been replaced with the A10 Fusion SoC used by the iPhone 7, and the tablet supports the $99 Apple Pencil stylus accessory, which previously only worked with iPad Pro models.
Like last year's version, the new low-cost iPad comes with a $329 retail starting price (schools pay only $299). 4G-capable versions start at $459.
Jim Cramer and the AAP team hold positions in Apple, Alphabet and Microsoft for their Action Alerts PLUS Charitable Trust Portfolio. Want to be alerted before Cramer buys or sells AAPL, GOOGL or MSFT? Learn more now.
Apple also made several non-hardware announcements at its event. Among them: The iWork productivity suite is being updated to support book creation and Apple Pencil drawing/annotation; Apple is launching an app for teachers called Schoolwork that helps manage Classroom assignments, as well as a new software framework (called ClassKit) for developing education apps; and teachers and students at schools that are Apple clients will get 200GB of iCloud storage for free.
Tim Cook's company is hoping the moves will help it gain ground in a market where cheap Chromebooks (many costing less than $300) have remained dominant in the U.S., and Windows notebooks and tablets rule the roost elsewhere. Research firm Futuresource Consulting estimates Chrome OS devices accounted for 60% of U.S. notebook/tablet shipments to K-12 clients in Q3 2017, and that Windows systems accounted for 67% of shipments in other regions.
By comparison, Futuresource believes the iPad accounted for 12.3% of U.S. shipments and 6.1% of international shipments. Macs are assigned a 4.7% share in the U.S., and a negligible share elsewhere.
Apple's education refresh should help it gain some ground, particularly at schools looking for devices that function well as e-book readers and want to encourage touchscreen-based content creation. But that doesn't mean Google and Microsoft have a whole lot to worry about.
Arguably, the main problem facing the standard iPad in the education market is the same one that has prevented the iPad Pro from making significant headway as a notebook replacement: For lengthier or more demanding productivity tasks, students, consumers and office workers generally prefer to work with a keyboard/mouse interface rather than a touchscreen (and possibly detachable keyboard accessories), along wit an OS and apps built to support a keyboard/mouse UI. Stylus support, new iWork apps and extra iCloud storage aren't going to change this.
On the other hand, a faster processor and -- though the stylus' $99 price is still an issue -- Apple Pencil support could give a lift to the standard iPad's consumer sales. And given the impact the 2017 model had on total iPad sales, this is something that Apple has a strong incentive to pursue.
After dropping 13% annually during Apple's March 2017 quarter, iPad shipments rose 15% in the June quarter to 11.4 million, and -- thanks to both the $329 iPad and an iPad Pro refresh -- rose 11% in the September quarter to 10.3 million. But shipments only rose 1% in the December quarter to 13.2 million (they were a little stronger on a per-week basis) in spite of the September launch of iOS 11, whose iPad multitasking features aimed to make the iPad Pro a much more compelling notebook alternative.
Now, Apple seems to be moving downmarket in its attempts to convince consumers to look at the iPad as a notebook substitute -- or at least a robust notebook complement for productivity tasks. The potential payoff is obvious, but it comes with a risk: Given that the $329 iPad features a starting price $320 lower than that of the 10.5-inch iPad Pro, the former could easily cannibalize sales of the latter -- even if the iPad Pro maintains advantages in display size/quality, camera quality and other areas.
One logical reason why Apple might be willing to take such a risk: The company could be prepping new iPad Pro models that are much more differentiated relative to the $329 iPad, and which it's confident will be popular with high-end tablet buyers. In November, Bloomberg reported Apple plans to launch new high-end iPads this year that (like the iPhone 8 and X) support Face ID and -- since they lack a fingerprint sensor -- feature much thinner bezels. Assuming form factors aren't changed, the thinner bezels should translate into larger display sizes.
Apple's WWDC developer conference in June would be a logical venue to unveil such hardware, especially since WWDC was used to announce new iPad Pros last year. Between iPad Pro speculation and reports that a new sub-$1,000 MacBook will be unveiled at the conference, this year's WWDC could be an eventful one for Apple's mobile computing efforts.
Behind the Label: Full CEO interviews on our Youtube Channel