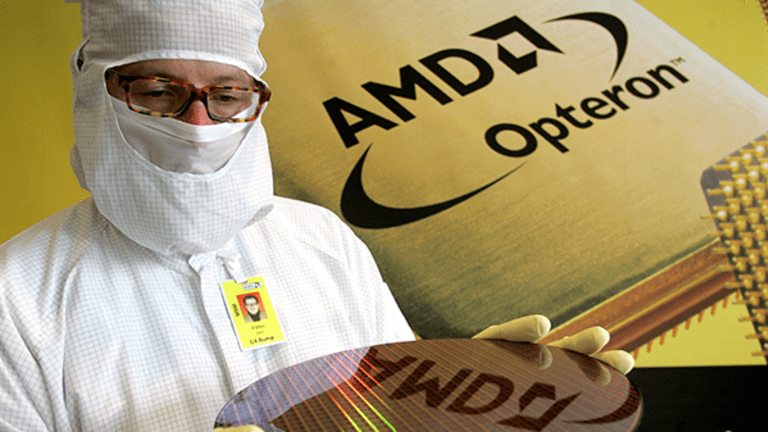 Here's What Advanced Micro Devices Needs Besides Good Computer Chips to Win Over Businesses
What investors need to know.
On paper, AMD Inc.'s (AMD) - Get Advanced Micro Devices, Inc. Report new Ryzen Pro business PC CPU line and Epyc server CPUs position the company well to take meaningful share in two markets that Intel Corp. (INTC) - Get Intel Corporation Report has thoroughly dominated in recent years. But pulling it off could be easier said than done.
Selling chips for high-end consumer PCs used by the likes of gamers, cryptocurrency miners and content creators is a pretty meritocratic affair. While branding and marketing matter some in this space, they arguably matter less than what reviews and benchmarks tell consumers about a product's feature set and technical merits. To paraphrase Emerson, if a company can build a better CPU or GPU, PC enthusiasts will beat a path to its door.
Things aren't so simple in the enterprise market. There's a reason why the sales and marketing budgets of so many enterprise hardware and software firms dwarf their R&D budgets, and why sales execution issues have been responsible for many earnings disappointments for such companies. How well a company sells and promotes its products, both directly and via channel partners, matters significantly. As do things such as OEM partnerships, the reputation a firm's products have built over the years and the strength of its product roadmap.
It's for such reasons that Ryzen Pro and Epyc expectations need to stay measured for the time being. Launching the chips simply represents the start of a lengthy process to take back enterprise share.
The Ryzen Pro line, officially unveiled on June 29th, consists of enterprise versions of 6 AMD Ryzen desktop CPUs launched for consumers earlier this year. The most powerful chip, the Ryzen 7 Pro 1700X, has 8 cores, supports 16 simultaneous threads and features a 3.4GHz base clock speed. The least powerful, the Ryzen 3 Pro 1200, features 4 cores and supports just 4 threads, and sports a 3.1GHz base clock speed.
AMD baked in some enterprise-friendly security features, such as secure boot support and support for various Windows 10 Enterprise security options. It also insists Ryzen Pro chips provide "commercial-grade quality and reliability," and will support popular management tools used by IT admins.
Curiously, AMD isn't for now launching a Pro version of its most powerful Ryzen 7 chip, the 1800X. The Pro desktop line will begin shipping at some point in the second half of 2017; AMD promises top PC OEMs will support it. Ryzen Pro notebook processors won't ship until some point in the first half 2018. Judging by the benchmarks that have come out for Ryzen 7 and 5 consumer parts, the Ryzen Pro line should be competitive on a price/performance basis with comparable Intel Core i5 and i7 desktop CPUs.
Still, there's an old saying that no one ever got fired for buying IBM, and the same more or less applies for CIOs and IT admins choosing to buy Intel-powered PCs. The chip giant's brand and reputation for reliability loom large here, as do the many enterprise-focused security, management and virtualization features marketed under Intel's vPro label. These include Intel's AMT remote management technology, as well as its Trusted Execution Technology (TXT), used to guarantee that an operating system and the apps running on it can be trusted.
And on the notebook side, Intel's investments in creating CPUs that can both deliver high performance and sip small amounts of power when running less demanding workloads also needs to be accounted for. As does the preference of many IT decision-makers to standardize on one company's CPUs. The Ryzen Pro should lead many firms that previously refused to consider AMD to take a look, but that doesn't guarantee major sales.
The same might hold for the Epyc line, which was officially launched last week and for now outclasses comparable single and dual-socket Intel Xeon server CPUs in areas such as core count, memory bandwidth and PCI Express connectivity bandwidth. The most powerful Epyc chip, the 7601, features 32 cores with base clock speeds of 2.2Ghz, and supports 64 threads. The least powerful, the 7251, features 8 cores clocked at 2.1Ghz, and supports 16 threads. 7 other Eypc chips sport between 16 and 32 cores.
To AMD's credit, Epyc features some innovative touches. These include an advanced interconnect for linking the four chips packaged within each Epyc CPU with each other, as well as with the chips on a neighboring CPU (if one exists on a server). They also include powerful encryption features for an Epyc-powered server's memory and virtual machines.
And as tech analyst Patrick Moorhead points out, AMD's willingness to support advanced features on both single and dual-CPU configurations that Intel only supports on the latter for now could be a draw. Dell Technologies Inc. (DVMT) , HP Enterprise Inc. (HPE) - Get Hewlett Packard Enterprise Co. Report and Lenovo are among the major server OEMs planning to support Epyc. And Microsoft Corp. (MSFT) - Get Microsoft Corporation Report and Baidu Inc. (BIDU) - Get Baidu Inc. Reporthave promised to make Epyc servers available to cloud clients, should they want them.
However, many enterprises and cloud giants have basically standardized on Xeon, and getting them to change course will be a challenge. And while Epyc's raw specs are impressive, Intel still has many other advantages.
These include a much broader server CPU lineup, featuring parts optimized for a variety of use cases. It also includes complementary solutions such as Xeon Phi co-processors for analytics and high-performance computing (HPC) jobs, its high-speed Omni-Path interconnect fabric, silicon photonics transceivers and chip packages that pair a CPU with a programmable chip (an FPGA) for running algorithms and other code.
For cloud firms, Intel also has a long track record of building custom Xeon chips optimized for a client's needs. And on the enterprise side, the long list of enterprise software firms that have optimized their products for Xeon chips is a key selling point. AMD does claim that Microsoft, VMware Inc. (VMW) - Get VMware, Inc. Class A Report and Red Hat Inc. (RHT) - Get Red Hat, Inc. Report have optimized certain products for Epyc, but Intel still has an edge here.
Also: Intel will soon launch new Xeon chips (codenamed Purley) based on its Skylake architecture. In addition to delivering performance gains, the chips aim to make features that today are only available on Intel's most powerful Xeon chips available on cheaper products.
Just as consumers stand to benefit from AMD's improved competitive position in the PC CPU market, enterprises will benefit from how AMD is finally rolling out products for the enterprise PC and server markets that can give Intel a run for its money. At the least, Intel should be motivated to price its chips more aggressively and be more responsive to client needs.
But this doesn't guarantee that AMD's sales to those Intel clients will take off. Especially not in the short-term.
Visit here for the latest business headlines.