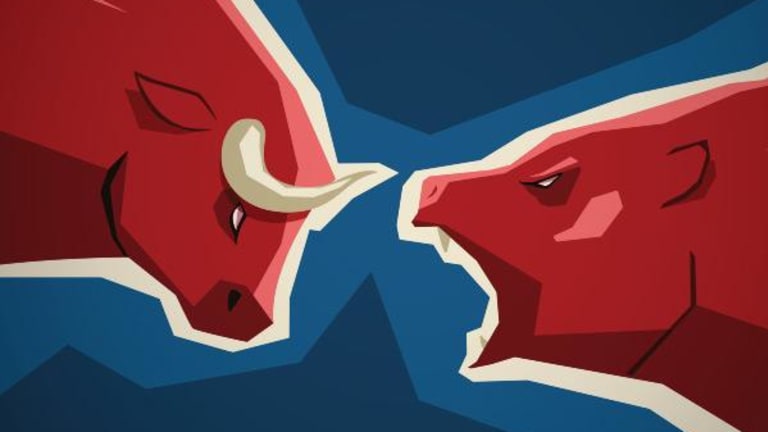 What Adam Feuerstein Got Right and Wrong About Biotech Stocks in 2016
TheStreet's biotech columnist offers his own report card on biotech stocks.
Accountability time. Here's my 2016 report card.
Last January, I made a single, overarching prediction about biotech stocks for 2016:
2016 will be a difficult year for biotech stocks... The five-year party which saw biotech stocks outperform the broader markets comes to an end in 2016. Good biotech science marches on, but negative fund flows, a continued flurry of negative headlines about drug prices and the presidential election all contribute to lousy stock performance overall.
I'll place that one in the win column.
Sarepta Therapeutics (SRPT) - Get Sarepta Therapeutics Inc. Report was one of the most dramatic and volatile biotech story lines in 2016. My track record was mixed. I had the correct read of Janet Woodcock's "approve Exondys" mindset coming out of what looked, on the surface, like a negative FDA advisory committee meeting. Exondys was approved.
I was also too dismissive of the disagreements within the FDA caused by Woodcock's decision to approve Exondys. I did not anticipate the pushback by insurance companies over reimbursement, which slowed the drug's commercial launch. Sarepta's stock price trades as if Exondys was not approved, and that's not the year-end outcome that bulls (myself included) thought would happen.
Forgive me for this, but I need to circle back to a prediction I made in 2015:
One or more CAR-T therapy companies suffer a clinical development (safety? efficacy?) setback.
Thank you, Juno Therapeutics (JUNO) .
Last January, I predicted Celgene (CELG) - Get Celgene Corporation Report and Biogen (BIIB) - Get Biogen Inc. Report would be the best-performing, large-cap biotech stocks in 2016. As I type this column, Celgene is down 3%, Biogen is down 8%. If you define "best" as "losing but performing less badly than your peers," then I got this prediction right.
I can't point to a specific column where I predicted a Gilead Sciences' (GILD) - Get Gilead Sciences Inc. Report recovery in 2016 -- thankfully, because that would be embarrassing. But I have been a longtime Gilead fan and remain totally flummoxed and wrong about the stock's downward direction.
Adam, we hate you because you're an evil, recidivist biotech basher. Nearly all drugs fail, so what you write has no value to anyone except the evil shorts who control you.
That pretty much sums up (without the curse words, anti-semitic slurs and threats of violence) the criticism I receive on Twitter or via email each time I explain the bear thesis on a biotech stock or try to warn investors about a potential disasters before they happen.
If it's so easy to avoid biotech stock blow ups, why do investors constantly fall victim to the carnage?
I hate doing this because it comes off as arrogant and gloating, but I must: I TOLD YOU SO!
MannKind (MNKD) - Get MannKind Corporation Report , Northwest Biotherapeutics (NWBO) , Galena Biopharma (GALE) , CytRx (CYTR) , Mast Therapeutics (MSTX) , NewLink Genetics (NLNK) - Get n.a. Report , Anavex Life Sciences (AVXL) - Get Anavex Life Sciences Corp. Report , Enteromedics (ETRM) , Rockwell Medical (RMTI) - Get Rockwell Medical Inc. Report , Cel-Sci (CVM) - Get Cel-Sci Corporation Report , Peregine Pharma (PPHM) , Ampio Pharma (AMPE) - Get Ampio Pharmaceuticals Inc. Report , Ohr Pharma (OHRP) , Neuralstem (CUR) - Get Neuralstem, Inc. Report , Immunocellular Therapies (IMUC)  , CTI Biopharma (CTIC) - Get CTI BioPharma Corp. Report and Hemispherx Biopharma (HEB) .
I got caught in the collateral damage of Celldex Therapeutics' (CLDX) - Get Celldex Therapeutics Inc. Report rindopepimut failure. I believed rindo would be the exception to the "cancer vaccines don't work" rule. Instead, I was wrong.
Celator Pharmaceuticalsbeat the Feuerstein-Ratain Rule for the first time.
I liked and defendedRelypsa throughout 2016 and it was eventually acquired for a healthy premium. A good call.
I criticized Ariad Pharmaceuticals (ARIA) for jacking up the price of Iclusig and questioned the sanity of those who believe the lung cancer drug brigatinib is anything more than a me-too late comer. Still, Ariad's share price almost doubled in value in 2016, mainly on takeout speculation. Ouch! My grade: Incomplete (because I still don't believe Ariad will be acquired.)
Ionis Pharma (IONS) - Get Ionis Pharmaceuticals Inc. Report bulls see a wealth of approvable drugs and shareholder riches emerging from the company's next-generation antisense platform. I see smoke and mirrors obscuring safety and tolerability problems that will never be overcome. Ionis stock performance this year: -15%. My grade: Incomplete.
There is a bull and bear thesis for every biotech stock. Investors are wise to understand both. Dynavax (DVAX) - Get Dynavax Technologies Corporation Report bulls learned that lesson painfully when FDA rejected Heplisav again. The warnings signs were there, as I explained.
The same can be said forChiasma (CHMA) - Get Chiasma Inc. Report . Another win.
More of my incompletes: Corbus Pharma (CRBP) - Get Corbus Pharmaceuticals Holdings Inc. Report , Aerie Pharma (AERI) - Get Aerie Pharmaceuticals Inc. Report , Ziopharm Oncology (ZIOP) - Get ZIOPHARM Oncology, Inc. Report and Puma Biotechnology (PBYI) - Get Puma Biotechnology Inc Report .
Allergan (AGN) - Get Allergan plc Report bought a lot of companies in 2016, except none were on my shopping list.
Happy Holiday and Happy New Year.
Onward to 2017.
Adam Feuerstein writes regularly for TheStreet. In keeping with company editorial policy, he doesn't own or short individual stocks, although he owns stock in TheStreet. He also doesn't invest in hedge funds or other private investment partnerships. Feuerstein appreciates your feedback; click here to send him an email.