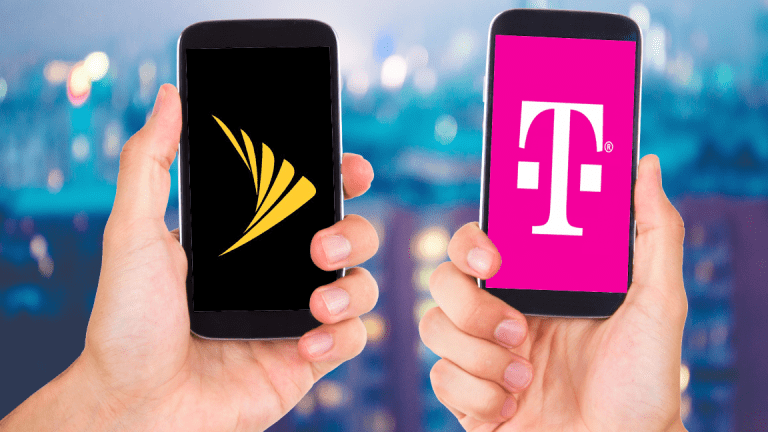 Here's What a Blockbuster Combination of Sprint and T-Mobile Would Look Like
After the merger, a bigger T-Mobile with a faster network could take on AT&T and Verizon.
Sprint (S) - Get Free Report Chairman Masayoshi Son has had his eye on T-Mobile (TMUS) - Get Free Report for five years or more, and could finally realize his goal of creating a revved up competitor to AT&T (T) - Get Free Report and Verizon (VZ) - Get Free Report . The carrier might bear a stronger resemblance to T-Mobile than to Son's Sprint, however.
"I would look at is almost as a super T-Mobile that is within striking distance of AT&T and Verizon," said Roger Entner of wireless consultancy Recon Analytics. "Knowing [T-Mobile CEO] John Legere's mantra of 'we will not stop' I don't think he would relent."  T-Mobile parent Deutsche Telekcom AG reportedly aims to have control of the merged company. If it ends up with control, Entner says to expect the surviving telecom to look like a bigger version of T-Mobile.
Shares of Sprint dropped 8.2% to $7.82 on Monday, following a big run-up on Friday. The carrier's market cap came to $31.3 billion after the decline.  T-Mobile fell 1.8%, or $62.89, with a market capitalization of $52.3 billion.
The post-merger telecom would have a nearly $88 billion market cap and $68 billion in debt, JPMorgan calculates. 
Sprint and T-Mobile had 31.5 million and 36.2 million postpaid subscribers including phones and tablets, respectively, at the close of the second calendar quarter. The combined 67.7 million still trails AT&T and Verizon, with 77 million and 109 million subscribers..
Son has been aiming to shake up the U.S. telecom since Softbank invested $20.1 billion in Sprint in late 2012. The telecom and tech mogul aimed to bring the aggressive competition to the U.S. that Softbank had deployed in Japan.
Sprint and T-Mobile initially dropped merger discussions in 2014 after Obama administration regulators made clear they would object to the deal.
Watch: Is the iPhone 8 More Fragile Than the Samsung Note 8?
Don't miss these top stories on TheStreet:
Donald Trump's presidential win in November opened the door for Sprint to pursue T-Mobile again, although there is still no guarantee that the Department of Justice and Federal Communications Commission will sign off on a merger that eliminates one of the four national wireless carriers. 
"The competitive pressure would not subside", Entner suggested. "I think there would be a little more rationality." While the company would make aggressive bids to win customers, he suggests T-Mobile would not go to the lengths that Sprint has. For instance, with the launch of the new iPhone 8 in September, Sprint launched a buy-one-get-one-free deal.
Although T-Mobile was previously an aggressor in free iPhone trade-ins, this year it refrained. The carrier offered a $300 discount with a trade-in, and recently announced that it would provide subscribers of its unlimited family plans with free Netflix (NFLX) - Get Free Report subscriptions.
Sprint and T-Mobile would have a massive portfolio of wireless spectrum. Their combined 318 MHz of spectrum of wireless licenses is nearly double AT&T's more than 150 MHz and trumps Verizon's more than 100 MHz of spectrum. 
The excess capacity would allow the carriers to offer higher speeds, although Entner suggested that at a point the benefits would plateau. "The number 1 application is video," he said. "Once you're faster than [the speed requirement for] high-definition video, if not 4k video, where is the point from a user experience?"
More of What's Trending on TheStreet: