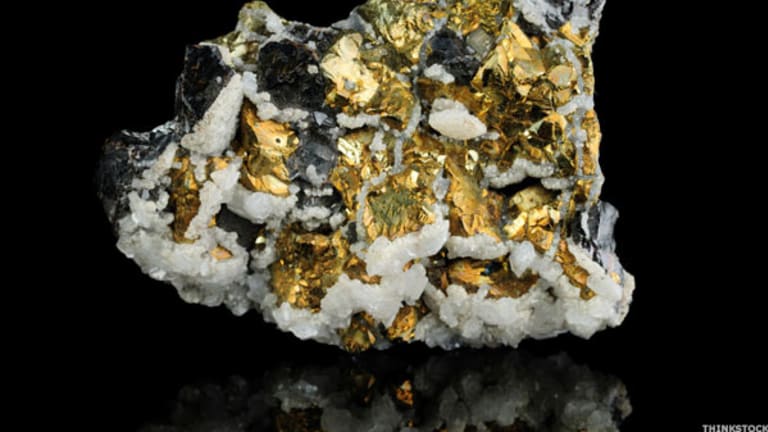 What $1,300 Gold Means to Mining CEOs
At the Denver Gold Forum, CEOs of silver and gold mining companies reveal what high gold prices mean to them.
DENVER (
) --
at $1,300 mean big profits for gold miners.
At the Denver Gold Forum, the mood is bubbly and optimistic. The CEOs of the leading gold and silver companies expect prices to move higher. Long-term targets are ranging anywhere from $1,500 to $5,000 for gold and $30 for silver.
Cash costs range anywhere from $300 to $850 per ounce of gold, leaving lots of room for big profit margins as gold heads to $1,300 an ounce. I asked each CEO what $1,300 gold prices meant for his company.
Kinross Gold
(KGC) - Get Free Report
has a market cap of almost $13 billion. Cash costs are $496 an ounce and the company earned 16 cents a share in the second quarter.
CEO Tye Burt:
Thirteen hundred dollar gold means an $800 per ounce margin ... it means rising cash flow per share and it means we're driving great margins in a tough competitive industry.
North American Palladium
(NAP)
has a market cap of $552.94 million. Cash costs for palladium were $304 for the second quarter. The company reported a net loss of 8 cents a share in the same period despite rising income and revenue.
CEO Bill Biggar: It means a lot of cash flow because our operating costs at our Sleeping Giant gold mine, when we get it at a steady state, will be running around $600 an ounce.
That's why you're seeing a resurgence in the gold market right now because there are a lot of deposits that clearly wouldn't have been economic for $500 gold but they certainly are at
$1,300 gold.
Silver Wheaton
undefined
is a silver royalty company with a $8.53 billion market cap. The company buys silver for $4 an ounce and made 16 cents a share in the second quarter as net earnings rose 200% from a year earlier.
CEO Peter Barnes:
You have to ask what does $21 silver mean for our company now? It means that for every ounce we sell, we're getting $17 of cash flow. We have the highest margins in the precious metal industry.
I think you'll see
M&A continuing, which creates opportunities for companies like ours ... If company A wants to buy company B and they've got to offer some cash, they've got to get that cash from somewhere, and if they produce bi-product silver we can pay them a lot of cash.
Goldcorp
(GG)
is one of the largest gold producers in the world with a market cap of $31.51 billion. Cash costs rose to $448 an ounce in the second quarter, and the company earned 27 cents a share, just slightly below expectations.
CEO Chuck Jeannes:
Thirteen hundred dollar gold means that we're increasing our margins ... every year for the past eight years our cash margins have gone up ... That's one of our main goals, so that as the gold price goes up, our cash margins go up.
Minefinders
( MFN) has a market cap of $686 million. The company's current cash costs are $597 per ounce and it reported a loss of 1 cent a share in the second quarter.
CEO Mark Bailey: I'm not wishing for $2,000 gold. Sometimes you have to watch what you wish for ... I don't know if that
price is a healthy thing for the economy ... I'm happy at $1,200 gold
but .... $1,300 is a pretty good margin. If we can produce
gold at $400 and sell it for
even $1,200 we're making $800 an ounce. That's pretty spectacular."
Harmony Gold
(HMY) - Get Free Report
is a $4.84 billion company and just reported a net loss of 6 cents a share for the second quarter despite the fact that profits rose. The company's cash costs are among the highest in the industry at $831 an ounce.
CEO Graham Briggs: Because our South African production is higher, it's really
about the exchange rate so $1,300 is not converting into high South African rand per kilogram, but
its a great gold price.
For the industry a high gold price has translated into ... growth. Suddenly a project which was closed down 10 years ago at $400 an ounce is now really worth while looking at.
Agnico-Eagle
(AEM) - Get Free Report
is a $10.65 billion company. Agnico just reported a blowout quarter with net income of 64 cents a share and cash costs of $487 per ounce.
President and Operating Chief Ebe Scherkus: $1,300 gold would mean a $900 margin with over 1.1-1.4 million ounces of gold that would mean free cash flow of about $1 billion a year, so very healthy for us. I think from our point of view our mines have come on line at just the appropriate time. They're ready in a rising gold market so it's a nice position to be in.
Eldorado Gold
(EGO) - Get Free Report
has a $10.81 billion market cap and the company made 11 cents in the second quarter. Cash costs were $300 to $350, some of the lowest in the industry. Eldorado was named the No. 1 growing company by
Fortune
magazine.
CEO Paul Wright: We will derive a benefit from it but we're cautious in terms of doing long-term planning on high gold prices. We still very much look, when we're making acquisitions, when we're developing our own projects, we look at how these projects would behave at $800 gold price, $900 gold price.
It's not inconceivable that in the future gold will return to lower levels and if you're building a long-term business you can't ignore that eventuality.
$1,300 gold makes it tempting for people to imply unlimited ... value that in many cases won't be realized and the market is getting ahead of itself. I think it just reflects a starvation factor for real success and exploration.
Fronteer Gold
( FRG) has a $901.26 million market cap. The company isn't producing yet but was able to report net income of 7 cents a share in the second quarter due to asset sales and equity positions in other companies.
CEO Mark O'Dea: "
$1,300 gold doesn't really matter. It means our projects are going be that much more profitable ...
But our focus really is on building our resources in projects that can sustain economic viability at lower gold prices. So we're not looking at projects, we're not evaluating opportunities through a $1,200 lens we're evaluating them through a $900 lens."
Randgold Resources
(GOLD) - Get Free Report
has a market cap of $8.9 billion. Cash costs were $665 per ounce in the second quarter during which time the company reported a 92% jump in profits amounting to 38 cents a share.
CEO Mark Bristow: We plan at $700
an ounce. Remember we're a long-term business and $1,500 gold means a very weak dollar
and higher costs. Lots of people get all euphoric about high gold prices but they forget that gold is a currency so strong gold means the other currencies are weaker which means the input costs are higher. Really it's all about managing margins rather than waiting for the gold price to go up.
--
Written by Alix Steel in Denver.
>To contact the writer of this article, click here:
Alix Steel
.
>To follow the writer on Twitter, go to
.
>To submit a news tip, send an email to:
.
Disclosure: TheStreet's editorial policy prohibits staff editors and reporters from holding positions in any individual stocks.