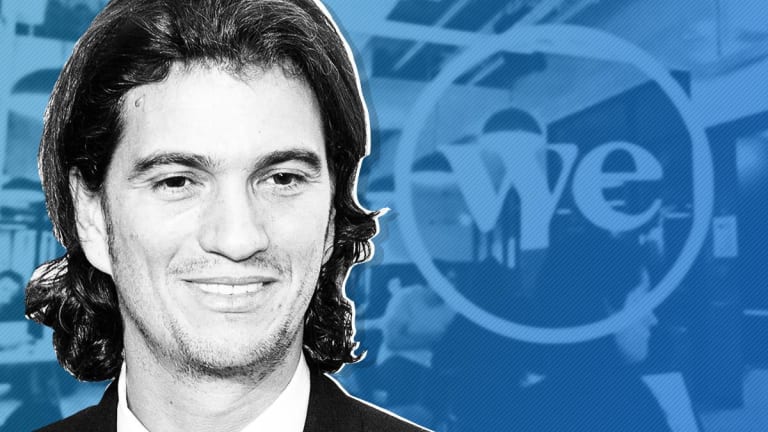 WeWork This Week Set to Cut as Much as 16% of Jobs: Report
Bloomberg reported that the office-sharing company may cut as many as 2,000 positions after having signaled this fall that layoffs were likely after plans for an IPO collapsed.
We Co.'s WeWork, aiming to stabilize its finances, will start slashing its payroll this week after a massive global expansion and an IPO that never got off the ground left the office-sharing company with mounting losses.
In an email to WeWork employees on Monday, Executive Chairman Marcelo Claure said that the cuts, while painful now, will make the company "stronger and better able to generate even more opportunities over the coming months and years," Bloomberg reported.
The cuts could amount to as many as 2,000, or 16%, of WeWork's staffers, according to the news service.
The company signaled earlier this fall that layoffs were likely after investors soured on its much-touted multibillion-dollar plan to go public.
WeWork's looming job cuts come as CNBC sources put to rest speculation that T-Mobile US (TMUS) - Get Report CEO John Legere was being courted for its top job. The office-sharing company is looking for a successor to controversial founder Adam Neumann.
Legere, who just said he would step down from T-Mobile in the spring, had been touted as WeWork's CEO. He has close ties with SoftBank, the Japan-based investment fund which has stakes in both Sprint (S) - Get Report and WeWork.
In a recent conference call Legere told reporters has had not had any "discussions to run WeWork." And people familiar with the matter told CNBC that Legere would not take the WeWork post to avoid any conflict of interest. T-Mobile is in the process of merging with Sprint.
Meanwhile, Claure, WeWork's executive chairman, has indicated he planned on Friday to offer more details on WeWork's future via a five-year plan, Bloomberg reported.
WeWork's losses totaled $1.25 billion in the third quarter, the Associated Press reported, citing a report by the company to debtholders.