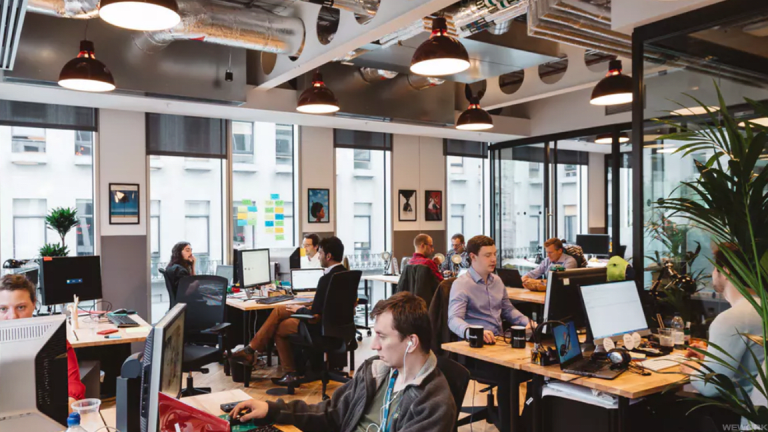 WeWork Might Go Public as Soon as September: Report
WeWork Cos. is reportedly negotiating a debt deal that could allow it to go public sooner than expected.
WeWork Cos. is planning to have its IPO as soon as September -- earlier than expected, according to a published report.
A story Tuesday in the Wall Street Journal citing people familiar with the matter reported that WeWork, which manages office-space and co-working environments, is negotiating an asset-backed loan to be completed in August and is expected to raise $5 billion to $6 billion.
The Journal noted the deal could still be delayed and WeWork has not publicly announced when it plans to launch the IPO.
WeWork rebranded itself as The We Company earlier this year and filed confidentially for an IPO in December 2018. It is among the most valuable private companies to emerge in recent years. It was valued at a staggering $47 billion in its last round of fundraising in January, making it the most valuable venture-backed company in the U.S. as of now.
It's scheduled a Wall Street analyst day for July 31, Reuters reported, suggesting that its IPO could arrive sooner rather than later.
WeWork's financial outlook has raised eyebrows, however, TheStreet's Annie Gaus reported recently. Though The We Company intends to expand into other areas, such as education, the company's core business (equivalent to more than 90% of its revenue) is still selling memberships to its coworking spaces -- and it appears to lose money hand over fist.
According to a March earnings release, WeWork lost $1.9 billion on $1.82 billion in revenue in 2018, a burn rate that is sure to make some investors queasy. It doesn't help that similarly capital-intensive, money-losing unicorns that have gone public this year have had a tepid reception so far by public market investors. Both Uber (UBER)  and Lyft (LYFT) , for example, are trading below their initial listing prices since their IPOs this spring.