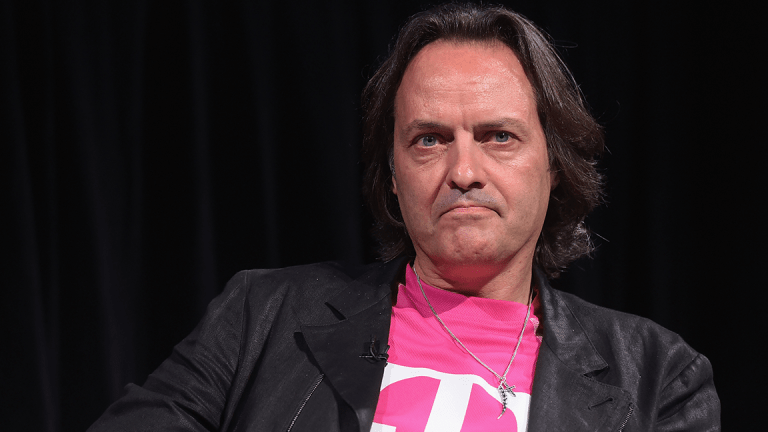 WeWork Reportedly Looking to Tap T-Mobile's John Legere to Run Troubled Startup
WeWork is looking to tap T-Mobile CEO John Legere to take over as head of the company, a report says.
Beleaguered office space sharing company WeWork is looking to tap T-Mobile U.S. (TMUS) - Get Report CEO John Legere to take over as head of the company, The Wall Street Journal reported Monday, citing unnamed sources. 
WeWork is in the market for new leadership after ousting co-founder and former CEO Adam Neumann after the company filed an initial public offering prospectus that received intense scrutiny and that called into question his leadership.
Japan's SoftBank Group (SFTBY) bailed the company out with a $3 billion investment in October after the IPO plans fell through and the cash-strapped company needed an infusion of capital. 
As part of the bailout, Nuemann was given a $1.7 billion payout, and SoftBank took controlling interest in the company. The deal valued WeWork at about $8 billion, a far cry from the $45 billion valuation the company garnered earlier this year. 
WeWork has been headed by Artie Minson and Sebastian Gunningham since September when Neumann officially resigned. Those internal hires were announced as placeholders until the company found a permanent replacement for Neumann. 
Legere is known as a bit of a showman when it comes to running his company. He is constantly decked out in T-Mobile pink and is often spotted wearing clothes emblazoned with his company's logo.
The Federal Communications Commission in September formally approved the $26.5 billion hook-up between T-Mobile and Sprint (S) - Get Report , though some states, including New York, have opposed the deal, saying it will prompt higher prices for consumers - even as the Justice Department has pushed to let the deal go through.
T-Mobile shares declined on the news, trading 2.3% lower to $79.07 on Monday. SoftBank shares were falling 1.06% to $19.69.