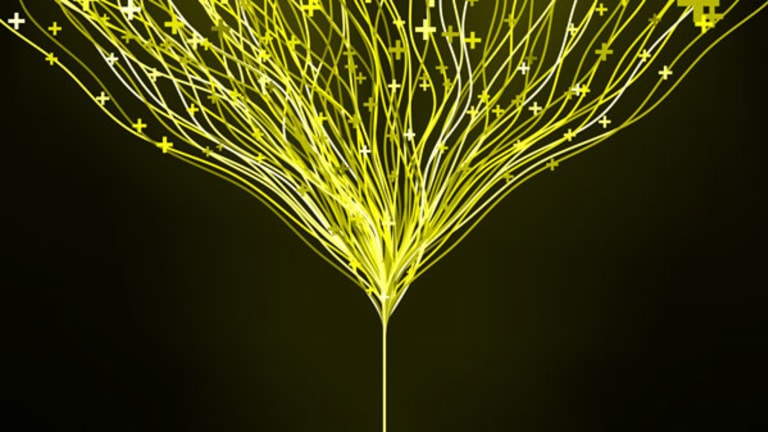 Westport, Itron: Clean Energy Winners & Losers
Natural gas-truck play Westport Innovations rises, while smart-grid bellwether Itron sees investors take profits.
Natural gas-truck play Westport Innovations rises, while smart-grid bellwether Itron sees investors take profits.
NEW YORK (
) --
Westport Innovations
(WPRT) - Get Report
shares are rising on Thursday morning after Canadian company Robert Transport said it would purchase 180 Peterbilt LNG trucks powered by Westport's 15 liter heavy-duty engine system.
It's the single largest order for Westport's heavy-duty offering in its history, and represents $8 million to $10 million in revenue over the next two to three years, according to Stifel research. Westport sold a total of 131 HD units and 114 HD units in fiscal 2009 and 2010, respectively.
Westport shares were up 2.5% and trading on Thursday morning was elevated, but the Stifel analyst noted that the "news" wasn't all that new.
Stifel analyst Dilip Warrier wrote in a research note that while the order was a positive development for Westport in terms of providing a roadmap to profitability and justifying valuation, Robert Transport announced its intentions to purchase LNG trucks in May 2010.
The key difference between that announcement and Thursday's news is that an additional 50 orders are included, though timing of those orders remains unknown.
Natural gas vehicle stocks rallied earlier this week when the EPA passed its first-ever emissions standards for heavy duty trucks, yet some analysts argued that it was headline buying and unjustified, as the emissions standards won't lead directly to purchase of natural gas trucks. The landscape for federal energy legislation that would provide subsidies making natural gas truck pricing competitive with diesel trucks is still a wildcard headed into the elections.
>>Clean Energy Winners: EPA Emissions Trades
In the smart grid space, U.S. bellwether stock
Itron
(BWEN) - Get Report
reported earnings after the market close on Wednesday that indicated record revenue and earnings per share. Itron shares received an after-hours pop on Wednesday, but the rally was merely the trigger for profit-taking from smart-grid investors worried that the record earnings were a peak for Itron.
Itron shares went from being up roughly 7% in the after-hours session on Wednesday to being down more than 2% on Thursday morning, with trading volume twice its average daily level of action.
Ben Schuman, an analyst with Pacific Crest Securities, said that profit-taking is the view of the market after a quarter that was phenomenal for Itron, not just in terms of earnings and revenue, but from a margin standpoint.
Itron reported revenue of $576 million and earnings of $1.06 a share, well ahead of the Street consensus of $530 million revenue and 86 cents earnings. Yet investors were focusing on its backlog book-to-bill ratio of 0.92 as a sign to sell.
"Investors were expecting revenue outperformance, and even though the gross margin outperformance in North America was a surprise, it's still overshadowed by concerns about order growth in 2011 and 2012," Schuman said. Since Itron is now shipping against large orders that are already known, and investors are already expecting strong shipments through the end of the year from Itron's largest customers, Itron still has to do more to show that it's backlog will be replenished to attract new money from investors.
In the advanced metering infrastructure market, in particular, Itron has faced questions all year about its growth prospects. Non-advanced metering revenue rebounded strongly, but it was more or less a setup, with 2009 having been such a weak year of spending in the traditional metering market, the Pacific Crest analyst said.
Jefferies analyst Jesse Pichel, who remains more bullish on Itron, noted that while the strong top line and margin momentum show few signs of abating in the near term, leading to increased estimates for 2011, "lumpy contracts hinder long term visibility for investors." The Jefferies analyst has a price target of $78 on Itron shares.
The view from Pacific Crest's Schuman and Stifel analyst Warrier reflects more modest expectations for Itron. The Stifel analyst said the next several quarters will be some of the strongest in the company's history. However, Stifel doesn't think orders are likely to keep pace. Book-to-bill will remain below 1 for the next several quarters, the Stifel analyst predicted. "We continue to see risk to the longer-term Itron story as they cede market share in their current core markets as competition increases," Warrier wrote on Thursday.
"The profit taking makes sense," said the Pacific Crest analyst. After-hours trading on Wednesday sent Itron into high teens multiple territory, but the analyst says even in the mid-teens upside is priced into Itron shares. "Itron has significant headwinds in the next two years and they've got to right the ship and win some medium-sized contracts to justify an expanding multiple," the analyst argued. "The peak is a signal to get out," Schuman added.
-- Written by Eric Rosenbaum from New York.
RELATED STORIES:
>>U.S. Solar Stocks: Earnings Preview
>>Solar Stocks Now a Core Holding, Poll Says
>>Clean Energy Winners: EPA Emissions Trades
>>Solar Sector Selloff: JA Solar, LDK Solar, ReneSola
>>3 Obama Green Projects Mired in the Red
Follow TheStreet.com on
and become a fan on
Copyright 2009 TheStreet.com Inc. All rights reserved. This material may not be published, broadcast, rewritten, or redistributed.