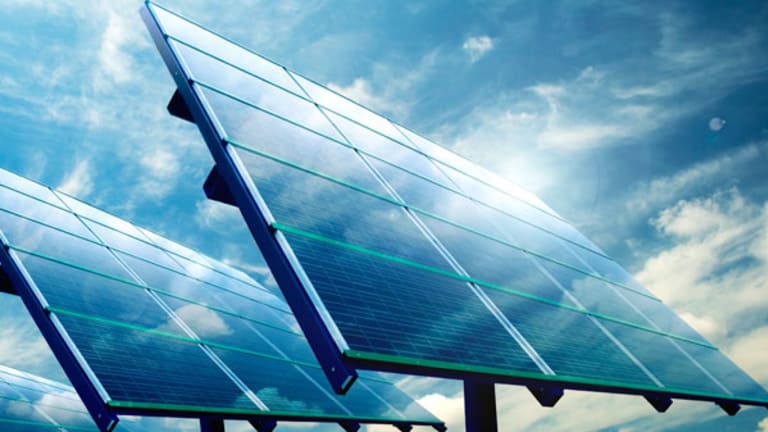 Publish date:
Westport Innovations: This Is Where It Gets Interesting
Market darling Westport Innovations has quickly become a spurned stock, but the reversal of fortune makes it a stock to watch.
Market darling Westport Innovations has quickly become a spurned stock, but the reversal of fortune makes it a stock to watch.
(Westport Innovations story updated for latest Nasdaq short interest data)
NEW YORK (
) -- I want to say it's time to buy
Westport Innovations
(WPRT) - Get Report
, but that might be reckless advice given the seemingly limitless free fall in shares of the natural gas engine maker. What I will say is that it's at least time to put this stock back on your watch list, but don't expect more than to watch it fall even more than it has already.
I think it's all that can be said right now of Westport Innovations, as shares slipped below the $30 mark on Tuesday, for the first time since last December, a long ride down from above $50 mark the shares hit on March 21, and its 200-day moving average now a distant memory.
I'm not going to name the Wall Street analyst whom I emailed with Tuesday -- he might get in a little bit of trouble for expressing some honesty on the name that doesn't reflect the simple world of buy, sell and hold ratings -- but here was our exchange:
Me:
"Does it concern you that it's maybe headed down, down, down and the shorts are going to own this stock for a while, or does it seem like an obvious buy here because there is too much support for it not to rebound? Even if the shorts are in it for a future year payday when
Cummins
(CMI) - Get Report
says bye-bye for good to WPRT relationship, I don't see why it would necessarily trade straight down between now and then. I could see this as a $12 stock in 2015 but a $35 stock next week."
The Cummins Westport joint venture announced in February that the economic terms between the companies will be changing -- a threat to Westport margins, which recently hit a peak 35% level. The impact, if any, from the changes in the 50/50 JV won't be known until the August quarter results, the first full quarter under the new terms. At the same time, Cummins announced it was developing its own 15-liter natural gas engine for 2014, while extending its deal with Westport on 9 liter and 12-liter engines for 10 years.
The analyst:
"This slide has been amazing. In 2015 nobody will care about Cummins because Weichei
WPRT's Chinese trucking market partner will dwarf CMI as a customer for WPRT! There is just no way to call a bottom, because there isn't any really underlying fundamentals to point to i.e.. cash flow, book value, earnings, etc. Same works to the upside as downside I guess, but this way overdone in my opinion."
Me:
"I guess that's where the longer term view comes in."
Analyst:
"You have the upcoming earnings call and analyst day. Both could be positive announcements."
Me:
"I've been afraid to write about it actually, because I want to say, 'it looks interesting here' but every time I want to say that, it falls some more."
Analyst:
"That has been happening to me since 40 bucks!"
Westport Innovations is a classic case of a company that has no fundamentally based trade: It has yet to earn a profit and most of the upside in the stock has been predicated on the long-term narrative about natural gas trucking as the spread between diesel -- the conventional trucking fuel -- and natural gas has continued to widen.
If technical trading indicators are the best short-term read for a stock that lacks a fundamental near-term earnings case, than breaking below the 200-day and then finding no support is a bad sign. If it's a risk-off equities environment broadly speaking, there may be no floor for a stock that is driven by sentiment plus a long-term thesis, especially as shorts target it. It's broken through that 200-day for the first time since January 2011, too, a dubious distinction.
The move up to $50 on March 21 may have attracted the shorts' immediate attention, but it looks like they have taken a deeper dive into Westport and may be hanging around. From the middle to the end of March -- notably including the March 21 share price high -- short interest in Westport increased by 3.5%, the most among all alternative energy stocks, according to Stifel, up to 21.8% of the company's share float. In the most recent two week period (though April 13) short interest spiked by 7.8%, again the highest short interest in any clean energy stock, and taking the short exposure to over 31% of the Westport float.
As I said, it's tough to recommend a clean energy stock that has traded up historically based on sentiment and as part of a long-term thesis just because its former trading pattern suggests that there is support when the earnings case may not be sustainable -- just look at solar. In the case of Westport, it's not even like solar where earnings weren't sustainable because government subsidy programs were on the wane: Westport has no earnings. That said, Westport does have potential positive catalysts coming up that could offset the fear of the Cummins relationship change foretelling a profitless future for this company.
The top headline is likely to be a relationship with a North American truck engine maker. Westport has said it will have a "mystery OEM" to name, and analysts are betting that it is
Detroit Diesel
or another major North American diesel engine player. Westport has a relationship with
Caterpillar
that it signed last year and while David Demers, CEO at Westport, told
TheStreet
at that time it was probably further out on the horizon for actual sales, several analysts suspect that there may be an acceleration in this relationship.
Westport also has its relationships with
Volvo
in Europe and Weichei in China and as several analysts suggested to me, by the time Cummins is selling its own 15-liter engine, Cummins could be smaller than Weichei in the Westport equation, and the Westport Cummins joint venture is still selling 9-liter and 12-liter engines.
Matthew Blair, a Macquarie analyst who recently initiated on Westport, said in his report that the Cummins relationship is responsible for one-third of Westport's value. With his price target on Westport at $51, that would imply that even if the Cummins relationship ended, Westport shares would be worth more than the $29 they were trading at on Tuesday, actually $34.
Westport isn't necessarily headed back to $34 before it falls further (shares ended just above the $30 mark at the close on Tuesday). There is no overlooking the potential impact of the Cummins announcement: If the subtext is that as volumes in this market begin to scale the OEMs will have all the leverage and push Westport to the wayside, or in the least, crimp Westport's margin potential to the point where it has no earnings to speak of. It's not a new fear factor, but the Cummins announcement finally made it a credible threat.
This is what makes it difficult to slap a buy on Westport just because it has found support in the past from long only institutional buyers. The recent huge drop in shares is reason to monitor the stock. If it continues down to the $25 to $26 range and settles, it may be less difficult to get constructive on its shares. For now, though, the best advice may be to just watch where this stock wants to go, and for anyone who has been watching, the answer to that question hasn't been an endorsement for anyone but a short.
There's also this conversation-ender I had with another Wall Street analyst about why the Westport valuation story may be fundamentally flawed, even at the $30 level:
"This stock has traded up historically based on nothing, no earnings. It's hard to have a $1.7 billion market cap company with no profit. Where does it find support? If it takes at least five years for natural gas trucking to take off, which it easily could, then all bets are off, and Westport could easily be an $8 or $10 stock by then."
Speaking of the time horizon for adoption of natural gas trucks, on Tuesday there was also an earnings conference call from trucking company
Paccar
(PCAR) - Get Report
.
Paccar CEO Mark Pigott had this to say to analysts about the growth profile of natural gas trucking: "Right now it's a niche market. It's less than 1% of industry demand. Looking out 5 years, it's really going to be impacted by how fast will the build out of the supply infrastructure be. That's important. The cost is almost -- it's almost twice the cost of just buying a normal Class 8 truck. So you got to have an operating environment that you can recover that cost. And for many, many customers, they just don't see where it's viable. So 5 years out, I think we maybe should be looking 10 years out."
Westport has earnings coming up. Earnings for a company that has no earnings isn't a make-or-break issue, but give the recent slide in shares if it beats and guides above the consensus, it could trade up. It has a history of raising sales expectations. Over the past year, Westport has increased sales guidance every two to three months, with sales guidance in June 2011 (for calendar 2011) of about $180 million, ultimately being well below calendar year reported sales, which were reported at $264 million (46.7% above original guidance).
The company also has its annual analyst day coming up in May, for which some of the potentially positive headlines analysts expect to hit could be timed.
If it doesn't trade up on an upbeat outlook or incrementally positive news about partners outside the Cummins relationship, though, for the first time in a long time the upside trade could rest solely on the merits of the company -- not on sentiment and not on terminal (popular for company's with no current earnings) 2018 earnings models that were once such a bullish indicator for this company.
And as for 2018 terminal earnings models, according to the Paccar CEO, the natural gas trucking market may still be no more than a blip in 2018 anyway.
-- Written by Eric Rosenbaum from New York.
>To contact the writer of this article, click here:
Eric Rosenbaum
.
>To follow the writer on Twitter, go to
.
Follow
TheStreet
on
and become a fan on