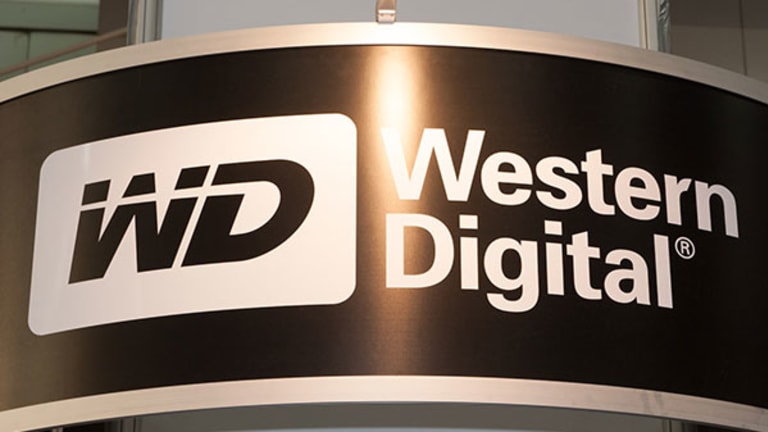 Western Digital Stock Sinks Despite Raised Q4 Outlook
The revised guidance is based on a 1-point increase in its gross profit outlook driven by the sales of flash memory chips and enterprise-class hard drives.
Shares of semiconductor firm Western Digital Corp.  (WDC) - Get Report were sinking more than 4% during after-hours trading on Monday despite the company saying its profit for the fiscal fourth quarter will be higher.
The revised guidance is based on a 1-point increase in its gross profit outlook driven by the sales of flash memory chips and enterprise-class hard drives.
San Jose, Calif.-based Western Digital now expects revenue of $4.8 billion, gross profit margin equivalent to 41% of sales, and earnings per share of $2.85.
The company's gross margin is a point higher, and the prior EPS forecast was $2.55 to $2.65.
Analysts polled by FactSet expect fourth-quarter earnings of $2.65 per share on revenue of $4.8 billion. 
The revised profit outlook is due to "continued good execution and strong demand for the company's broad portfolio of storage products," the company said. "Particularly for flash-based devices and solutions and the 10 terabyte helium capacity hard drives."
Western Digital also reiterated an outlook for $12 per share in profit for this calendar year.
What's Hot On TheStreet
Unusual to hear these words: Under Armour Inc.'s (UAA) - Get Report founder Kevin Plank has never been one to sound weak in a public setting. Plank is known for his motivational speeches to employees and desire to crush all competition. So, it was odd to hear Plank say rival Nike Inc. (NKE) - Get Report"isn't playing fair" on the Today Show on Sunday — it sounded like a CEO who after several below plan quarters is finally realizing how challenging it will be to dethrone Nike.
Hat tip to Ford: A noted supporter of recycling, auto legend Henry Ford would be proud to know his spirit of conservation is still alive and well in the company that bears his name.
And in fact, as TheStreet learned on a recent trip to Ford Motor Co.'s (F) - Get Report Dearborn, Mich., headquarters, the founder's recycling efforts have been taken to a whole other level. Within Ford's Plastics and Materials Sustainability Research Department, which is tasked with finding ways to create auto parts from things found in the Earth such as soybeans and agave plants, senior technical leader Deborah Mielewski showed off a new coin tray made from shredded cash.
It took about $400 of cash to make the coin tray, said Mielewski.
Western Digital and Ford are holdings in Jim Cramer's Action Alerts PLUS Charitable Trust Portfolio. Want to be alerted before Cramer buys or sells WDC or F ? Learn more now.
Shout out to the 1990s: It may be time to cash in those Tesla Inc.  (TSLA) - Get Report stock gains and go out and buy one of these new classic cars, TheStreet reports. There are several models from 1992, including the early version of the Dodge Viper, that are starting to take off in value.
Nestle rips to a high: Shares of chocolate maker Nestle SA touched an all-time high Monday after activist investor Third Point LLC, led by Dan Loeb, revealed it had built a stake in the group and pressed for asset sales and increased buybacks. The stake is worth more than $3.5 billion, making Third Point one of Nestle's top 10 shareholders. For Loeb, this is one of his boldest bets yet as he tries to shake up the staid consumer packaged goods company.
Visit here for the latest business head