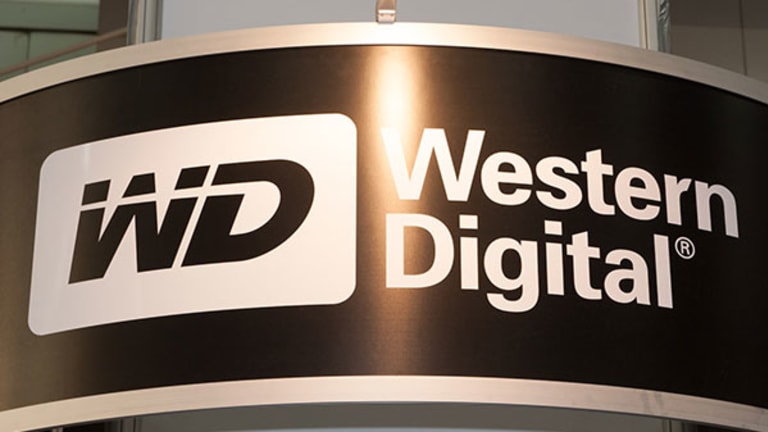 Publish date:
Western Digital's Dispute With Toshiba Appears to Be Winding Towards a Resolution
Though the companies' official statements about the future of Toshiba's valuable flash memory unit remain at odds, Western appears interested in reaching a compromise.
Though the companies' official statements about the future of Toshiba's valuable flash memory unit remain at odds, Western appears interested in reaching a compromise.
Cash-strapped Toshiba (TOSYY)  wants to sell its highly valuable flash memory unit at a high price. The Japanese government wants the business to remain locally-controlled. Flash manufacturing and R&D partner Western Digital (WDC) - Get Report wants to further grow its flash exposure by obtaining a sizable stake in the business, and also guarantee that a sale doesn't hurt the long-term goals it has for its SanDisk flash unit.
Slowly but steadily, some common ground is being found for those three very different sets of interests. The big sticking point at this juncture may be how much Western is willing to compromise on growing its flash exposure for the sake of its long-term goals for SanDisk.
On Wednesday, Toshiba moved to transfer some of the interests it has in a flash JV with SanDisk out of the flash memory unit it has put on the block, and back into Toshiba proper. The JV, known as Flash Ventures, designs and manufactures flash chips via equipment installed at plants owned and operated by Toshiba's flash unit. The chip wafers produced by the JV are sold to both SanDisk and Toshiba's flash unit at cost plus a markup.
The move comes two weeks after Western filed an arbitration claim with the International Court of Arbitration (ICC) that sought to "unwind" the transferring of Toshiba's JV interests to its flash unit, and requested an injunction preventing any transfer of the interests to a third party without its SanDisk unit's consent. Western pointed out that SanDisk's JV agreements with Toshiba explicitly state that neither party can transfer a JV interest without the other's approval.
Unsurprisingly, Western says it's not withdrawing its arbitration claim, which could take a year to produce a ruling, on account of Toshiba's latest move. With the assets transferred back to Toshiba only consisting of financing vehicles for manufacturing equipment -- they're said to account for less than 5% of Toshiba's flash operations -- Western claims it still has "no reason to believe that Toshiba has resolved its breach of [its] JV agreements."
Jim Cramer and the AAP team hold a position in Western Digital for their Action Alerts PLUS Charitable Trust Portfolio. Want to be alerted before Cramer buys or sells AAPL or GOOGL? Learn more now.
But while the company's official statements remain antagonistic, it seems to be pursuing a compromise behind the scenes. Reuters reported just three days ago that Western is now open to being a minority investor in a bid for Toshiba's flash unit that currently features PE firm KKR and two Japanese government-backed funds.
Western had previously signaled that it wanted a majority stake in the Toshiba unit. But Reuters' sources state that Western submitted one of the lowest offers in the first round of bidding for the unit, which -- with the caveat that the companies making it to the second round of bidding can lower their offers later -- reportedly featured a $20 billion offer from Broadcom (AVGO) - Get Report, whom Western especially doesn't want to see buying Toshiba's flash unit. The fact that Western still has over $7 billion in net debt thanks to last year's SanDisk acquisition could be affecting how much it's willing to offer for a majority stake.
Also of note: Reuters reported on Thursday morning that Western is "considering fresh investment to build another flash memory chip plant in western Japan." The wording of this report is a little odd, since Western doesn't own any flash plants in Japan or elsewhere. Rather, its JV relies on four Japanese plants built and owned by Toshiba (a fifth is under construction) to manufacture chips. It looks as if Western's investment offer is a carrot meant to convince Tokyo that it can provide Toshiba's flash operations a high level of financial support if a deal is swung that in Western's interests.
What might still need to be resolved now is how large of a minority stake Western gets as part of a bid for Toshiba's flash unit, and at what valuation. There might also be some lingering details to be sorted out about how much the Toshiba unit will invest under new ownership, especially if it ends up controlling a lot of Toshiba's JV interests. Here, Western and Tokyo appear to see eye-to-eye: They both want the unit to invest a lot in flash production.
Western and Toshiba are each angling for ways to obtain additional leverage as negotiations play out. But an endgame does now appear to be in sight.