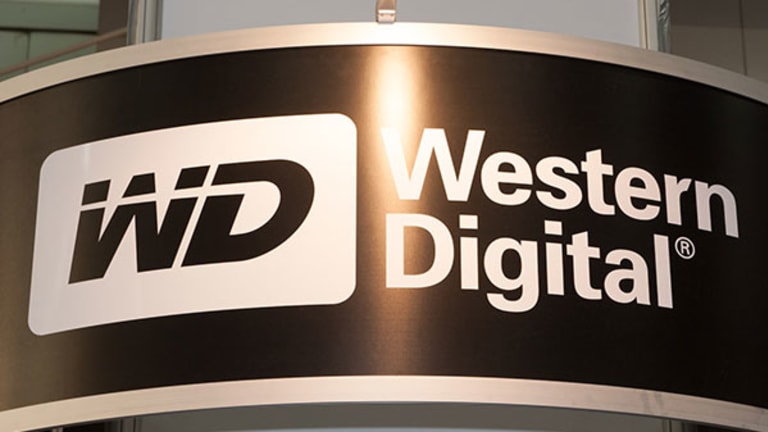 Western Digital Coincides With the 'New View' of the World: More Squawk From Jim Cramer
After an August downgrade of Western Digital by Goldman Sachs, the stock caught an upgrade on Tuesday as shares have climbed over 50% since the original downgrade.
Shares of Western Digital (WDC) were climbing during Tuesday morning trading after an upgrade to "neutral" from "sell" at Goldman Sachs,  (GS) with a $68 price target.
"The company is doing so well, it's blowing out the numbers, the acquisition they made of SanDisk (SNDK) is brilliant. Whoever would say I want to short it, simply didn't understand the new view of the world," TheStreet's Jim Cramer said on CNBC's "Squawk on the Street" Monday morning.
He pointed to an August downgrade of Western Digital by Goldman Sachs, which sent shares into the $40s. "Since they put the sell on it in August, the shares are up 52% vs. the semiconductor index which is up 20%," Cramer noted.
The August call was "ill-informed" and a "sub-optimal" one, he added. Moreover, Western Digital CEO Stephen Milligan joined Cramer's "Mad Money" program last week, leading Cramer to reiterate his confidence in the business. "I think it is such a great company," he stated.
Another stock Cramer has been bullish on, Nvidia,  (NVDA) caught an upgrade Tuesday morning as well. Goldman placed Nvidia on its Conviction Buy list this morning, with a $129 price target. The upgrade is symbolic of Goldman finally having confidence in the stock's ability to outperform, Cramer said.
"Nvidia was one of my picks of the year, and I feel good about it," he noted. "It's got machine learning, artificial intelligence, gaming [chips], auto [chips]; it has it all. This is American Pharaoh to Intel's (INTC) Secretariat."