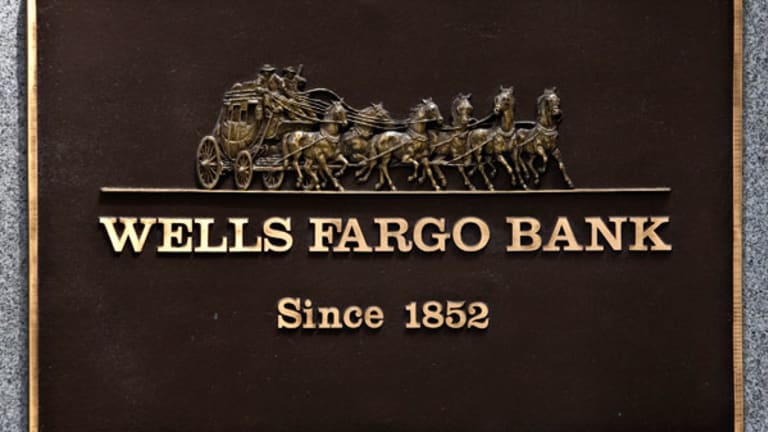 Wells Fargo's Rising Earnings Defy Wall Street Once More
The bank grew earnings for the fourteenth straight quarter amid a weak economy.
Wells Fargo reports a first-quarter profit of 98 cents a share, significantly beating the consensus estimate of 93 cents, according to data compiled by Bloomberg
GAAP Net income was $5.5 billion, beating the consensus estimate of $4.9 billion.
Net revenue came in at $21.4 billion, growing from the previous quarter and beating an estimate of $21.2 billion.
Mortgage banking earnings of $2.8 billion were unchanged from the first quarter of 2013.
Net interest margin fell 2 basis points to 3.46%, beating most estimates.
The firm repurchased approximately 26.7 million shares of common stock in the quarter, lowering its share count.
Updated from 1:08 p.m. ET to include Friday closing share prices and additional analyst commentary
.
NEW YORK (
) --
Wells Fargo
(WFC) - Get Wells Fargo & Company Report
beat second quarter earnings expectations as the nation's fourth largest bank by assets was able to grow its earnings for a
fourteenth consecutive quarter
.
Consensus was that the lender could see a slight sequential drop-off in earnings for the first time since the worst of the financial crisis, as a 2012 mortgage refinancing boom petered out and interest rates surged at the end of the quarter.
Wells Fargo saw strong performance from its less talked about businesses such as investment banking and mortgage servicing. Net charge-offs on loans continued to fall, dropping to their lowest level since 2006.
Still, the bank's mortgage earnings confirmed widespread sentiment that consumer and housing market activity remains well below levels they should be in a normal economy.
The bank reported a slight rise in loan growth to $802 billion and flat mortgage banking revenue of $2.8 billion.
Meanwhile, well-worn earnings concerns, such as falling interest margins are showing signs of relief. The bank's net interest margin fell 2 basis points to 3.46%, however, the drop was far smaller than consensus expectations.
The San Francisco-based lender reported better-than-expected earnings of $5.5 billion, on revenue of $21.4 billion, beating estimates of $5 billion and $21.2 billion respectively.
First-quarter earnings of 98 cents a share surpassed the consensus estimate of 93 cents, according to analyst forecasts compiled by
Bloomberg
.
Wells Fargo shares rose nearly 2% to $42.63 in Friday trading.
"The streak is well enact and has momentum to continue for the foreseeable future," Marty Mosby, a large-cap bank analyst at
Guggenheim Securities
, said of Wells Fargo's fourteenth consecutive quarter of earnings growth. Mosby noted Wells Fargo's 5 cent quarterly EPS beat means Wall Street analysts may need to model an additional $2 a share in price forecasts for the bank.
Wells Fargo, however, reported net unrealized securities gains of $5.1 billion, about a $6 billion drop from the first quarter, when the bank carried $11.2 billion in unrealized gains. The drop in unrealized gains reflected the impact of rising interest rates and hit Wells Fargo's rising levels of capital by 24 basis points.
Mosby had expected the bank to report between a $3 billion to $5 billion write-down to its securities portfolio. The analyst also forecast a 5 basis point decline in the bank's net interest margin, however, Wells Fargo may have bolstered its interest margins by extending the maturity of some assets.
"They will be one of the first banks to show tangible results from higher interest rates," Mosby said.
Some of Wells Fargo's earnings beat could be attributable to bottom-line expense reductions that aren't a key mark of the bank's operating performance.
"Better credit drove the majority of the beat, but we believe investors will be happy with progress on expenses and net interest income as well," Ken Usdin, a Jefferies banking analyst, noted of earnings.
Wells Fargo's provisions for credit charge-offs fell $567 million quarter-over-quarter, as the bank saw mortgage and home equity loan delinquencies drop. Credit improvements could continue in coming quarters, Usdin wrote in a client note.
Wells Fargo's second quarter earnings are considered by investors and analysts to be a crucial turning point for the nation's largest mortgage lender.
In coming quarters, the bank's earnings growth hinges on sustainable consumer demand for mortgage and auto loans, in addition to an increase in business lending activity.
"We are going to begin to look for the phase where Main Street outperforms Wall Street," Bill Smead, Chief Investment Officer of Smead Capital, said in an interview ahead of earnings.
In coming quarters, Smead expects Wells Fargo to see significant growth in its lending businesses and a reduction in securities portfolios that have helped to cushion the bank from a tepid economy.
"Two years from now, if people are excited about Wells Fargo, it's going to be about the huge market share they have on Main Street," Smead said. Smead Capital has been a Wells Fargo investor since 2009.
"Wells Fargo achieved outstanding results for the second quarter, with ourdiluted EPS growing for the 14th consecutive quarter and our returns onassets and equity increasing from second quarter 2012 and first quarter 2013," CEO John Stumpf said in a press release.
In its second-quarter earnings report also released on Friday,
JPMorgan
(JPM) - Get JPMorgan Chase & Co. Report
a profit of $6.5 billion, or $1.60 a share.
JPMorgan CEO Jamie Dimon suggested in a
CNBC
interview Wells Fargo had done a
originating new mortgages. While Wells Fargo saw originations rise over 2% to $112 billion, JPMorgan reported a 7% second quarter decline.
RELATED STORIES:
JPMorgan Chase Beats on Better-Than-Expected Trading
JPMorgan, Wells Fargo Shuffle Riskiest $38 Billion Amid Bond Boom
Buffett Buyback Math Key to Post Stress Test Bank Earnings
-- Written by Antoine Gara in New York
-- Written by Antoine Gara in New York