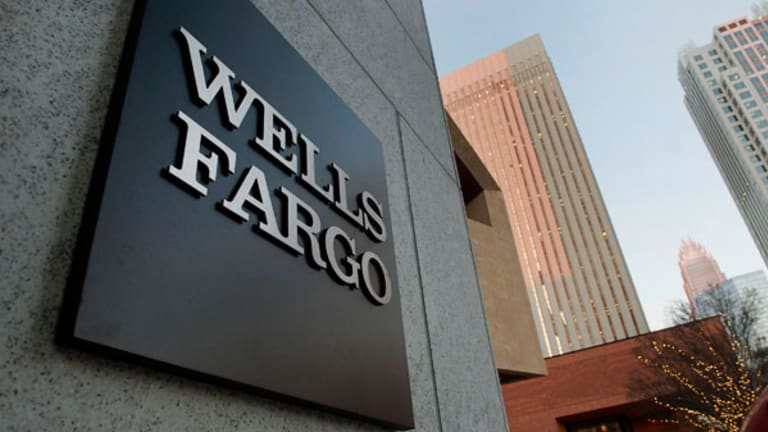 Publish date:
Wells Fargo's LeBron James Earnings Streak A Hidden Opportunity
Can Wells Fargo keep up its earnings growth as a refinancing boom slows?
Can Wells Fargo keep up its earnings growth as a refinancing boom slows?
NEW YORK (
) -- Expectations that
Wells Fargo
(WFC) - Get Report
will snap a LeBron James-like streak of rising profits when the bank reports first quarter earnings on April 12, may present an opportunity for investors who are betting on sustained growth at America's top mortgage lender.
Wells Fargo -- now the largest stock holding of Warren Buffett's
Berkshire Hathaway
(BRK.A) - Get Report
-- is forecasted by Wall Street analysts to post a drop in profitability following
12 straight quarters of earnings growth
, as a torrid mortgage refinancing market cools and hits the San Francisco-based lender's bottom line.
Nevertheless, some investors and analysts, expect Wells Fargo to continue its growth streak as a natural recovery in the housing market led by new home construction and sales, takes hold and replaces a
Federal Reserve
and government-fueled mortgage refinancing boom that drove earnings in the second half of 2012.
For Wells Fargo to outperform Wall Street expectations and continue its earnings growth, the bank will need to post flat profitability in its mortgage banking unit by way of an up to 10% rise in home loan originations, an increase in mortgage servicing profitability and expense reductions, which could offset a sequential decline in refinancing activity of up to 40%, according Guggenheim Securities analyst Marty Mosby.
Meanwhile a stabilization of Wells Fargo's net interest margin could remove another
and prove the bank's business model is more balanced than some on Wall Street expect.
During 2012, Wells Fargo earned roughly 50% of its revenue from fee generating businesses like mortgage banking and wealth management, and about 50% from margin businesses such as the bank's loan and securities portfolio.
The key to sustained earnings growth in fee-generating mortgage banking businesses and interest earning portfolios will be Wells Fargo's ability to navigate changing interest rate and macroeconomic scenarios, according to Mosby.
"Where I think the market is off, is that they are looking at a double jeopardy scenario that isn't possible," says Mosby, of Wells Fargo's interest rate sensitive mortgage banking unit and its securities portfolio.
If interest rates rise, mortgage banking revenue is likely to fall. However, Wells Fargo's net interest margin - the spread between the average yield on loans and investments and the average cost for deposits and borrowings -- would likely rise according to Mosby. "You have a natural balance," he says.
Mosby says a first-quarter earnings beat will hinge on flat mortgage banking income and a three-to-four basis point quarter-over-quarter decline in the net interest margin.
Wells Fargo is expected to post earnings per share of 88 cents for the first quarter on net revenue of $21.5 billion and profits of $4.8 billion, according to the consensus analyst estimate compiled by
Bloomberg
.
That forecast represents a slight decline from the 92 cents Wells Fargo earned in the fourth quarter of 2012, as the bank's quarterly profit eclipsed $5 billion for the first time ever.
"The Wells Fargo story has been unexciting, simple and beautiful from the get go," says Bill Smead, head of
Smead Capital
, of the bank's post-crisis earnings.
While Smead forecasts Wells Fargo could earn $4.00 a share by 2013 or 2014, he highlights a dividend yield of close to 3% and the bank's current share price as sources of value for investors.
After passing Federal Reserve
stress tests in March
, Wells Fargo said it would boost its quarterly dividend 20% to 30 cents a share in the second quarter, while also increasing share repurchases in 2013.
"
Wells Fargo is a buy
unless you wouldn't be happy of it becoming a $50 stock or a 3% dividend yielder," Smead said. "We are just sitting around waiting for earnings power to be fully realized."
In the first quarter of 2013, Wells Fargo's shares gained just over 8%, slightly underperforming index gains posted by the
S&P 500
and the
Dow Jones Industrial Average
.
Wells Fargo is a top 10 holding in two of Smead's mutual funds, the
Smead Value Fund Institutional Class
(SMVMX)
and the
Smead Value Fund Investor Class
(SMVLX) - Get Report
.
Aflac
(AFC) - Get Report
and
Bank of America
(BAC) - Get Report
are other large financials holdings in Smead funds.
Some Wall Street analysts are less excited about Wells Fargo's near-term earnings, even if most continue to highlight the bank as among the best managed in the financial sector.
"We believe Wells Fargo will face some revenue challenges in both net interest income and fee income. Mortgage banking (14% of total revenues) is expected to decline, margin is expected to be under pressure and loan growth is forecasted to slow," wrote Peter J. Winter, a BMO Capital Markets analyst, when initiating a rating on Wells Fargo with a $40 price target and 'market perform' rating in mid-March.
"Wells Fargo has a very diverse business model to offset some of the revenue challenges and we believe it will maintain its top-tier profitability metrics," added Winter, citing the bank's fee revenue and growing customer base among depositors and homeowners.
Raymond James analyst Anthony Polini gives Wells Fargo a "strong buy" rating and highlights a near 2% increase in loans, trading gains and a release of loan loss provisions as possible strengths for the bank in the first quarter. Polini forecasts a $350 million reserve release and a 6.3% decrease in charge-offs.
Risks to Wells Fargo's earnings include a possible net interest margin decline greater than 6 basis points after a 10 basis point fourth quarter decline disappointed investors in January, according to Polini. He also forecasts a slight drop in mortgage banking income to $2.8 billion and gives shares a $43 price target.
No doubt Wells Fargo will report strong first quarter earnings on April 12, which will be among the best in the U.S. banking sector.
The bigger question is whether the bank can continue a streak of earnings growth that may prove skeptics wrong and set the stage for another year of strong stock performance.
-- Written by Antoine Gara in New York