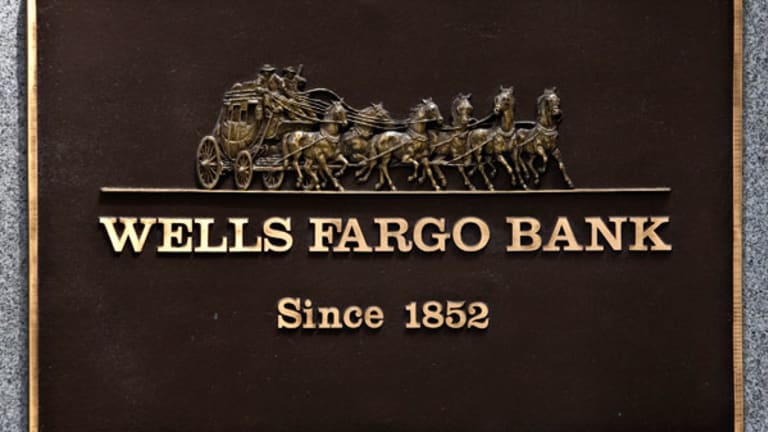 Publish date:
Wells Fargo's Expense Cuts Can Offset Declining Mortgage Volume
According to Franklin Codel, the bank's head of mortgage production, expenses will automatically be reduced as loan demand declines.
According to Franklin Codel, the bank's head of mortgage production, expenses will automatically be reduced as loan demand declines.
NEW YORK (
) --
Wells Fargo
(WFC) - Get Report
is facing a decline in mortgage loan demand and mortgage banking revenue, but the bank stands ready to quickly cut its expenses as volume declines.
Wells Fargo has emerged as a big winner from the financial crisis, becoming the nation's dominant mortgage lender, with a 27.7% share of newly originated loans during 2012. Much of Wells Fargo's mortgage growth has come at the expense of
Bank of America
(BAC) - Get Report
, which greatly scaled back its loan origination activity in the wake of the financial crisis.
Bank of America's ill-timed acquisition of Countrywide Financial in 2008 has caused the bank to focus for years on
working through mortgage repurchase claims
from investors and other parties. Then again, the company may be ready to become a major competitor to Wells Fargo, now, following a
with
Fannie Mae
(FNMA)
in the first quarter, the
ending of objections to its $8.5 billion proposed mortgage putback settlement
with institutional investors in 2010 and with its
with
MBIA
(MBI) - Get Report
on Monday.
A decline in mortgage origination fee revenue and gains on the sale of new loans in the secondary market has been expected for the major mortgage lenders.
The Mortgage Bankers Association
estimates that one-to-four-family mortgage loan origination volume will decline to $1.478 trillion this year from $1.750 trillion during 2012. Refinancing volume was very high last year, because of the record-low mortgage rates, and because the expanded Home Affordable Refinance Program, or HARP 2.0., allowed qualified borrowers to refinance their entire balances, no matter how much the market value of the collateral home had declined.
The Mortgage Bankers Association expects total U.S. one-to-four-family mortgage loan origination volume to decline further in 2014, to $1.091 trillion.
Also see: Wells Fargo Will Build on Credit Card Success, Says Citi >>
Gains on the sale of mortgage loans -- usually to Fannie Mae and
Freddie Mac
(FMCC)
-- have also been declining because of a rise in long-term market interest rates and because of the greater availability of mortgage credit as the banks and the economy strengthen.
Wells Fargo reported first-quarter mortgage banking income of $2.794 billion, declining from $3.068 billion in the fourth quarter and $2.870 billion during the first quarter of 2012. First-quarter mortgage loan originations declined to $109 billion from $125 billion the previous quarter. Net gains on mortgage loan origination and sales totaled $2.5 billion in the first quarter, declining from $2.8 billion in the fourth quarter and from $2.6 billion in the first quarter of 2012.
Please see
TheStreet's
earnings coverage
for full details of the company's record first-quarter results.
Declines in credit costs and other expenses more than offset Wells Fargo's mortgage revenue decline. Noninterest expense declined to $12.4 billion in the first quarter from $12.9 billion the previous quarter and $13.0 billion a year earlier. The company said the sequential improvement was "primarily due to lower operating losses associated with the Independent Foreclosure Review settlement and a $250 million charitable contribution to the Wells Fargo Foundation in the fourth quarter."
While many sell-side analysts raised earnings estimates and price targets for Wells Fargo following the earnings announcement on April 12, Atlantic Equities analyst Richard Staite said in a note to clients on April 15 that Wells Fargo's gain-on-sale margin for mortgage loans during the first quarter held up at 2.56% because "WFC's margins tend to lag peers by one quarter."
Also see: Countrywide II Off to the Races >>
Wells Fargo's margins lag the industry by a quarter because the company recognizes loan sales when they actually occur, rather than when the new mortgage loan has its rate "locked," as most other large banks do.
According to Staite, Wells Fargo's decline in first-quarter mortgage revenue "was due to lower volumes with WFC seeing a fall in correspondent origination which could be due to more competitive pressure."
"Beyond Q2 we expect mortgage revenues to further decline due to lower refinancing volume across the industry," Staite wrote. The analyst expects Wells Fargo's "underlying revenues to decline by about 3% in Q2," and estimates the company will earn $3.74 a share this year, with earnings declining slightly to $3.73 in 2014. Staite has a "neutral" rating on Wells Fargo's shares.
Franklyn Codel, Wells Fargo's head of mortgage production, participated in an industry forum hosted by Citigroup earlier this week. According to a summary of the forum provided to clients by Citigroup analyst Keith Horowitz, Codel is confident that the nature of Wells Fargo's business model is ideal even during a time of declining demand.
Also see: Crowdsourcing Your Investments: The Twitter Effect >>
Paraphrasing Codel, Horowitz wrote that "WFC has a natural offset in falling commission expense as the sales staff is 100% commission-based . . .
and he meets with his management team every 3 weeks to review potential staff and location reductions so that WFC is prepared to act quickly as volumes change."
While that certainly presents quite a challenge to the mortgage lending staff, it is a great thing for the bottom line, since three weeks is a very quick reaction to changes in mortgage loan demand.
Codel also said that there are other offsets that can mitigate declines in mortgage loan origination volume, including higher interest rates on loans held for sale, and "other WFC business levered to rising rates, such as community banking," according to Horowitz.
data by
Interested in more on Wells Fargo? See TheStreet Ratings' report card for this stock.
-- Written by Philip van Doorn in Jupiter, Fla.
>Contact by
.
Philip W. van Doorn is a member of TheStreet's banking and finance team, commenting on industry and regulatory trends. He previously served as the senior analyst for TheStreet.com Ratings, responsible for assigning financial strength ratings to banks and savings and loan institutions. Mr. van Doorn previously served as a loan operations officer at Riverside National Bank in Fort Pierce, Fla., and as a credit analyst at the Federal Home Loan Bank of New York, where he monitored banks in New York, New Jersey and Puerto Rico. Mr. van Doorn has additional experience in the mutual fund and computer software industries. He holds a bachelor of science in business administration from Long Island University.