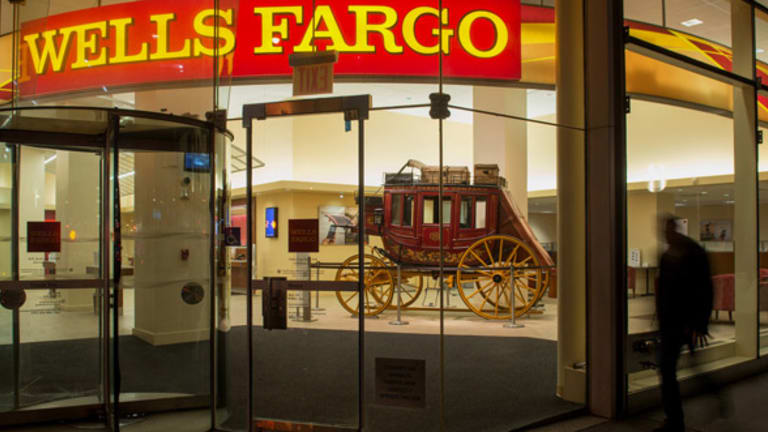 This article, originally published at 9:47 a.m. on Wednesday, March 1, 2017, has been updated with an analyst's comments and market reaction.
Wells Fargo (WFC) - Get Wells Fargo & Company Report  denied cash bonuses to CEO Tim Sloan and CFO John Shrewsberry, along with six other senior executives, as the board seeks to show investors that senior managers will be held responsible for protecting the company's reputation, tarnished in a fake-accounts scandal last year.
The actions weren't based on any findings of improper behavior in the board's ongoing independent investigation into the matter, Wells Fargo said in a statement. Along with forfeiting the cash incentives, the executives' 2014 equity awards, which vested after 2016, will be cut by half, costing them a total of $32 million.
"As we seek to regain trust, the board is taking decisive actions," chairman Stephen Sanger said in the statement. "We will continue to work to make right what went wrong and remain focused on providing the accountability and oversight that our customers, employees and investors expect and deserve."
The bogus accounts at San Francisco-based Wells Fargo were disclosed in a $185 million settlement with federal and local regulators in September, a blow to a company that survived the 2008 financial crisis largely unscathed and had branded itself as the "good bank."
The revelation prompted an immediate backlash of lawsuits as well as probes by the Department of Justice and state attorneys general, while costing Wells Fargo lucrative business deals with states from California to Illinois and Ohio.
Then-Chairman and CEO John Stumpf abruptly retired in mid-October after testifying in two Congressional hearings and giving up $41 million in unvested stock awards. He told lawmakers that the bank had fired as many as 5,300 people over a five-year period for setting up unauthorized card and deposit accounts.
Employees, many of them entry-level workers who made as little as $12 an hour, were motivated by the bank's goal of selling as many as eight different products to each customer household. 
Wells Fargo subsequently committed to contacting customers nationwide to make sure they have only the accounts they want and refunding inappropriate fees related to the unauthorized accounts. The company also eliminated sales targets for its retail banking operations.
Sloan, a 30-year veteran of the bank who served almost a year as COO before Stumpf's departure, said he fully supported the bonus cuts. In the initial aftermath of the settlement, lawmakers had lambasted Stumpf and the bank for punishing lower-level workers without holding top managers accountable.
The board's actions are "critical to Wells Fargo's commitment to our customers," Sloan said in Wednesday's statement. "It is my personal mission to foster a culture of accountability at all levels of the company."
While the measures the bank announced Wednesday "are necessary, in our view, we think Wells Fargo also needs to articulate how it is changing the Community Bank's culture to prevent another mishap in the future," Cathy Seifert, an analyst with CFRA Research, said in a note to clients.
The scandal and its aftermath wiped out as much as 14% of Wells Fargo's market value before shares began rebounding. While the stock is now 20% higher than when the settlement was disclosed, its gain trails a 38% rally on the KBW Bank Index over the same period.
Growth in the retail business has also suffered.
"While account openings are still down from a year ago, customers continue to actively use their accounts and many of the trends have shown improvements from the lows earlier in the fourth quarter," Sloan said on a January earnings call. "We saw what seems to be an inflection point in the midst of the fourth quarter, and so we're starting to see some real positive attributes in some of those metrics not only in terms of accounts activity, but also in terms of customer service and experience."