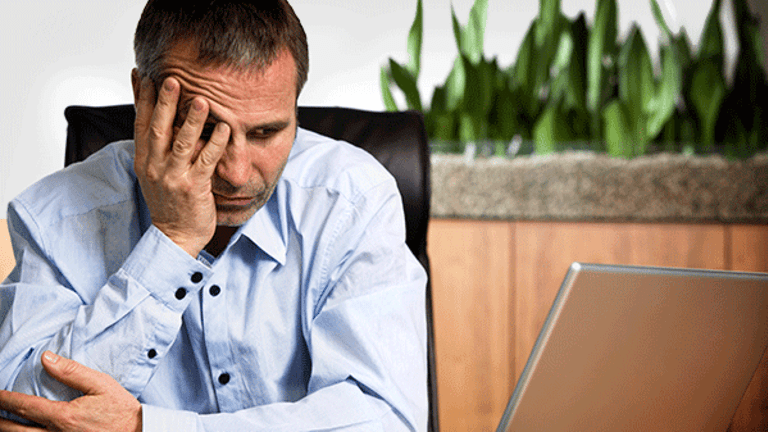 Wells Fargo Is in a Correction -- This Is What You Should Do
Wells Fargo is climbing above its 200-week simple moving average despite scandals.
Wells Fargo & Co (WFC) - Get Wells Fargo & Company Reportis one of the four "too big to fail" U.S. money center banks, joining others like Bank of America Corp (BAC) - Get Bank of America Corp Report , JPMorgan Chase & Co. (JPM) - Get JPMorgan Chase & Co. (JPM) Report and Citigroup Inc (C) - Get Citigroup Inc. Report . However, WFC stock is the worst performer due to numerous scandals against clients that came to light about a year ago.
The stock's performance was roughly in-line with its peers following the election, but is now down about 5.4% on the year. Trading 13.1% below its March 1 high of $59.99, shares are now in correction territory. This industry disconnect should continue.
Citigroup's Stock Will Skyrocket 100% in Next Five Years, Top Analyst Predicts
Some investors say that Wells Fargo will have additional headline news indicating that more problems are on the horizon. This could adversely affect the performance of the stock right into third-quarter earnings season in October.
The weekly chart below shows how Wells Fargo has been tracking its 200-week simple moving average or the "reversion to the mean" since the week of Feb. 12, 2016. The reversion to the mean is an investment theory that the price of a stock, will eventually return to a longer-term simple moving average. A stock trading above its 200-week simple moving average will eventually decline back to it on weakness. Similarly, a stock trading below its 200-week simple moving average will eventually rebound to it on strength.
Here's a scorecard for our nation's nine largest banks:
Wells Fargo is the weakest performer and the only one of these nine banks that is testing its reversion to the mean. All others are significantly above their 200-week simple moving averages. This clearly shows how Wells Fargo is being weighed down by multiple scandals. Ultimately, the board of directors had to intervene.
WFC stock has been below a "death cross" -- when the 50-day simple moving average crosses below the 200-day -- on its daily chart since July 24 when the stock closed at $54.27. The 50-day and 200-day simple moving averages are $53.80 and $54.65, respectively. 
Weekly Chart for Wells Fargo
Courtesy of MetaStock Xenith
The weekly chart for Wells Fargo is negative, with WFC stock below its five-week modified moving average (in red) at $52.92. The 200-week simple moving average or reversion to the mean (in green) is $51.62, which held at this week's low. If negative scandal headlines occur, the stock should break below this level. The 12x3x3 weekly slow stochastic reading is projected to decline to 32.06 this week, down from 39.57 on Aug. 18.
Investment Strategy: Buy weakness to the quarterly value level of $47.60 for a rebound back to the 200-week SMA. Sell strength to my annual and semiannual risky levels of $55.97 and $63.60, respectively.
More of What's Trending on TheStreet:
This article is commentary by an independent contributor. At the time of publication, the author held no positions in the stocks mentioned.