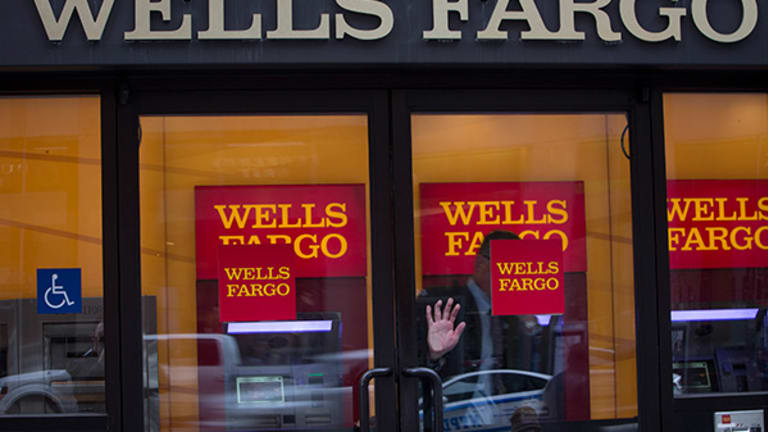 Publish date:
Wells Fargo's Total Energy Exposure Is $42 Billion, Twice What You Thought
As banks face pressure to disclose more details about their exposure to oil and gas companies, Wells Fargo reported that it has almost $25 billion of undrawn loan commitments.
As banks face pressure to disclose more details about their exposure to oil and gas companies, Wells Fargo reported that it has almost $25 billion of undrawn loan commitments.
Wells Fargo's (WFC) - Get Wells Fargo & Company Report  loan exposure to the battered oil and gas industry includes $25 billion in credit lines that customers haven't yet used, an amount that more than doubles its previously disclosed risk.
The total of $42 billion in oil and gas credit reported today in a presentation on the San Francisco-based bank's website, shows that its vulnerability to falling crude prices is on par with rivals who had reported much larger figures. Citigroup (C) - Get Citigroup Inc. Report has the largest exposure of the big U.S. banks, at $58 billion, followed by Bank of America (BAC) - Get Bank of America Corp Report  with $43.8 billion and JPMorgan Chase (JPM) - Get JPMorgan Chase & Co. (JPM) Report at $42 billion.
On a call with investors last month, Chief Financial Officer John Shrewsberry said that the company had $17 billion of loans to the energy industry. In today's presentation, Wells Fargo noted that the previously disclosed figure didn't include unfunded loan commitments -- such as corporate credit lines that haven't been drawn upon.
Wells Fargo has set aside $1.2 billion of reserves against its oil and gas loans, equating to 6.7% of the total outstanding. When stacked against the total exposure including unfunded loans, however, the ratio drops to 2.8%.
Loan commitments are important to consider when evaluating a bank's energy coverage, because it's in times of the deepest stress that companies are most likely to draw down their credit lines.
Yesterday, New York crude futures fell 3.9% to $29.69 a barrel. As recently as 2014, they were above $100.
The potential for losses on energy loans has become one of the top concerns for bank investors and a key driver of the 19% plunge so far this year in the KBW Bank Index. Wells Fargo shares have dropped 15%, including a 0.6% loss today.
Still, TheStreet's Jim Cramer, whose Actions Alerts PLUS charitable trust holds stock in Wells Fargo, said banks are in better shape than the markets are indicating.
"They are going to make an immense amount of money," he said in a Real Money column on Monday. "They just can't demonstrate it and no one seems to trust their earnings power. It's almost as if we are back to the old days -- bad loans in oil and gas, which seem like bad loans in housing but with less collateral."
Exclusive Look Inside: Jim Cramer's Action Alerts PLUS portfolio includes both Wells Fargo and Bank of America shares. Want to be alerted before he sells either one? Learn more now.
Angst over the state of the oil patch grew this week as Oklahoma City-based producer Chesapeake Energy hired law firm Kirkland & Ellis as an adviser, triggering fears that a debt restructuring might be in the offing. While the company issued a statement saying it had no current plans to file for bankruptcy, the stock remains down 57% this year. 
Concerns that the global economy is slowing have also sapped investor confidence that the Federal Reservewill boost benchmark interest rates several times this year. Many traders had expected such increases to raise banks' lending margins, since the firms are typically able to jack up loan rates for borrowers faster than they pass along increases to depositors.
Even if crude prices average $40 a barrel this year, oil and gas companies would have to cut drilling budgets by 50% from 2015 levels to align spending with cash-flow levels, IHS, a data provider, said in a report yesterday. Such cutbacks would be tough since it would mean sacrificing future oil production needed to maintain cash flow -- resulting in a vicious spiral that could lead to elevated bankruptcies.
Those concerns will likely be reflected in a twice-annual review of bank loans started this month by U.S. regulators including the Fed, the Federal Deposit Insurance Corp. and the Office of the Comptroller of the Currency, according to Fitch Ratings.
"The results will likely prompt further downgrades in banks' energy portfolios," Fitch said in a Jan. 28 report. One challenge is that oil prices have now stayed low for long enough that energy companies' hedging contracts are expiring, exposing them to current market prices.
Severe loan losses in  energy and other industries could reduce bank earnings per share by 25% versus current estimates, according to Deutsche Bank. 
Even under the scenario currently envisioned, banks probably will lose 3.85% on their total energy loans this year, compared with a 0.5% loss rate for non-energy corporate loans, Deutsche Bank estimates.
Declining oil prices pushed the number of companies on the brink of default to 218 globally at the end of January, up from 195 just a month earlier, according to a report last week from Standard & Poor's.
In today's presentation, Wells Fargo went so far as to detail the number of employees it has staffed to monitor energy loans: more than 350 in the U.S., Canada and the U.K.
According to one slide, they include an "in-house engineering team of 22 professionals who complete independent collateral analyses."